The best London Christmas Markets
---
Between the beautiful lights, ice rinks, Christmas trees, Christmas markets and fairs, the streets of London are transformed into a winter wonderland. Discover the British capital during the festive season with our Christmas Lights Tour. Enjoy the festive spirit and visit a Christmas market.
Contents
Hyde Park Winter Wonderland
Christmas by the River at London Bridge City
Southbank Center Winter Market
Christmas at Hamleys
Greenwich Christmas Market
Kingston Christmas Market
What London Christmas Market should I visit?
London is home to many Christmas Markets and winter fairs. Which makes it the perfect place for Christmas shopping, and festive entertainment. In such a big city, the options are plentiful and it can be difficult to choose where to spend time enjoying the Christmas cheer. Here is our guide to the best Christmas Markets in London, and how to get there.
It's the only place where you can sip mulled wine, eat mince pies, admire decorations and arts and craft, go on a fairground ride, and buy that last-minute gift.
Hyde Park Winter Wonderland
Winter Wonderland is with no doubt the biggest and most famous Christmas Market in London. It features over 200 traditional chalets selling jewellery, craft items, clothes, food and drink, as well as a great fun fair, theatre shows and the UK's largest outdoor ice rink. The perfect place for a festive day out in London!
The fair can get very busy, especially on evenings and weekends closer to Christmas. If possible, try visiting during the daytime and weekdays to avoid the crowds.
The event returns from 18 November 2022 to 2 January 2023. Admission to Winter Wonderland is free at off-peak times. Tickets can be booked in advance on the website of the event.
How to get there?
Yellow route: hop off at stop 14 Hyde Park - Queen Elizabeth Gate
Blue route: hop off at stop 14 Hyde Park - Queen Elizabeth Gate
Christmas by the River at London Bridge City
All I want for December is a Christmas market with views of Tower Bridge. Well, we have a winner with this festive market offering vintage German-style chalets, homemade gifts, delicious street food and glühwein.
And with the views of Tower Bridge, it simply makes it one of the most beautiful Christmas Markets in London. Some even say it's the best Christmas market for a first date… Find Christmas by the River at London Bridge City between 15 November 2022 and 2 January 2023.
How to get there?
Yellow route: hop off at stop 7 London Bridge
Christmas at Hamleys
Santa is coming to town and he's chosen the famous Hamleys shop on Regent Street to spread the festive cheer from Saturday 12 November 2022 to Saturday 24 December 2022 before he has to deliver all your presents. To find Santa's grotto, just head to the third floor of the shop!
How to get there?
Yellow route: hop off at stop 1 Coventry Street
Blue route: hop off at stop 21 Piccadilly Arcade
Southbank Center Winter Market
Southbank's riverside transforms during the festive season and becomes a wintry wonderland for foodies. Winter classics such as raclette and bratwurst will be served up alongside an array of world cuisine. In addition to these delights, the market offers a large selection of homemade crafts, rides and shows to entertain the whole family.
Entry is free and the Winter Market is open from 3 November 2022 to 26 December 2022.
How to get there?
Yellow route: hop off at stop 4 Waterloo Station
Blue route: hop off at stop 18 Westminster Bridge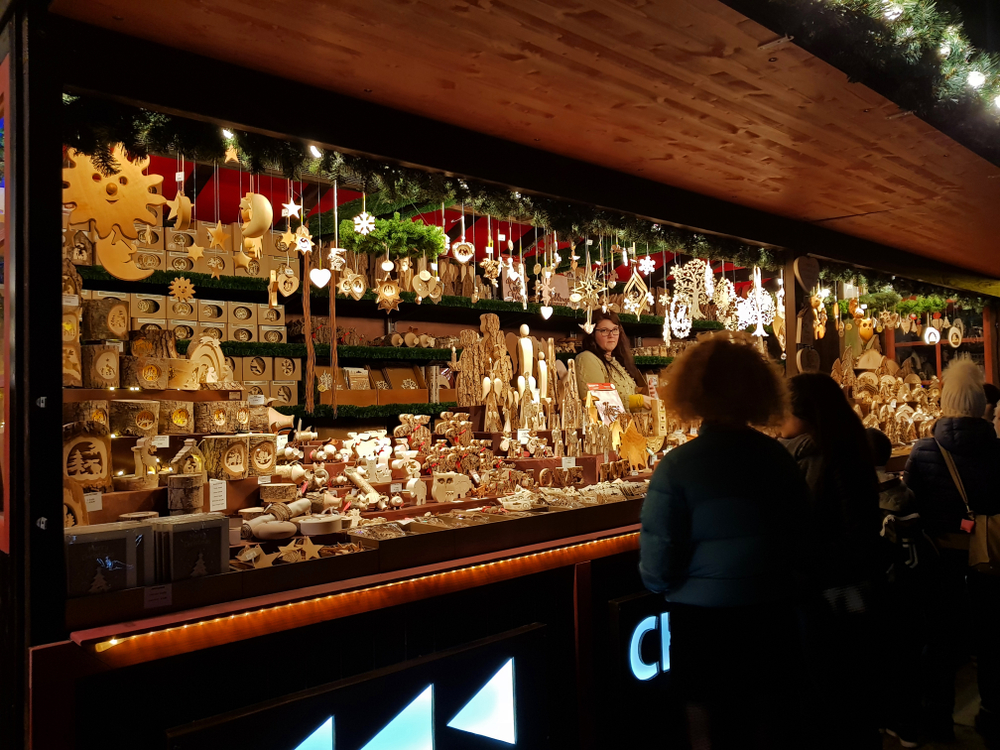 Greenwich Christmas Market
Greenwich Market is open all year-round but December is a special time for the UNESCO World Heritage site. Every Wednesday evening from 16 November 2022, Christmas comes to the market and, with the fairy lights, gift stalls and mulled wine stands, it's just so cheerful!
To mark the launch of the Christmas Market and the switching on of the twinkling Christmas lights, the spectacular Lantern Parade will take place on Wednesday 16 November 2022 between 4pm and 6pm.
Travelling to Greenwich might seem a little far from the city, but remember that its location will mean that the market will be less crowded. And it is the opportunity to visit the must-see historical attractions of Greenwich.
Kingston Christmas Market
The lovely and picturesque Kingston-upon-Thames will have its own Christmas Market on the Ancient Market Place. The city centre will be filled with festive cheer, food, drink, and handmade stocking fillers. The perfect place for unique Christmas gifts.
This European-style Christmas market is one of the most magical Christmas markets in London. It is open from 10 November 2022 to 2 January 2023. The market stalls opening ends the 24 December 2022.
How to get there?
Public transport: take a train from Waterloo Station (yellow route: stop 4) to Kingston station. The train ride will take you about 30 minutes.
So what will you choose between meeting Father Christmas, going on a fair ride or hunting the perfect gift? Discover our selection of Christmas things to do in London.
If you are mainly looking for a cosy place to sip mulled wine, we've got you covered. Hop on the Winter Bar Bus and snuggle up under warm blankets as we serve hot winter beverages while you relax and enjoy the view. The perfect place to get in the Christmas spirit!
And if you need help reaching any of these fun fairs and markets, our lovely staff will be happy to guide and inform you.