Tootbus Green commitment
What is Planet Friendly?
It's often by walking around in the open air that you start exploring a city, don't you find?
A bus is the ideal way to start exploring, especially in the big capitals. It's a unique way to enter a new urban universe quickly and simply so you can understand the layout, visualise the different neighbourhoods and have a better overview of the cultural, social and economic wealth of the city.
We live in our city, we love it, we protect it.
Our vision
We are the world's 1st and only low carbon tourist bus fleet.
We are exploring innovative solutions to save energy and natural resources, and to combat climate change. We are committed to reducing the environmental impact of our operations.
Our mission
We set ourselves an ambitious objective to reduce our greenhouse gas emissions by 50% by 2050 and convert our entire bus fleet to clean energy.We achieved our goal ahead of schedule by accelerating the conversion of our fleet to clean energy.
Our objectives
1. Converting our bus fleet to clean energies
We are already exploring and using all kinds of innovative energies to convert our fleet: electricity, retrofitting, natural gas, biofuels...
2. Combatting waste
Our actions: Reducing waste through digitisation, encouraging our customers to use the Tootbus app rather than paper brochures and tickets, promoting energy efficient habits among our staff and customers, recycling, using materials that can be reused or recycled, training our drivers in eco-driving.
3. Improving quality of life
Our actions: We are enriching the customer experience and making life more comfortable for our customers and local residents by eliminating greenhouse gases to reduce pollution and improve air quality.
4. Raising customer awareness
Our actions: We want our customers to participate in this change and we encourage them to do so through messages in our audio commentaries and bus displays. We are also planning to include carbon footprint indicators on our app.
5. Becoming an opinion leader in the tourism sector
Our actions: Having implemented the energy transition in our fleet, we want to initiate profound change and encourage other tourism companies to replicate our approach.
Renewal and conversion of bus fleets to clean energies.
In Paris
Today, our fleet is ultra-low emission, and our buses that tour the streets of Paris are electric and natural gas (NGV) vehicles.
In addition to the environmental benefits, passengers enjoy a comfortable tour thanks to the eco-responsible driving of all our specially trained drivers.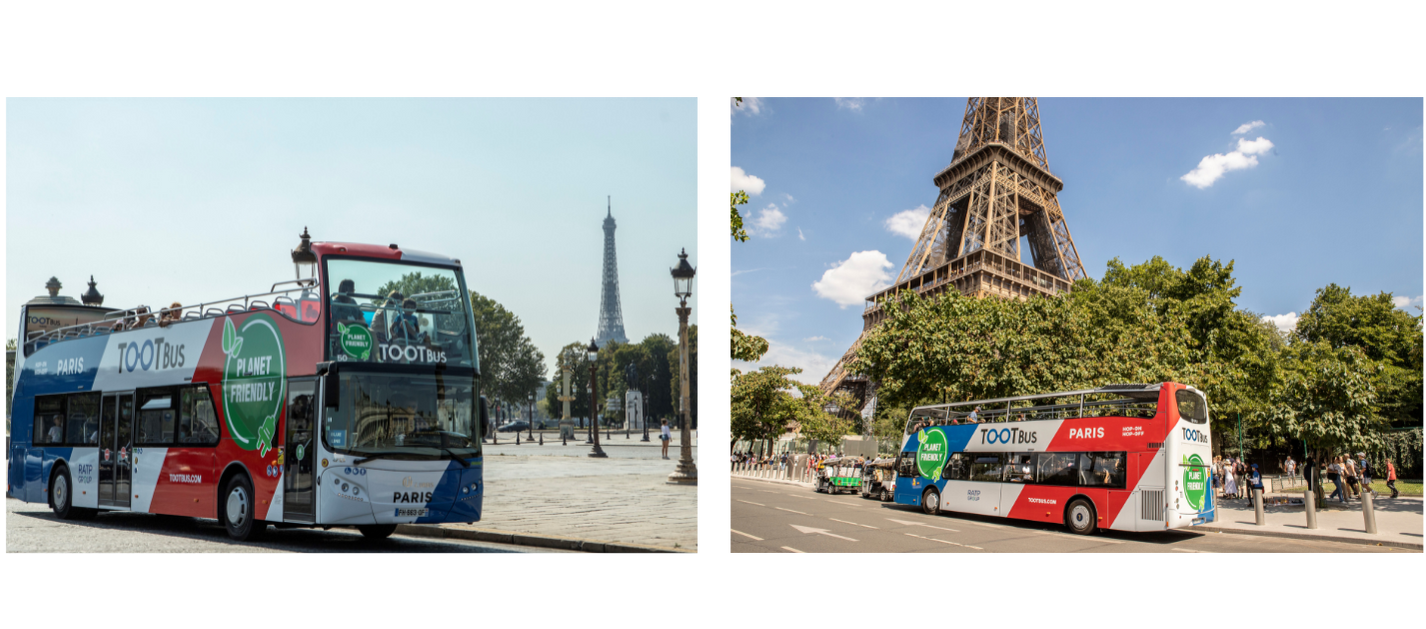 Technical challenges, European partners
Tootbus has deliberately chosen European partners to build its new fleet. Operating an ultra-low emission fleet requires transforming a depot to make it suitable for the different types of vehicles. Major investments have been made to install bus chargers and train staff in battery handling.
In London & Windsor 
The entire diesel fleet has been replaced by biofuel.
Biofuel is a combustible liquid made from waste oils. It is a 100% renewable substitute for diesel.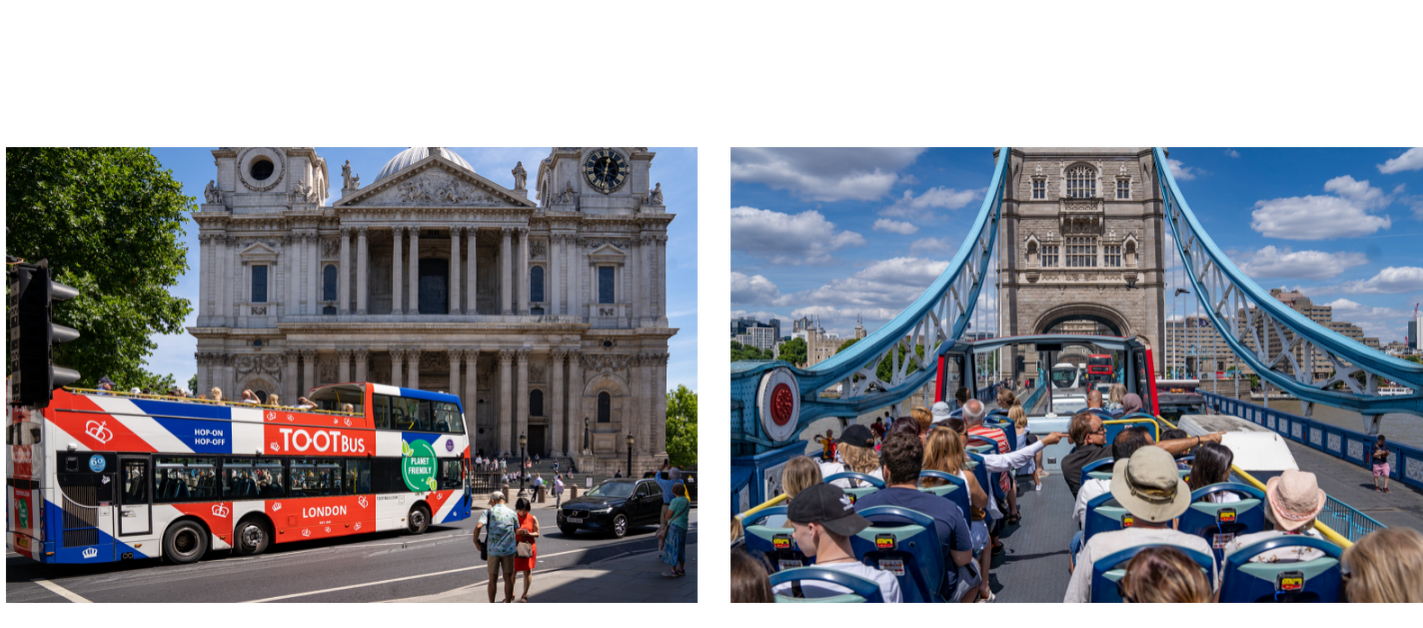 What are the advantages of biofuel:
It works better than diesel in cold weather

Cleaner combustion

It reduces CO2 emissions by up to 90% compared to standard fossil fuel diesel

It reduces nitrogen oxide emissions by up to 27%

It reduces particulate emissions by up to 80%
Beyond these benefits, biofuel has proven crucial for improving air quality.
In Brussels
Tootbus launched in November 2021 with a fleet of 100% electric buses.
A world first!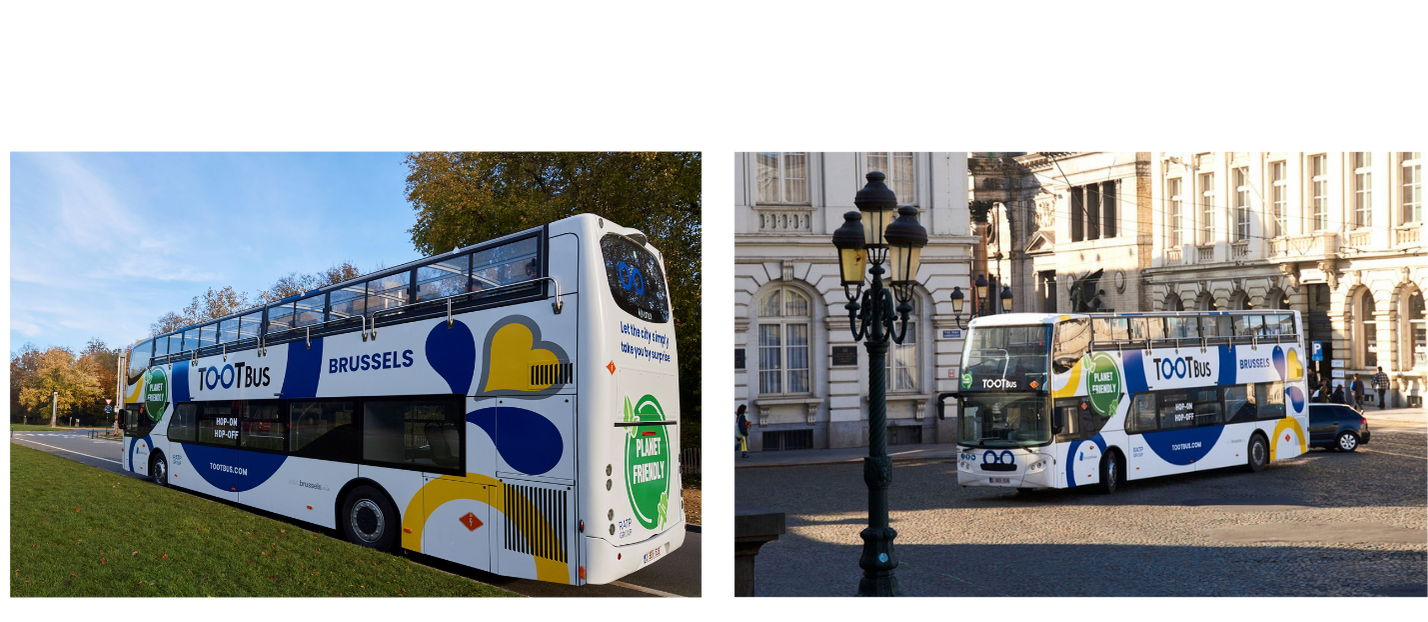 Because we want to act as a responsible brand, we are continuing our efforts to extend our measures to all our cities.
Want to know more about sustainable tourism? We have our first barometer online here