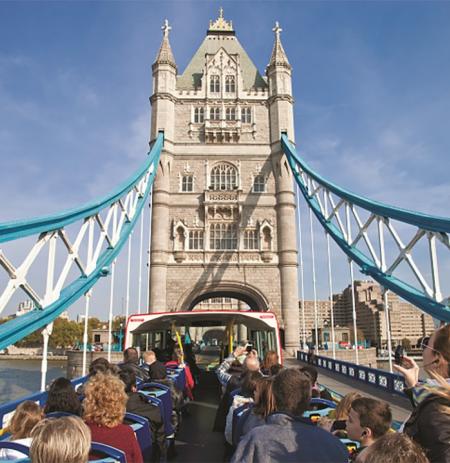 London Discovery
Hop-on hop-off London
Tootbus London Discovery allows you to get a first overview of London's top landmarks and attractions in a day.
Description
Check out all the wonderful things London has to offer in a day when you hop on board the Tootbus London Discovery tour! Make your way around, experience the heart of the city and see London's top landmarks from the open-top deck of the bus including; Tower of London, Tower Bridge, Westminster Abbey, London Eye, Piccadilly Circus, Trafalgar Square, Covent Garden, The Houses of Parliament, Big Ben, Buckingham Palace, St Paul's Cathedral, St. James Palace etc.
Take advantage of the incredible views of the capital from above to pinpoint all the places you want to see up close. Follow your hit list, hop-off the bus at the nearest stop and explore more in depth. Choose to see the Crown Jewels at Tower of London, the Changing of the Guard at Buckingham Palace or climb the dome of St Paul's Cathedral. Food lovers may find a piece of paradise at Borough Market, one of the best food markets in London. As the day falls, opt for a ride on the London Eye or enjoy for a fun night out in Soho.
Don't forget to speak to our knowledgeable and enthusiastic local experts. They will guide you across the city and give you the best insights! If you are traveling with children, try our child friendly channel available in English and French, it will keep them entertained! Upon first validation, your ticket is valid 24 or 48 hours; according to the option booked. You can hop-on hop-off, for an unlimited number of times within the validity period.
Explore London at your own pace

See London's top landmarks

Stunning views and photo opportunities

Comfort and safety in the open air

Key facts about London through audio guide
Timetable
First departure
08:50am
Last departure
week 4:40pm weekend 6:00pm
Every day from Monday to Sunday
Route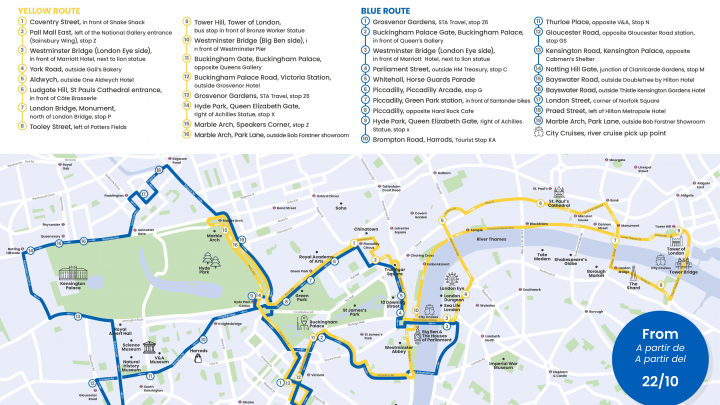 Explore more of London!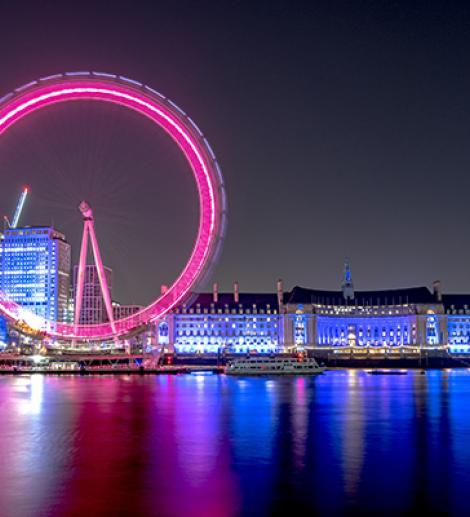 Enhance your experience by adding an attraction or activity into your basket to help you explore more of London. Once your tour is booked, we will recommend activities and attractions you can add to your bascket at a discounted price!
Select your tour
Pick up available activities after booking
Add to cart
Let's go!