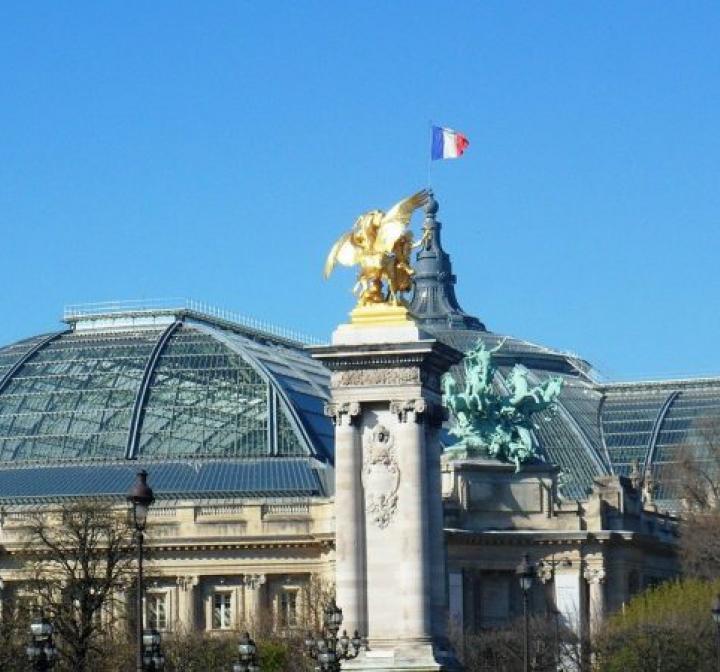 All about the Grand Palais
Discovering the Grand Palais
Located at the corner of Avenue Winston Churchill and the Champs Elysées in the eighth district of the French capital, the Grand Palais is an icon on the banks of the Seine to the west of the city. It regularly hosts large events such as fashion shows, art exhibitions, classic car auctions and even equestrian events. However, how well do you really know this building, which serves as an exhibition centre? What do you really know about its history or its size? Learn everything you need to know about this grand palace.
A symbol of the Universal Exhibition
It all started with the Universal Exhibition in 1900, the Exposition Universelle. Each time one of these major events was held, brand new Parisian monument were erected. The most notable of these is the Eiffel Tower, which was built for the 1889 Exhibition, as well as the Statue of Liberty on the Pont de Grenelle. The Grand Palais was another of these monuments.
Construction of the building, which was the outcome of a contest held among French architects, started in 1897. As there was nothing to choose between the four finalists, the monument actually consists of the work of four architects, Girault, Thomas, Deglane and Louvet, each of whom was responsible for a part of the building.
Built on the site of the Palais de l'Industrie, the Grand Palais was officially opened on 1 May 1900, two weeks after the launch of the Exposition Universelle.
The Grand Palais: a monument in stone and steel
With a neoclassical design influenced by four separate architects, the architecture of the Grand Palais de Paris is in two different styles. The large stone walls recall centuries past, when buildings required large windows to enable light to enter, with the building being topped by a vast metal structure with an immense glasshouse. The result was that the Nave of the Grand Palais used over 9,000 tonnes of steel, compared to just over 7, 000 in the Eiffel Tower!
This monument, which is 45 metres high and 240 metres long, is located on the western side of Paris, enjoying exceptional views that start at the Hôtel des Invalides, cross the Alexandre III Bridge and culminate in the Champs Elysées.
The Grand Palais can be divided into three sites: the Nave, with a vast, distinctive glass area, the Palais de la Découverte ("Discovery Palace") and the Galeries Nationales ("National Gallery.")
Visiting the Grand Palais
The monument is open to the public, with each of the three sites being visited as a destination in its own right. As such, the Nave is used for temporary exhibitions and one-off events, while the National gallery is used to host art exhibitions and the Discovery Palace being dedicated to science.
Entry fees depend on the specific exhibition, while reduced prices are available for jobseekers and those receiving in-work benefits ("RSA"), old-age pensions, young people, and large families. The Grand Palais can be accessed by Métro (Lines 1 or 13, Champs-Elysées Clémenceau station), bus, RER regional railway or our Tootbus Blue Iconic Tour at stop number 10, "Pont Alexandre III - Invalides."