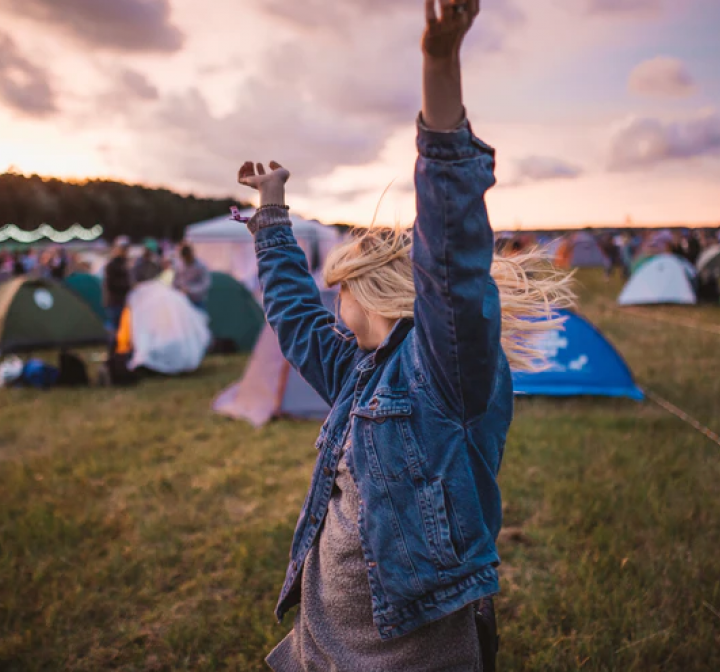 Summer Festivals in London
We know that loading up the car, putting up a tent and trudging through muddy fields can make going to a festival hard work. However, some of the summer's hottest festivals are right in the centre of London, so you're only a tube ride away from a fun-filled weekend.
From day time food festivals to music festivals that last through the night, there are London festivals this summer for everyone to enjoy. And why not make the most of your time in the capital with a hop on hop off bus tour for the fastest way to see the city?
Summer Festivals in London
Field Day
With an old school village fete vibe, Field Day festival brings together village games by day and a great musical lineup by night. There are indoor warehouses and outdoor arenas hosting jazz artists to DJ sets and plenty of stalls where you can grab a drink or a bite to eat.
Where: Victoria Park, Grove Road, London E3
When: 29th of August
Mighty Hoopla
This one-day event celebrates all things sparkly, poppy and fun at Mighty Hoopla! There are tons of 80's, 90's and 00's pop sensations which will take you right back to your younger years. Enjoy a selection of street food and drinks as you dance the day away in platform shoes and a cute bum bag.
Where: Brockwell Park, South London
When: Saturday 4th of September 2021
Taste of London
Enjoy 10 days of food at Taste of London. Sample dishes from some of London's best restaurants, take part in a masterclass and purchase some mouthwatering food and drinks from the farmers market. Take part in VIP taste experiences and learn new ways to prepare your meals from some of the world's best chefs.
Where: Regents Park
When: 7-11 of July and 14-18 of July
How much: Tickets from £23 or multiple entries from £73
Live at Chelsea
Set against a beautiful backdrop, Live at Chelsea is a series of individual concerts with seated tickets available. The festival ends with a musical celebration on the Sunday. There is also the option to add dining packages to your concert ticket.
Where: Royal Hospital Chelsea, Chelsea Embankment
When: Friday 17th of June 2022
How much: Tickets for individual concerts from £63.25
Wireless
Enjoy a weekend music festival in London without camping! Head to Wireless over the festival to enjoy music from different artists. There are tons of DJs and hip hop artists performing over the three days and you can take your own food and drinks into the festival or check out the food vendors once you are inside.
Where: Crystal Palace Park
When: 10th - 12th of September 2021
How much: Single day tickets from £77.50
London Pride
Pride London is a month-long celebration which comes to a close with the annual parade. In the lead up to the parade, you can attend Pride in London festival and the Pride's Got Talent music and cabaret competitions. There is also a Gala Dinner and the iconic parade takes to the streets on the 11th of September.
Where: All over London
When: 11th of September 2021
How much: Free to watch the parade & other events.
Kew The Music
Kew The Music presents a different picnic concert each night of the festival. You can bring your own picnic, folding chairs and alcohol and enjoy music from James Blunt, Van Morrison, Gipsy Kings, and others. Children are welcome to attend and there are places to buy food and drink once you are inside.
Where: Kew Gardens
When: 5th-10th of July 2022
How much: Tickets from £40.25
Meltdown Festival
The Meltdown Festival is organised by producer, songwriter and musician Nile Rodgers. This unique festival is curated by a different artist each year and the years lineup can include everything from a mix of funk, disco, jazz, soul, classical, to pop and R&B music, amongst other genres.
When: June 2022
London Craft Beer Festival
With a London Craft Beer Festival ticket, you get to try unlimited 100ml samples of beer from over 80 breweries during your session. Breweries include Harbour and Weird Beard, amongst many others, along with a selection of pop up kitchens and a street food bazaar. There is also live music with some great headline acts.
Where: Tobacco Dock
When: 13th -14th - 15th of August 2021
How much: Ticket from £53
Notting Hill Carnival
For a colourful celebration of Calypso and Caribbean music, Notting Hill Carnival is not to be missed. Enjoy steel band performances, storytelling, poetry, comedy and performances from a range of musical genres. This vibrant summer festival is open to everyone and is complete with Caribbean food and drinks and colourful parades celebrating the culture. If you plan on seeing London on an open top bus, be sure to hop off nearby to visit the Carnival.
Where: Notting Hill
When: 29-30 of August 2021
How much: Free celebration
From dance music to craft beer, there is a summer festival in London for everyone. Whichever one you choose, you are sure to have the time of your life! So don't forget your glitter and festival glam, throw all of your cares away and have some fun. Remember our tour bus of London is the best way to see the sights whilst your here.
If you've got some time to spare and fancy some laid back sightseeing in London, step on board a sightseeing bus tour with Tootbus. The perfect way to see the city after a weekend of dancing.