Paris along the Seine river
---
Ah, Paris. For centuries, the City of Light has been the dream destination of sweethearts and all those who love French culture and lifestyle. It is widely considered to be one of the world's most beautiful cities, and once there it's impossible to keep from falling under its spell. The magic of its great historic monuments guarantees you an unforgettable trip through time. Experience the allure of the Haussmann-style buildings, one of the city's signature characteristics. Delight in the authentic, picturesque atmosphere of the cobblestone streets in Montmartre or the Marais. Enjoy a glass of wine on a balcony overlooking the rooftops. Explore the city by night like Hemingway for a Midnight in Paris-style adventure, losing yourself in ancient times.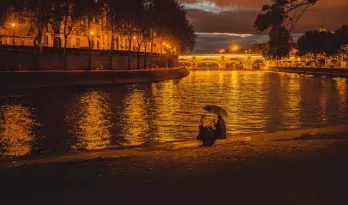 Pair your tour with a seine river cruise for the perfect day out
Let Tootbus Paris take you on an unforgettable trip along this legendary river. Getting a closer look at the monuments and seeing them from a new angle is the best and most unique way to experience this city of a hundred villages. That's why we're offering a combination of three of the most popular ways to get around in the heart of the city: by bus, on foot, and by a Bateaux Parisiens Seine river cruise.. Are you ready to wander through Paris, taking in its delightful atmosphere?
Start with stop to discover the Ile de la Cité, at the foot of Notre Dame Cathedral. You'll savor every moment of this amazing historical experience. Let yourself be soothed by the ringing of the bells, and admire the immensity of the monument. Stroll a short distance up the Seine to visit the Conciergerie and the Palais de Justice. The Pont Neuf bridge will take you directly to the Quai du Louvre. True romantics won't want to miss the Pont des Arts bridge.
But to round out your Parisian experience, taking a tour on a Bateaux Parisiens Seine river cruise is the icing on the cake.
Lunch Cruises, Floating on the Seine
It's the perfect way to enjoy an amazing view of the heart of the city while savoring sophisticated French cuisine. There's nothing more traditional than floating along on the currents of the Seine. To save the best for last, end your day with a visit to the Eiffel Tower. You can catch the iconic route from there to complete your tour by bus, or simply order coffee at a café terrasse and enjoy watching the world go by, like a true Parisian.