Things to do with kids in Paris in winter
---
Take advantage of the Christmas holidays from 23rd December 2023 to 007January 2024 to discover Paris with your family. Visit the capital during the festive season with our Christmas Tour. Experience the magic of Christmas in the City of Light and discover our ideas for outings for you and your kids.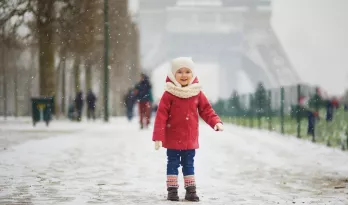 What can you do in Paris this winter?
From sightseeing bus tours to musicals, ballets, concerts, exhibitions, attractions and festivals, Paris is full of things to do in winter with children. Discover our selection of activities for all the family!

Kids Tour
Enjoy the magic of Christmas in Paris with the Tootbus Kids Tour. Our guide, dressed up in an elf hat for the occasion, will take you on a tour of the capital based on the theme of the great festivals that have marked Parisian life.
You'll learn all about the Bal de l'Opéra, the most famous of all the Paris Carnival balls. You'll discover the splendour of the royal festivities held at the Louvre, the fête des fous at Notre-Dame, the current festivities around the Eiffel Tower, Russian Christmas at the Orthodox cathedral... A question-and-answer game and anecdotes will also be provided.

The Lion King Musical at the Théâtre Mogador
Since its creation, the Disney musical "The Lion King" has been a worldwide triumph, with characters such as Mufasa, Simba and Nala becoming internationally recognised icons. The show is being staged at the Théâtre Mogador, where it has been a colossal success, with performances scheduled until May 2024.
How to get there?
Hop off at stop 1 Printemps / Galerie Lafayette

Garnier Opera House
Visit the Palais Garnier on your own or on a guided tour. The monument is open every day from 10am to 5pm, with ticket sales available until 4pm.
From 8 to 31 December 2023, discover the work of Jiří Kylián. This season, three new creations by the Czech contemporary dance dancer and choreographer will join the Ballet's repertoire. A young people's preview will be held on 7 December 2023.
How to get there?
Hop off at stop 1 Printemps / Galerie Lafayette

Jazz & Goûter at Sunset Sunside
The successful Jazz & Goûter concept, which brings snack time to life every Sunday, is back for its 16th season. You can choose between two times: 3pm or 5pm, and even 11am on 24 December 2023! Come and discover tributes to artists such as Miles Davis (03/12/2023) and Walt Disney (10/12/2023), as well as unmissable themes such as Christmas Carols (17/12/2023) and Christmas Songs (24/12/2023). It's the place to be every Sunday for children and parents alike.
How to get there?
Hop off at stop 3 Musée du Louvre

Exhibitions and events
Felines are exceptional predators, mammals that arouse both admiration and fear. They form one of the most diverse families of animals. But how well do you really know them? Marvel at the 38 species of feline that inhabit our planet at the Félins exhibition-event being held in the Grande Galerie de l'Évolution at the Muséum national d'Histoire naturelle until 7 January 2024.
After dark, the Jardin des Plantes is transformed into an authentic jungle! Explore and immerse yourself in the flora and fauna of tropical forests thanks to the exhibition-event Jungle en voie d'illumination, open until 21 January 2024.
How to get there?
Hop off at stop 4 Notre-Dame - Quartier Latin

Attractions at the Jardin d'Acclimatation
The Jardin d'Acclimatation, in the Bois de Boulogne, remains open during the festive season and the Christmas holidays. You'll have the chance to spend some fun family time with attractions and natural discoveries: animals, garden, vegetable garden...
How to get there?
Hop off at the 7 Champs-Elysées - Lido stop.

The Festival of Wonder
From 27 December 2023 to 7 January 2024, come to the Musée des Arts Forains to experience a Festival of Wonder in the heart of an authentic funfair atmosphere. A magical show awaits you, offering a memorable experience for young and old alike, with a selection of rides and attractions at your disposal.
Don't miss the chance to discover an exhibition of over 100 photos by Robert Doisneau dedicated to the enchanting world of the funfair. Admission is €14 for adults and €6 for children.

Which museums to visit in Paris this winter?
During winter, nature goes into hibernation, but in Paris, museums are livelier than ever! Here is our selection of not-to-be-missed exhibitions in the capital.

The Louvre
Every Friday, round off your week in style or get your weekend off on the right foot by treating yourself to an enchanting moment amidst the collections of the Louvre. These weekly evening events offer a wide range of activities for young and old alike, including mini-discovery tours included with museum admission, as well as "OFF" tours featuring unusual visits and activities.
There are also some exceptional exhibitions! Enjoy Naples in Paris until 8 January 2024 and discover The Treasure of Notre-Dame de Paris - From its origins to Viollet-Le-Duc until 29 January 2024.
The museum is also offering classical concerts in conjunction with the above exhibitions until 26 January 2024.
How to get there?
Hop off at stop 3 Musée du Louvre

Quai Branly Museum
Dive into the world of the 7th art! Until 14 January 2024, the Bollywood Superstars exhibition retraces a century of the history of Indian cinema, from its mythological and artistic roots to the adoration of its actors and actresses, who have become veritable stars of the screen.
Extend your discovery with the Bollywood Sundays event. Embark on a captivating journey to India through dance and music, and encounter the world of Bollywood every Sunday from 3pm to 5pm.
How to get there?
Hop off at stop 9 Tour Eiffel

Rodin Museum
Until 3 March 2024, the Musée Rodin is opening its doors to British artist Antony Gormley with the exhibition Critical Mass. For more than four decades, the artist has been exploring the interactions between man and the spatial environment, using the human body as his principal means of expression.
How to get there?
Hop off at stop 10 Pont Alexandre III - Invalides

Cité des sciences et de l'industrie
With the temporary exhibition City of Tomorrow, explore concrete solutions to the many challenges of climate change through an entertaining and participatory itinerary. Crucial issues such as energy, water management, construction, housing, mobility and waste treatment will be addressed so that together we can imagine a more sustainable city. The exhibition is open to all until 7 January 2024.
Whether permanent or temporary, the exhibitions at the Cité des Sciences et de l'Industrie cover a wide range of subjects: space, climate, the seabed, mathematics... Find out more about the extensive programme on the museum's website.

What Christmas events are in Paris this winter?
Discover our selection of festive events on offer in Paris over the festive period: department stores' windows, Christmas lights, Christmas markets and amusement parks.

Department stores' Christmas windows
Christmas window decorations in department stores are works of art. In keeping with tradition, the façades of Parisian department stores (Printemps Haussmann, Galeries Lafayette, BHV Marais, La Samaritaine, Beaugrenelle Paris, Bon Marché Rive Gauche) are decked out in their finest festive decorations.
Shop windows are transformed into little puppet theatres or cartoon scenes, where animated automatons and fairy-tale decorations come together in an interactive world. This spectacle is made possible by the invaluable expertise of the craftsmen and decorators who create these enchanting worlds every year.
How to get there?
Hop off at stop 1 Printemps / Galeries Lafayette or stop 2 Opéra Garnier.

Les Sentiers Lumineux de Noël
Les Sentiers Lumineux de Noël are returning to the Parc Floral for a second edition, starting in November. This flagship event at the end of the year in Paris is a must if you want to immerse yourself in the magic of the festive season. The programme includes a magical 2-kilometre route, with a sound and light show for all the family to enjoy.

Christmas markets
The famous Christmas markets are back in Paris this winter, including the famous Marché de Noël in the Jardin des Tuileries. Experience the magic of Christmas with wooden chalets, glittering Christmas trees, twinkling tinsel, mulled wine and the scents of spices that create this unique atmosphere. Christmas markets are a must if you want to enjoy the festive spirit in the capital.

Disney Enchanted Christmas 2023 at Disneyland Paris
From 11 November 2023 to 7 January 2024, immerse yourself in the incredible enchantment of Christmas at Disneyland Paris. Nothing can match the extraordinary atmosphere of Disney Enchanted Christmas to bring your family together and create memories that will stay with you forever!
To continue your visit to the capital, discover our Tootwalk service. Take advantage of 3 walking tours available free of charge on the Tootbus application. The capital will hold no more secrets for you!