Top Things to do in Bath: 18 ideas to enjoy the city
---
Bath is a UNESCO World Heritage Site on the River Avon full of beautiful sights, museums, walks and historical landmarks!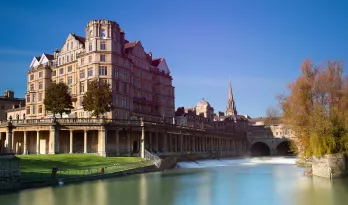 You can book your sightseeing bus tour of Bath today to ensure you don't miss out on its top attractions and activities!
Historic sites in Bath
The city of Bath was discovered by the Romans who built their settlements around the thermal spas they found there. It is full of stunning Georgian architecture and is rich in British history, with lots of must-see spots.
Roman Baths
The Roman Baths are unique thermal springs in the heart of Bath City Centre. The baths still flow with hot water and visitors can even try the warm spa water in the Pump Room restaurant. Audio guides are available in 12 languages and costumed characters share stories about life in Roman Britain. Adult tickets cost from £17 to £27, or you can purchase a saver ticket which includes entry to the Victoria Art Gallery and the Fashion Museum.
Bath Abbey
Locals and visitors are welcomed into Bath Abbey to worship or simply admire the stunning architecture and stained glass windows. Three churches have occupied the site since 757AD and the present version of the Abbey was transformed in the mid-late 1800s. Opening times vary and you can extend your visit with the addition of a tower tour or by attending a service.
Pulteney Bridge
Pulteney Bridge was built in the late 1700's to connect central Bath to land on the other side of the River Avon. It is one of just a few bridges in the world with shops built into it and there are stunning views of the bridge from the Parade Gardens. It is a great place to begin or end a beautiful evening walk around Bath City Centre.
The Circus
Alongside the Royal Crescent is a circle of terraced houses called The Circus, which was inspired by the Colosseum in Rome. This unique example of Georgian architecture was designed by John Wood, the Elder. Completed by his son, it is free to visit. For panoramic views of The Circus, stand on the central lawn to admire the circular facade.
Walking around Bath
Both the city centre and surrounding countryside of Bath are beautiful to explore by foot. There are a number of walking routes with stunning views and tours of the city offering a wealth of knowledge about Bath's history.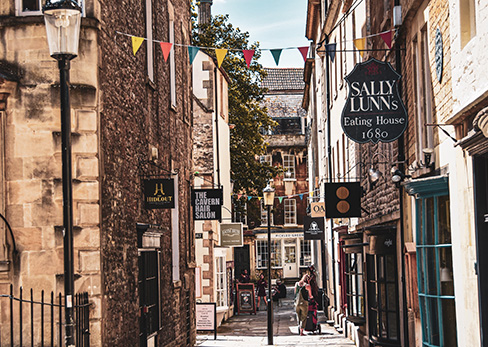 Free Guided Tours
Mayor's Guides have been giving free walking tours of Bath since 1934. All guides are volunteers and they don't accept tips for the services they provide. The tour runs at 10:30am and 2pm Sunday-Friday and at 10am on a Saturday and takes around 2 hours. Just turn up on the day at the meeting spot outside the Roman Baths and look for the signs saying 'free walking tours start here'.
Royal Victoria Park
The Royal Victoria Park is in front of the Royal Crescent and it's a perfect spot to visit with the family as there are plenty of activities on all year round. Entrance is free and there are tennis courts, visiting musicians, fairs and circuses throughout the year and an open-air ice rink in the winter. There's also an adventure playground, flower gardens, bowling greens and plenty of open space where you can watch hot air balloon tours take off over the city.
Prior Park Landscape Garden
If you want to see Bath's Palladian Bridge, head to the Prior Park Landscape Garden. The garden is easy to get to by bus and there is disabled parking at the entrance. It is free to enter for National Trust members and there is a musical playground, family discovery trail and Tea Shed with hot drinks and snacks. Prior Park is only open over the weekend during the winter but there are still plenty of events and workshops to enjoy during the festive season.
Skyline Walking Trail
For some of the best views of Bath take the Skyline Walking Trail through the hilly woodland areas surrounding the city. The 6 mile walk takes roughly 3 ½ to 4 hours and you can collect a map from the Bath Tourist Information Centre or download it from the National Trust website. On your walk you'll pass Sham Castle, hidden valleys and old Roman settlements and see spectacular views of the World Heritage Site.
Bizarre Bath Comedy Walk
To see a different side to the city at night, try the Bizarre Bath Comedy Tour for an evening of mystery, thrills, history and live street entertainment. The city tour is designed for adults, but suitable for children, and runs every night from March-October. The tour departs from the Huntsman Inn at 8pm and lasts for around an hour and a half. So if you're up for a laugh and you want a unique experience of Bath, this comedy walk is sure to be a great night out.
Museums to visit in Bath
When it comes to museums in Bath, you really are spoilt for choice. Whether you want to learn about one of Britain's most famous authors or American culture and history, there are plenty of museums to choose from.
Jane Austen Centre
To celebrate their most famous resident, Bath's Jane Austen Centre has a permanent exhibition showcasing the author's work and inspiration for her novels. The centre is in an original period property and visitors can pose for photos in clothing from the era or enjoy afternoon tea with champagne in the Regency Tea Room. The Jane Austen Centre has seasonal opening times and the admission price for adults is £12.
A 10% discount on admission is available with your Bath sightseeing ticket.
Fashion Museum
The Assembly Rooms in the Fashion Museum were purpose-built for 18th Century entertainment in Bath. The Fashion Museum is on the lower ground floor of the Assembly Rooms, and you can dress up, listen to an audio guide and visit the cafe or shop whilst at the museum. The Fashion Museum has seasonal opening times and entry is £9.50 for adults or you can buy a saver ticket including admission to the Roman Baths and Victoria Art Gallery.
Victoria Art Gallery
If you are a lover of art, the permanent gallery at Victoria Art Gallery is free to enter and there are large temporary exhibitions throughout the year. The museum is filled with paintings, sculptures and decorative arts and collections range from the 15th century to the present day. The Victoria Art Gallery is open from 10:30am-5pm every day and kids can make some art of their own with the worksheets and art trolleys around the museum.
American Museum
Bath is home to the only museum about the history and culture of America outside of the US. The American Museum was created to bring American history to Europe and houses quilt, folk and decorative arts collections. There are events and exhibitions throughout the year. The gardens offer stunning views of Limpley Stoke Valley and the River Avon. Tickets are £14.50 for adults and there is a free shuttle bus to the museum from Bath city centre.
Holburne Museum
When Sir William Holburne inherited his family fortune, an 18 month trip around Europe sparked his interest in collecting bronze sculptures, silver, porcelain and Dutch landscapes. He left his collection to the city of Bath and the Holburne Museum now has an additional 2000 items which have been added since his death. The museum is free to visit and holds workshops for adults, young people and children throughout the year.
Afternoon Tea and Spas
Bath is the only town in Britain with natural thermal spas, making it the perfect place to indulge in a spa weekend or relax for a few hours in the natural warm mineral water. To make your visit extra special, there are also plenty of places in Bath to enjoy afternoon tea, before or after a well-deserved and relaxing natural hot spring experience.
Thermae Bath Spa
If you want to bathe in Britain's only natural thermal waters, the Thermae Bath Spa has a number of spa packages to fit in with your visit to Bath. Entrance to the main spa includes bathing in the open-air rooftop pool, the Minerva bath and use of the wellness suite. The spa is open every day from 9am-9pm and there is also a restaurant in the spa, which is perfect if you want to indulge in some delicious food during your visit.
Royal Crescent
Overlooking the Royal Victoria Park is the Royal Crescent, which is another fine example of Georgian architecture consisting of 30 terraced houses and a luxury 5 star hotel. The Royal Crescent Hotel has a spa, beautiful gardens and they also offer afternoon tea and day retreats. You can visit the Royal Crescent for free to admire the views, book into the Royal Crescent Hotel or visit the museum at No.1 to learn more about Georgian life.
Royal Hotel Bath
This Grade II listed building has been home to the Royal Hotel Bath for over 150 years. The hotel is both dog and family friendly and you can book a spa package for either a day or a short break. If you book a day spa, you can also include a three course meal, champagne or afternoon tea to complete your visit, depending on which package you choose.
Sally Lunn's
Located in one of the oldest houses in Bath, Sally Lunn's has been in business for centuries. The historic eating house is famous for the Sally Lunn Bun, the original Bath Bun. You can expect a rich and local cuisine, as well as historic refreshments, either for afternoon tea, breakfast, lunch or dinner. Don't miss out on visiting the historic kitchen museum. It is believed to originally have been the bakery of Sally Lunn who created the first Bath Bun!
There are so many things to do in Bath, so why not make the most of your visit by including a sightseeing tour of the city? You'll see the best of Bath on two double decker bus tours and you can hop on and off the bus at your leisure to see the sights upclose. For a first idea about our itinerary, feel free to take a look at our map!