How to get from London to Bath?
---
Visiting London and have some extra time? Extend your trip to enjoy a day or two to discover Bath. With beautiful Georgian buildings and quaint streets, Bath can seem like a million miles from London. The truth is, it's easily reachable from London, either by train, bus or car.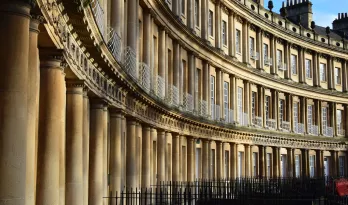 Bath was founded by the Romans as a thermal spa and has been a popular destination for wellbeing and relaxation since the 18th century. This city rich in history makes for the perfect day trip from London.
When you plan a day trip to Bath from London, take an open top bus tour of the city. With commentary on board and stunning views, this is the best way to see Bath as you can get on and off the bus and explore the city at your leisure.
London to Bath Train Journey
Price: From £20.40 one way
Journey time: 1 hour 35 minutes on average
Travelling from London to Bath by train couldn't be easier. Take the train from London Paddington Station, where you can catch a direct train with Great Western Railway towards Bath Spa. The train travel from London to Bath can take as little as 1 hour and 20 minutes. You may need to change at Westbury or Swindon and depending on which route you choose, the journey can take up to 2 hours.
There are various trains departing from London. On weekdays, the first train leaves London at 5:23 and arrives in Bath at 6:43. On Saturdays and Sundays, the first trains leave London at 6:30 and 8:00 respectively. On any day of the week, the last train from London to Bath leaves at 23:30 and arrives at 1:00.
Even though taking the train may be the quickest route, it can also be the most expensive. A super off-peak return train ticket costs £63 and off-peak returns cost £86.80, but these tickets are valid during restricted time periods. If you book early, you can buy cheap train tickets. Advance single tickets are one way tickets and numbers are limited, so you'll need to be quick.
London to Bath by Bus
Price: From £5.90 one way
Journey time: 3 hours on average
Travelling from London to Bath by bus is the cheapest option, but it can take the most time. To travel by bus from London to Bath, take the National Express from Victoria Coach Station in central London. You will arrive at Bath Bus Station, which is centrally located, and the bus also stops at Heathrow Airport.
The first bus to Bath from London Victoria Coach Station leaves at 07:00 and the last bus leaves at 23:00. There is usually a bus service leaving London up to 9 times a day so you can choose when you want to depart. For return journeys, travelling from Bath to London by bus, the first National Express coach departs at 03:30 and the last bus leaves Bath at 20:15.
London to Bath by Car
If there are a few people in your group and you want more flexibility as to when you travel from London to Bath, going by car might be the best option. However, it is worth remembering that you may need to pay a daily congestion charge of £11.50 for driving in the centre of London, an emissions charge and toll fees depending on which route you take.
Journey time: Between 2 hours 20 minutes and 2 hours 30 minutes
Via Windsor
If you want to stop at Windsor on your way to or from Bath, take the A4 then the M4 towards South Gloucestershire and exit at junction 8. From there, continue on the A46 to Cheap Street in Bath city centre. This journey is 115 miles long and takes roughly 2 hours and 20 minutes, depending on traffic. You will drive through the North Wessex Downs and pass Windsor, Reading and Swindon. If you want to discover Windsor and Bath, this is the best route to take.
Via Stonehenge
Make it a historical road trip of some of Britain's finest heritage and stop at Stonehenge on your way to Bath from London. You will need to travel on the A4, M4, M25, A303 and A36, which involves some toll roads. The 122-mile journey takes around 2 hours and 30 minutes, depending on traffic. This route will take you past Stonehenge in Amesbury on the A303. You can park at Stonehenge Visitors Centre and allow around 2 hours to explore the World Heritage Site. If you want to visit Stonehenge and Bath, this is the best route to take.
Planning your journey
Whenever you drive in or around London, you should always be prepared for lots of traffic, especially during rush hour. Make sure you allow for additional time in case you get caught in traffic both in London and when you get to Bath. If you choose to drive past Stonehenge, you should also be aware that the A303 is notorious for heavy congestion.
Parking in Bath
If you need long stay parking in Bath, try the Charlotte Street, Manvers Street or Avon Street car parks where you will pay up to £15 for 12 hours. You can also stay for multiple days at all of these car parks at a cost of £15 per day. Charlotte Street is near The Crescent and The Circus, Avon Street is near the Thermae Bath Spa and Roman Baths, and Manvers Street is closer to Bath Abbey.
Getting around Bath
You can travel around Bath easily by walking, cycling or taking public transport or a city bus tour. Our open top bus tour takes you around all of the best sights in Bath and you can get on and off the bus as much as you want to and explore the city.
Don't miss these sights in Bath
If you are taking a day trip to the Georgian city of Bath, discover the rich history and stunning architecture. Visit the Roman Baths and Pump Room and see the iconic Royal Crescent, The Circus and Pulteney Bridge. If you have enough time, visit the Jane Austen Centre and discover lots more to do in Bath.
If you have enough time you could combine your visit to Bath with a trip to Stonehenge and even push on as far as Bristol which is about 30 minutes away by car and less than 20 by train. Once there, take advantage of our Bristol Discovery Tour to visit the city at your own pace and see its most iconic sites.