How to get to Stonehenge from London
---
Situated in the south of England, Stonehenge is a true wonder of the world. This spiritual stone circle is an awe-inspiring site just 2 miles from Amesbury and 9 miles from Salisbury. To fully immerse yourself in rich British history whilst in the English capital, you are probably wondering how to travel from London to this prehistoric monument in Wiltshire. It takes between 2 and 4 hours to travel from London to Stonehenge and you can access the World Heritage site by train, bus or car.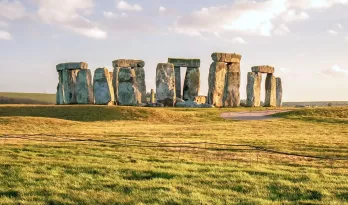 Combine a day trip with a visit to Windsor or Bath and whilst you are in London, explore the city on an open-top bus with Tootbus.
How to get from London to Stonehenge by train?
If you want to travel from London to Stonehenge by train, you will need to travel to Salisbury first as this is the closest train station to Stonehenge, then take the tour bus to the stones. Take the train from London Waterloo to Salisbury on the South Western Railway line. Trains run every 30-40 minutes from around 6.30am and the last train from London to Stonehenge leaves at 11.40pm. The journey takes about 1 hour and 30 minutes and the price only applies to your train ticket. Return journeys back to London start at around 5.15am, lasting around 1 hour and 30 minutes, and the last train back to London generally leaves Salisbury at around 10.25pm.
Price: Super off-peak day return £34.60
Journey time: 1 hour 20 minutes - 2 hours 10 minutes
How to get from London to Stonehenge by bus ?
If you need to know how to reach Stonehenge from London by bus, you have to travel to Salisbury and then take the tour bus to Stonehenge. Starting from London, take the National Express from Victoria coach station to Ringwood from 6.30am to 7.30pm. There are around 4 coaches running throughout the day, every 3-4 hours. You will then need to change at Ringwood and take the X3 to Salisbury. On return, the first coach leaves Ringwood at 6.45am and the last coach leaves at 6.40pm, with around 4-5 coaches throughout the day.
From Ringwood, take the X3 towards Salisbury, operated by the Salisbury Reds. This journey takes around 40m and runs from 5.57am to 11.32pm Monday to Saturday and from 8.43am until 8.43pm on Sundays and public holidays. The X3 runs from Salisbury to Ringwood from 6.40am to 9.45pm Monday to Saturday and from 9.40am until 9.40pm on Sundays and public holidays.
Price: Around £35
Journey time: 2-3 hours
How to get to Stonehenge by tour bus ?
The only way to reach Stonehenge from London by public transport is by travelling to Salisbury first and then taking the designated tour bus. The Stonehenge tour bus is operated by the Salisbury Reds, with commentary in 10 different languages, and is the only bus service that runs from Salisbury to Stonehenge. Salisbury is the closest train station to Stonehenge, so once you arrive in Salisbury you will need to take the Stonehenge tour bus. Equally, if you are travelling by bus, you will also need to change at Salisbury and take the Stonehenge tour bus to complete your journey to the World Heritage site.
The timetable changes depending on the season. During the summer the first bus leaves Salisbury Rail Station at 9.30am and the last bus leaves at 5pm. On the return from Stonehenge, the first bus leaves at 10.13am and the last bus leaves at 7pm. As the timetable changes, buses start later and end earlier throughout different seasons, so make sure you check the timetable prior to your visit. With your bus ticket, you can also get on and off the bus at Salisbury New Canal and Old Sarum and explore these areas at your leisure.
Price: £10 child, £15 adult
Journey time: 30-40 minutes
How to get from London to Stonehenge by car ?
Driving to Stonehenge from London is probably the fastest and most direct route from the capital. You can rent a car from Heathrow Airport from around £53 for the day and depending on where you are travelling from, you may need to pay a daily congestion charge of £11.50 and also an emissions charge. However, if there are a few members of your party travelling to Stonehenge, this could work out cheaper and be quicker than public transport.
Journey time: 2 hours - 2 hours 30 minutes
Driving from London to Stonehenge
Turn your visit to Stonehenge into a full day trip by travelling to Salisbury and taking the tour bus. To get to Salisbury, use the M4 then go onto the M3 and take exit 8 onto the A303. Follow the A303 to the A343 and finally the A30 to New Canal in Salisbury where there are plenty of places to park for the day. Alternatively, you can drive straight to Stonehenge by continuing on the A303 and following signs from Amesbury which will take you on the A360 to Stonehenge.
Planning your journey
Central London can be busy during rush hour, so allow plenty of time for traffic if you are travelling at busy times. Additionally, the A303, which is the only road to Stonehenge, is notoriously busy. Filled with vans, lorries, commuters and, of course, tourists, the A303 is known for heavy congestion, so be prepared for long queues into Stonehenge, especially during school holidays.
Parking at Stonehenge and Salisbury
It is free to park in Stonehenge for ticket holders. You will need to pay £5 in cash to access the car park, but this can be refunded when you purchase your ticket into the site. It takes around 10 minutes to get to the stone circle from Stonehenge Visitors Centre and you can do this by taking the free shuttle bus from outside the shop.
Alternatively, you can park in a long-stay car park in Salisbury for £8.90 for the full day and just £1.90 on Sundays. Long-stay car parks in Salisbury include Culver Street, College Street, Mill Stream Approach and Central car park. These are all within a 20-minute walk of Salisbury Cathedral and Salisbury train station where you will take the Stonehenge Tour bus.
How to get around Stonehenge and Salisbury ?
A Stonehenge Tour bus ticket will allow you to get on and off the bus as much as you want to on the date of your ticket. Stops along the way include Salisbury Rail Station, Salisbury New Canal, Stonehenge and Old Sarum.
Things to do in Stonehenge and Salisbury
Salisbury is known as the 'City in the Countryside' and is the closest city to Stonehenge. There are a number of historic houses, museums, shops, restaurants and of course, Stonehenge is in close proximity.
Entry to Stonehenge is free for English Heritage members and costs £11.70 for a child and £19.50 for an adult if you pay on the gate. It is open between 9am-8pm in the summer with later opening times and earlier closing times throughout the year. Stop at Old Sarum, an iron age hill fort from over 2000 years ago, which was once the original site of Salisbury Cathedral. Alternatively, visit the 13th Anglican cathedral in Salisbury city.
If you don't want to visit Salisbury whilst going to Stonehenge, why not combine your day trip with Windsor or Bath? Stonehenge is between Bath and London so you could try our city sightseeing tour of Bath. If you don't want to travel quite as far, you can visit Windsor on your way to or from London and try our sightseeing tour there. Finally, don't miss the chance to see the best bits of London on a bus tour with Tootbus.