The best way to travel around London
---
There are lots of ways to travel around London. If you want to go sightseeing and explore London's best landmarks, there is no better way to do it then by taking a tour bus around the city with Tootbus.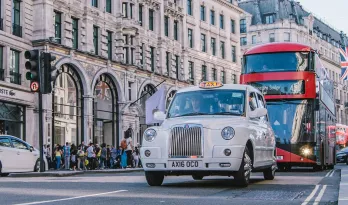 Tootbus London
We may be biased, but if you are only in the capital for a short amount of time, the best way to get around London is on an open top tour bus. Don't miss a single sight by being stuck underground or getting lost on the streets. Just book a city sightseeing ticket! Choose from bus or bus + cruise tour from Tootbus or select the London Express for a quick overview if you have less time in the city. You can hop on and off our buses as much as you want to without worrying about paying each time you get on a bus.

With a ticket from Tootbus, you will have access to bus stops all over central London. Our tours show you around the best bits of the city. You don't even need to worry about catching the wrong bus as all of The Original Tour buses are easily recognisable with a giant Union Jack covering each bus. If that wasn't enough, each tour has either a live guide or multilingual audio commentary on board and you can save money on top attractions when you combine with a bus ticket from Tootbus. Once your tour is booked, we will recommend activities and attractions you can add to your basket at a discounted price!
How much is the cost of a bus in London?
A bus in London costs £1.55 for unlimited journeys for made within one hour of touching in but you can not pay with cash. There are over 8000 busses in the city and over 700 different routes, but with so many options it can be very overwhelming knowing how to travel on London buses. To travel on a London bus, you will need to pay by using either an Oyster card, London bus travel card or contactless payment. If you have an older person's bus pass issued by another English council, you might also be able to use this for free bus travel on London's public buses.
Public buses can be the cheapest way to travel around London, with a daily cap of £4.65 for unlimited travel. However, you might miss out on some key attractions in the city and it can sometimes be difficult to know which bus to get. Don't miss a moment and benefit from audio commentary and exclusive insights when you travel with Tootbus.
How much does the London Underground cost?
A tube journey costs £4.90 in zones 1-2 if you buy a single journey ticket from the tube station. However, if you choose to pay with a contactless card or an Oyster card, that same journey could cost you just £3. It is usually cheaper to travel around London in zones 1-9 by paying as you go. If you only want to travel around zones 1-2, you will still need to purchase a London underground day travel card for zones 1-4, costing £12.70 for the day. However, if you use pay as you go with contactless or an Oyster card, there is a daily cap in zones 1-2 of £7.40 so you won't pay more than the capped amount for a days travel in these zones.

When you are travelling around London, using the underground at least once is a must. Experience a new side to London when you go underground and enjoy musicians, poems, art and some fantastic underground stations. This is definitely not a travel experience you should miss out on but you may miss out on some amazing architecture and attractions if you choose to travel on the underground for your whole trip.

It can also be difficult to predict how busy a train will be. If you are travelling in Zone 1 past popular tourist hotspots, you can bet that train travel in London is going to be very busy. So you either need to brave the crowds and squash into a carriage or wait for the next train… Although the chances are, the next one will probably be packed too.
How much is a London travel card?
A London travel card costs £12.70 per day for travel in zones 1-4. If you need to know where to buy a London day travel card, you can purchase these at most tube stations. While this seems like a good option, you can pay as you go with either a contactless bank card or an Oyster card and travel for a whole day in the same area at a capped cost of £10.60. If you are travelling with children under the age of 11, they will travel for free.

If you already have a contactless bank card, you can use this the same way you would use an Oyster card and you will be charged the same price. However, each member of your party needs their own card to travel. If you are visiting London from another country, it might be worth getting a Visitor Oyster card as you may be charged by your bank for using contactless payments on the underground. You can only purchase a Visitor Oyster card before you travel to London which costs £5 for the activation fee as well as a minimum top-up of £10 when you purchase.

If you will be in London for 2 days, £15 credit should be plenty to cover your travel costs but you can always top up your card if you need to add more money to it. You can use a Visitor Oyster card on the underground, tram, bus, DLR and some National Rail and River Bus services. The Visitor Oyster card is valid in all travel zones and calculates the cheapest fare for the day, with unlimited travel in zones 1-2 capped at £7.40 per day. You will also receive discounts for some shops, restaurants and attractions with a Visitor Oyster.
What is the cheapest way to travel in London?
It may seem so obvious you didn't even realise it, but the cheapest way to travel in London is to walk. If you are physically fit and enjoy wandering around a city then, like most places, walking is an easy way to travel for free in London. Although it may seem daunting to navigate London by yourself, if you are confident with a map (or have a smartphone with a map app) you might be surprised to find how close some of London's main sites are.

If you only need to take one or two tube stops, it can often be quicker to just walk to your destination once you factor in the time taken to walk to the platform and wait for your train. The same could be said for waiting for the right bus to come along. However, if you don't feel confident making your own way around the city, Tootbus London can take you to all of the top attractions and destinations so you don't have to worry about getting lost or taking the wrong bus or train.
How much does it cost to hire a bike in London?
If you are more active and feeling brave enough to take to the roads in London yourself, then renting a bike can be a great way to see the city. With designated cycle lanes, it can often mean that travel times are much shorter than they would be by taking public transport as you won't be stuck in traffic or crammed between floods of people on the tube.
How to use the Santander bikes in London?
You can hire city bikes in London at multiple places throughout the capital with Santander Cycles where it costs £2 to access bikes for 24 hours. Your first 30 minutes are free and you will pay an additional £2 for every 30 minutes after. You can register and pay instantly at any terminal and return your bikes to any docking station in the city. Download the app for live bike availability, docking stations, journey summaries and bike release codes sent straight to your phone.
Alternatively, hire a bike from Cloud 9 Cycles in Fitzrovia from £25 per day and up to £80 for the whole week. Or, try On Your Bike at London Bridge for £48 for 3 days to £85 for the week, depending on which bike you choose.

During peak times, you usually won't be able to take a bike on public transport and some coaches and trams only allow folded bikes on board. If you choose to cycle in London, wear a helmet and plan your journey before you set off.
How much are taxis in London?
You simply can't visit London without taking a ride in a black cab just once. There is a minimum taxi fare of £3.20 at all times, no matter how far you are travelling, and 3 different tariffs in operation depending on when you are travelling. Before your journey, you should either agree on a price with the driver or you will be expected to pay the full amount on the meter once you reach your destination. All taxis accept contactless card payments and if you are wondering how much does a taxi cost from Heathrow to central London, you will likely pay between £48-£90.
If you are visiting London to go sightseeing, a bus tour with Tootbus is undoubtedly the best way to see the city. Explore all of London's top attractions from the comfort of an open top bus for the best way to get around London. If you only need to make one or two journeys to go shopping or to the theatre then public transport might be a better option. No matter how you travel in London, explore your options, plan your journey and allow plenty of time to reach your destination.