Everything you need to know about Notre Dame Cathedral in Paris
---
Notre Dame Cathedral stands in the heart of the French capital and is a must-visit in the City of Light. Located on the île de la Cité in central Paris, its outstanding Gothic architecture makes it one of Paris' iconic attractions.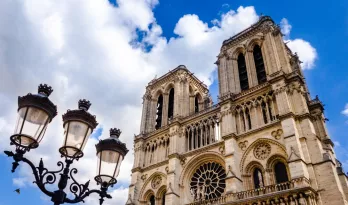 History of the cathedral
Notre Dame Cathedral in Paris has had a long history and has seen many changes over the years. Construction work began in 1163 and wasn't completed until 1345. The two centuries it took to construct partially explain why its architecture is so varied. It features all the Gothic styles, from early to rayonnant. The cathedral is the seat of the Archdiocese of Paris, and building work was begun under Bishop Maurice de Sully. It has been the setting for many historical events. Notably, the coronation of Emperor Napoleon Bonaparte in 1804, the marriages of several Kings of France including Francis II in 1558 and Henry IV of France in 1572. In recent times, the funeral of Abbé Pierre (the priest who founded Emmaus) took place here in 2007. The cathedral is currently being rebuilt after a fire ravaged the building on 15 April 2019. Ever since this terrible event, the biggest disaster ever to befall the cathedral, it has remained closed to the public. It is due to re-open in 2024.
Notre Dame Cathedral in popular culture
The building primarily owes its fame to its appearance in many works of art. The cathedral is part of the main storyline in the book The Hunchback of Notre Dame (1831) by the great novelist Victor Hugo. This book was later adapted into a musical of the same name. It was also the setting for the 1996 animated Disney film.
It is an iconic Parisian landmark that is often used as a symbol of the French capital.
Visit Notre Dame Cathedral
Notre Dame is the most visited monument in France with twenty million visitors a year (2012). Admission is normally free of charge. However, since the 2019 fire, Notre Dame Cathedral and the area around it have been closed to the public for safety reasons while restoration work is carried out.
Luckily, our iconic route allows you to choose itineraries so you can see and admire the cathedral from bridges across the Seine, or take time to stroll around the outside of the cathedral.
Notre Dame cathedral is located in central Paris and is easily accessible by metro or the RER train. You can reach it via Cité station (metro line 4) or Saint-Michel station (metro line 4 or RER B and C).