Valentine's Day in Paris, romantic things to do
---
Paris is known as one of the most romantic cities in the world. Enjoy a magical Valentine's Day by visiting the French capital with your partner. Discover our selection of activities and experiences to do with your other half on Valentine's Day.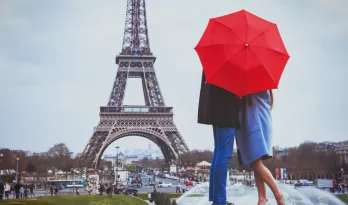 Romantic cruises
Must See Paris
Take advantage of the Tootbus Must See Paris route to see the greatest monuments and attractions of Paris by land and sea. You can hop on and off our eco-friendly open-top buses at any stop. Complete your visit to Paris with a Vedettes de Paris cruise on the Seine included in your ticket. The boarding platform is located at the foot of the Eiffel Tower, on the "Port de Suffren" river side.
How to get to the boarding quay?
Blue route: Hop off at stop 9 Tour Eiffel
Bateaux Mouches
The Compagnie des Bateaux Mouches, a true institution on the Seine, invites you to enjoy an unforgettable romantic experience. Come aboard a comfortable boat for a 1h15 cruise on the Seine, while enjoying a special Valentine's Day menu, accompanied by a glass of champagne and a bottle of wine for two. This evening on the Seine is a must for all lovers, not to be missed! Two departure times are proposed, 6pm or 9pm.
Bateaux Parisiens
To celebrate Valentine's Day 2023 in style, book your Valentine's Day dinner cruise with Bateaux Parisiens now. Embark at the foot of the Eiffel Tower and enjoy an all-inclusive gourmet candlelit meal, accompanied by live musical entertainment with a singer and orchestra. This magical and romantic evening on the Seine is the perfect opportunity to surprise your loved one with the most romantic experience in Paris.
With Elegance, Privilege or Premier packages and starting at 165 euros per person, enjoy a cruise past the most emblematic sites of the city, accompanied by a gourmet menu and live music. Make your Valentine's Day dinner cruise with Bateaux Parisiens an unforgettable evening!
Le Diamant Bleu
To celebrate Valentine's Day 2023 in Paris, treat your other half to a prestigious dinner cruise on board Le Diamant Bleu, the most modern boat on the Seine. This ship features an elegant design and bay windows for breathtaking views of the Parisian monuments. The comfort and well-being of its passengers have been thought out for this special evening for lovers.
Come aboard for a romantic cruise with musical entertainment, a gourmet menu, a rose for each couple and a bottle of wine for two. Enjoy an unforgettable moment for two from 149 euros per person. Boarding from 7.15pm.
Le Grand Bleu
Let yourself be pampered on 14 February 2023 by the crew of Le Grand Bleu to experience a magical evening for two. Enjoy a romantic 2.5 hour cruise on the Seine, where you can concentrate on what's important: spending time with your loved one. Embark from 7.30pm for the most romantic evening of your life. The evening includes a gourmet menu at 125 euros per person.
Le Capitaine Fracasse
Le Capitaine Fracasse is famous for its dinner cruises on the Seine. For Valentine's Day, enjoy an unforgettable romantic evening sailing along the Seine for 2 hours, boarding at 8.45 pm. All for 139 euros per person.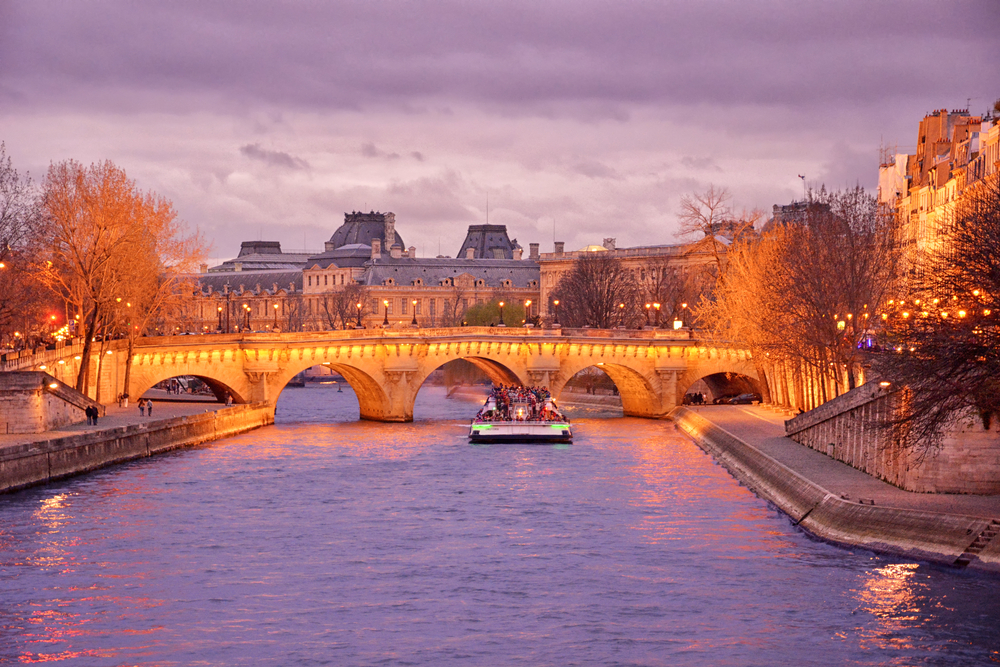 Cabarets
Paradis Latin
The Paradis Latin is a famous cabaret created by Napoleon in 1803 and rebuilt by Gustave Eiffel in 1889. The historic hall of the Paradis Latin is listed as a historical monument of the capital.
For Valentine's Day, the establishment offers an opening show and dinner at 8pm, followed by the new revue L'Oiseau Paradis (directed and choreographed by Kamel Ouali) at 9pm. The show ends at 11.30pm. The whole thing costs 250 euros per person. The show is modern, poetic, sensual, combining emotion and humour.
How to get there?
Blue route: Hop off at stop 4 Notre-Dame - Quartier Latin
Crazy Horse
The Crazy Horse was founded in 1951 by Alain Bernardin. The Totally Crazy show features the tableaux that have made this Parisian nightlife institution world famous, where the dancers mix sensuality and unbridled humour, accompanied by an excellent soundtrack and effective lighting effects. The 1.5 hour show also includes juggling and acrobatic acts.
For Valentine's Day, a special offer includes admission to the cabaret, half a bottle of Laurent Perrier rosé champagne (or 2 drinks per person) and a box containing 2 Ladurée macaroons from 170 euros per person.
How to get there?
Blue route: Hop off at stop 10 Pont Alexandre III - Invalides
Moulin Rouge
Built in 1889 by Joseph Oller and Charles Zidler, the Moulin Rouge is located on the Boulevard de Clichy in the 18th arrondissement. Enjoy an unforgettable Valentine's Day evening on 12, 13 and 14 February, celebrating love with a romantic dinner from 7pm and a French Cancan show from 9pm to 11pm. It is possible to book an evening with or without a gourmet dinner from 125 euros per person.
The Féerie revue, choreographed by Bill Goodson, features a cast of 100 performers, thousands of sumptuous costumes, colourful sets and exceptional acts. All of this is set to original music created by Pierre Porte, recorded by 80 musicians and 60 choristers.
Monuments of Paris
Fragonard Perfume Museum
Tootbus presents its collaboration with the Musée du Parfum Fragonard for Valentine's Day. From Tuesday 14 February to Sunday 19 February, Tootbus customers will have the opportunity to create their own fragrance L'Elixir de l'Amour during a creative workshop hosted by the museum.
How to get there?
Blue route: Hop off at stop 1 Printemps / Galerie Lafayette
The Eiffel Tower
The Eiffel Tower is a must-see for lovers and is the world's most adored monument for romantic outings. Valentine's Day is an ideal time to visit this iconic Parisian monument. A champagne bar, accessible with your 3rd floor tickets, is located at the top of the monument.
It is important to book Valentine's Day tickets in advance as they are limited in number and different options are available such as walking up or by lift, visiting on your own or with a guide. You can also enjoy a magnificent view at sunset.
How to get there?
Blue route: Hop off at stop 9 Tour Eiffel
Covered passages
The covered passages are a Parisian invention dating from the 19th century that were very popular for romantic outings. With the urbanisation of the city under Napoleon III, their popularity declined but they were rediscovered in the 1980s for their unique charm. Take a stroll through the Passage Choiseul, Galerie Colbert, Galerie Vivienne, Palais Royal, Galerie Verot Dodat and many others.
Romantic districts
Paris is considered one of the most romantic cities in the world, so it makes sense for couples to spend a romantic weekend here. There are many areas to visit for a romantic getaway in Paris. Find out more in our article on the 6 districts to visit for a romantic weekend in Paris.
Pigalle
Pigalle is a historic and colourful district of Paris located in the 18th arrondissement. It is known for its many cabarets, such as the Moulin Rouge and the Paradis Latin, as well as for its many trendy bars and clubs that attract nightlife lovers. Check out our dedicated article on what to do in this famous district.
The Bridges of Paris
Paris is famous for its magnificent bridges, which connect the two banks of the city. Among the most famous are the Pont Neuf, the Pont des Arts and the Pont Alexandre III. Find out more in our article on the bridges of Paris.
Restaurants
Le Soleil d'or
For a 100% Parisian Valentine's Day, spend a romantic evening a few steps from the Notre-Dame de Paris Cathedral in an emblematic brasserie of the city. The menu, at €50 per person, offers a selection of delicious and refined dishes.
How to get there?
Blue route: Hop off at stop 4 Notre-Dame - Quartier Latin
La Mère Catherine
Celebrate Valentine's Day in a magical setting at La Mère Catherine, a legendary restaurant on the Butte de Montmartre founded in 1793. This institution of traditional French gastronomy offers a special Valentine's Day menu at €75 per person accompanied by live artists.
La Crémaillère 1900
The restaurant La Crémaillère 1900, located a stone's throw from the Sacré-Coeur Basilica on Place du Tertre, invites you to celebrate Valentine's Day with an evening of live piano music and singing, accompanied by a menu with drinks included at 56 euros per person.
To continue your Valentine's Day evening, take advantage of the Paris by Night tour. Tootbus gives you the opportunity to enjoy a glass of Saint Amour while admiring the City of Light from the open roof of a 100% ecological panoramic bus.
In addition, discover the French capital independently with the new Tootwalk service thanks to the Tootbus application, available free of charge on App Store and Google Play. Take advantage of audio-guided tours to be done on foot among three themes that are proposed to you.