Do you really know the Basilica of Sacré-Cœur in Montmartre?
---
One of the most iconic monuments of Paris, the Basilica of Sacré-Cœur sits at the top of Montmartre.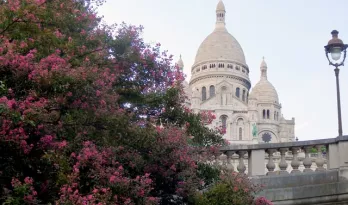 The Basilica of Sacré-Cœur in Montmartre, one of the must-see monuments of Paris
Perched high, and visible from much of the city, at night it seems to appear around every street corner. Its unique architecture and the spectacular view it offers on the City of Light make it one of the most popular monuments of Paris. But do you really know the Basilica of Sacré-Cœur?
A religious building
Completed in 1923, construction of the basilica was prompted by the defeat of France in the Franco-Prussian War. For some religious men, this military defeat was linked to the French Revolution, and its resulting moral degradation – a divine punishment of sorts. The idea of ​​building a basilica on the hill of Montmartre emerged. The project would quickly gain momentum, and in 1879, the National Assembly recognized it as a building of public usefulness, thus facilitating its construction.
Today, the Basilica of Sacré-Cœur remains an important place of worship, frequented by both believers and visitors.
A symbol of Montmartre
The basilica's unique architecture immediately comes to mind when we think of Montmartre, a walking district with many restaurants and bars. Built in the Roman-Byzantine style, Sacré-Cœur has a different look from other churches in the capital city. Eighty-five meters long and eighty-three meters high, it is recognizable by its imposing dome, its round towers, and its white stone, which contrast with the rest of the city's architecture. Inside, there is a crypt, which is accessible to visitors, as well as impressive religious paintings, and many stone statues.
Visit the Basilica of Sacré-Cœur
The Basilica is located at the top of the hill of Montmartre, in the 18th arrondissement of Paris. It is accessible via several metro lines (lines 12 and 2: the stops of Pigalle, Jules Joffrin, Antwerp, and Abbesses). You will have to walk a bit from the metro to reach the monument, or you can take the Montmartrobus.
To climb the hill, you can take the stairs, which will take you 128 meters above sea level, or use the funicular off to the side. There is access for people with reduced mobility.
Entrance to the basilica is free, and it's open from 6:00 am to 10:30 pm, so you can watch the sunset over Paris on a summer evening.