Parisian monuments to visit
---
Considered one of the most important cities in Europe and one of the most beautiful in the world, Paris is home to a wealth of monuments. Here is a short summary of the famous buildings and historical sites you should visit if you are in the French capital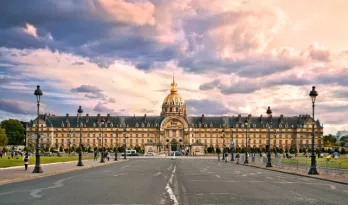 Paris, the most visited city in the world
With its 20 arrondissements (districts) and 12 million inhabitants, Paris, the capital of the Ile-de-France region, is located on a loop of the Seine river, in the centre of the Paris Basin.
It is the most visited city in the world, and the number of people visiting it increases every year. Since 2013, for example, Paris has recorded annual visitor numbers of over 32 million people, who never leave disappointed.
This reputation is undoubtedly due to the wide range of monuments in Paris, an integral part of its history and culture.
Sights to visit in Paris
The following monuments are the ones to visit if you want to be sure you have seen the essentials before leaving Paris.
Named after Gustave Eiffel, the engineer who built it, the Eiffel Tower has been a symbol of and even a synonym for the city of Paris since the tower was inaugurated in 1889. The tower's floors are open to visitors all year round, as is the top, which offers a breathtaking view of the city.
The Louvre, the most visited museum in the world (just like the city in which it is located) is a real treasure trove for lovers of art and antiquities. The Mona Lisa, one of the world's most famous paintings, is on display, as well as many other historical masterpieces.
Notre-Dame de Paris Cathedral
More spiritual visitors can go to the Notre-Dame de Paris Cathedral to meditate on the mysteries of God, and take a tour of the site. As one of the key locations of French history, the church has witnessed great events such as the coronation of Napoleon Bonaparte.
In addition, the Hôtel de Ville, the Pompidou Centre, the Moulin Rouge, the Champs-Élysées and the Sorbonne University are all Paris sights with something to delight visitors.