Walking in Pigalle
---
Renowned for its nighttime folies, the Pigalle district is nevertheless a must-see for tourists visiting Paris. Most places, even the hidden ones, can be visited on foot in this neighborhood spanning into the 9th and 18th arrondissements. From the Boulevard de Clichy to the Boulevard de Rochechouart, here are some walking tours to live Pigalle.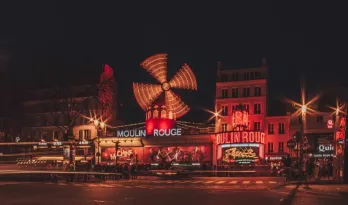 You dont' want to miss any must-see places in Pigalle, let you guide on-board our Paris By Night Tour to discover these famous area at 4 meters high.
Walking in Pigalle
Although the neighborhood is known for its cabarets, nightclubs, sex shops, and other nightlife venues, Pigalle is a very nice area to walk around Paris.
Beyond the bars frequented by famous painters such as Toulouse Lautrec, Pigalle is also home to many artists' studios and former brothels of Paris. If these places are now refurbished to make you travel the time of a refined cocktail, they are also full of history and are waiting for you!
For opera lovers, why not go for a drink at the Carmen, an atypical bar, former brothel, and private mansion of Bizet, composer of the opera Carmen?
Regarding our painter Lautrec, the avenue Frochot, where you can stroll, hosted his nude studio during the sulphurous past of Pigalle. It is said that the house n°1 of the avenue is haunted, do you think it's true?
For the less daring, small cafés on Place Gustave-Toudouze are available for a delicious moment with friends or family. Don't hesitate!
From boulevard de Clichy to Rochechouart, discover some itineraries to do in Pigalle:
1-

A short visit to the Cité du Midi
Between sex shops, cafes and bars, along the Boulevard de Clichy, a small cul-de-sac cuts through the heart of the Pigalle district. The Cité du Midi is a quiet little area in one of the most lively and noisy parts of Paris, at 48 Boulevard de Clichy.
A short visit of five to ten minutes awaits you at the ancient baths of Pigalle. Experience a trip back in time to learn that in those days, people did not bathe in their own homes. You will no doubt enjoy taking some nice pictures in the Cité du Midi.
2-Discover the Museum of La Vie romantique
Always in the spirit of famous French painters, how about discovering the museum of La Vie romantique, former house of the painter Ary Scheffer, son of Johan Bernard Scheffet, painter at the court of King Louis Napoleon. The museum is located in the district of Nouvelle Athènes, a group of buildings that housed a good number of artists of the Parisian romantic movement.
In addition to reviving the memories of Ary Scheffer, the museum also evokes the memories of George Sand, who was a neighbor of the painter who came to visit him quite often. The novelist is not the only person for whom the doors of Scheffer's studio were open, you can also find traces of other guests such as Chopin, Rossini, or Liszt.



3-

The stop in front of the church of Notre Dame de Lorette
With its architecture resembling a Roman temple, the church of Notre Dame de Lorette is a nod to the Paris of yesteryear, and is named after the Italian city of Loreto. Built in 1823, the church is classified as a historical monument and is therefore officially counted among the most celebrated monuments of Paris. It was at this church that the famous impressionist painter Claude Monet was baptized. The Pigalle district has, in fact, inspired many French artists.
Accessible by bus or metro from Notre Dame de Lorette metro station (line 12), the church is a short distance from the Grande Synagogue de Paris, and is a cultural walk that will keep you busy for at least an hour, if you visit the interior of the buildings.
4-Shopping in Pigalle
Vintage lovers, we have found the perfect place to satisfy your shopping wishes! In the heart of SoPi (South of Pigalle), you'll find the rue des Martyrs, which gathers a lot of vintage shops such as Chezelle and Zac & Sam.
If that still doesn't satisfy you, you can find a wide selection of designer leather goods, shoes and handbags, also located in the same place, to offer you the most unique souvenirs in the city.
Pigalle is also the perfect mix of fashion, coffee shop and music. That's why you'll also find several musical instrument stores in the neighborhood!
5-

Enjoy a coffee at Place Pigalle
Now let's take a little break at Place Pigalle, the most well-known spot in the area, just steps away from the Butte Montmartre. Place Pigalle is a must-see in Paris.
Built in 1789, just a few months before the start of the French Revolution, this area served as a meeting place for painters. Here, you will find the Folies Pigalle, the famous cabaret that today is a night club. If you wish to pause for a bit in Pigalle, you can enjoy a coffee at Place Pigalle.
6-

Eating in Pigalle
With the multitude of restaurants available today, it's always good to fall back into our traditions from time to time.
How about visiting Le Bouillon Pigalle, a "tradi-trendy" restaurant, which offers tasty, homemade and affordable dishes! For a total of 10 euros, you are sure to have the best of quantity, quality, and conviviality.