Halloween in Paris, selection of activities to do with kids
---
The autumn holidays take place from 21 October to 6 November 2023. Take advantage of this period to hop on board a Tootbus tourist bus and discover Paris by day and by night. Check out our selection of ideas for outings with the kids: guided tours, exhibitions, museums, escape games, etc.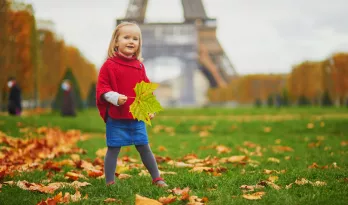 Where to go for Halloween in Paris?
Some of Paris's monuments, which are open all year round, are offering special programmes to celebrate Halloween.
Tootbus Kids Tour
On 28 October, discover Paris with the special Halloween Kids Tour. Parents and children are invited to come in their best disguise! On this 1h30 tour, you'll be able to admire Notre-Dame Cathedral, Place de la Concorde, the Eiffel Tower, the Arc de Triomphe, the Palais Garnier and the Louvre Museum. There'll be a tasty treat at the end of the tour!
Opéra Garnier
The Opéra Garnier is an architectural landmark emblematic of Haussmann-style Paris. Designed by Charles Garnier, the opera house adopts a baroque style with its magnificent gilding. During your visit, discover the Pythia Basin, which leads to the grand staircase and the sumptuous, thirty-metre-high nave.
Admire the horseshoe-shaped French-style auditorium with its sumptuous ceiling, a masterpiece by Chagall. Finally, take a stroll through the Rotonde du Glacier, where the elegant Paris of the 19th century used to gather. Perhaps you'll come across the Phantom of the Opera?
Discover the new immersive game at the Palais Garnier, "Arsène Lupin et le secret de l'Opéra" (Arsène Lupin and the Secret of the Opera), combining an escape game and a life-size investigation to solve the last secret of the Count of Cagliostro, which even Arsène Lupin has never solved.
As you explore the sumptuous spaces of the Palais, armed with the notebook of the famous gentleman burglar, you'll decipher riddles, observe the settings and meet mysterious characters as you progress on this thrilling quest.
This fun experience is suitable for all audiences, offering an exceptional adventure in the prestigious Paris opera house, perfect for puzzle lovers and families, where everyone can reveal their inner detective.
How to get there?
Blue route: Hop off at stop 2 Opéra Garnier
The Louvre Museum
The Louvre Museum offers guided tours and hands-on workshops for children aged 4 and over. Until 31 December 2023, come and explore the corridors of the museum every Friday night from 6.30pm.
During these weekly evenings, you'll find a variety of activities to suit all ages, including the mini-discovery tours included in the museum ticket, as well as the OFF tours, which offer original visits and activities.
How to get there?
Blue route: Hop off at stop 3 Musée du Louvre
Monument Jeu d'Enfant
The Monument Jeu d'Enfant event is back for its 25th edition on 21 and 22 October 2023. Families are invited to discover the monuments in their region in a new and fun way.
This year, there will be 55 national monuments to visit throughout France, and 11 national monuments in the Paris region. In Paris, you can take part in an unusual tour of the Conciergerie or attend a family storytelling tour of the Arc de Triomphe.
How to get to the Conciergerie?
Blue route: Hop off at stop 4 Notre-Dame - Quartier Latin
How to get to the Arc de Triomphe?
Blue route: Hop off at stop n°7 Champs-Elysées - Lido
The Catacombs of Paris
The Catacombs of Paris, the largest underground ossuary in the world, are a must-see among Parisian monuments. This exceptional experience takes you on a 1,500-metre-long journey at a depth of 20 metres, offering a truly unique visit.
What's on for Halloween?
Here are the main events not to be missed this autumn: festival, exhibition or culinary workshop, the choice is yours!
Young Audiences Film Festival
The event will be back from 25 October to 31 October 2023 in 12 art cinemas in Paris. "Mon premier Festival" is designed to awaken the curiosity of the youngest audiences about the 7th art, with a programme of over 300 films at €4 a screening.
Kidexpo 2023
From 26 to 29 October 2023 at Paris-Porte de Versailles, Kidexpo is back to bring you unforgettable experiences. The show features an area specially designed for families and children, with a route divided into three main areas: Learning, Moving and Playing.
You'll find fun trails, education solutions, sports activities that are essential to young people's development, and all the latest games and toys to help children prepare their Christmas gift lists.
Sciences Expériences
Both an exhibition and an amusement park, Sciences Expériences takes an entertaining approach to the theme of science. Located in Bercy Village, your children will have the chance to learn while having fun in 850 m² dedicated entirely to Science.
This immersive, sensory exhibition offers a breathtaking journey in eight stages. Innovative tools such as virtual reality, video mapping and multi-sensory presentations are used to ensure total immersion. The tour lasts an average of 1 hour 20 minutes. We strongly advise you to book your tickets online.
Choco-Story Paris
For Halloween, come and visit the Choco-Story chocolate museum and make your own treats! Create original chocolates flavoured with garlic, camembert and anchovies to prank your friends and family. You'll also be able to take home dark, milk and white chocolate treats to tantalise your taste buds!
Where to go for a Halloween stroll?
Paris's many green spaces are the perfect place for an autumn stroll. Discover our special Halloween selection and explore the streets of the capital on foot thanks to our Tootwalk feature.
Paris Zoological Park
On 31 October, come along to Shivers Day, where special events are on offer to put all your senses to the test. Fantastic creatures, dragons, fauns, witches and giant insects will be invading the park.
Sorcerer's school at the Bergerie Nationale
From 21 October to 5 November 2023, the Bergerie Nationale farm becomes a wizard school. Choose one of the 4 classes that suits you - Onglondor, Sabotard, Serredecoq or Verredelait - to play and learn through a host of activities and become wizards, scientific magicians or agri-enchanters. You can visit the maze of horrors and discover all the animals on the farm on your own.
What treasure hunts are available for Halloween in Paris?
Halloween in Paris offers plenty of opportunities to take part in treasure hunts and spooky experiences. Here is our selection.
The last secret of Arsène Lupin" treasure hunt
The Île Saint-Louis becomes the setting for a historical treasure hunt to discover Arsène Lupin's last secret. Come and solve the secret of the Vial of the alchemist Nicolas Flamel and find out why Arsène Lupin stole this vial. Teams (minimum of 2 players) will have two hours to investigate.
How to get there ?
Blue route: Hop off at stop 4 Notre-Dame - Quartier Latin
Paris in cartoons
Visit Paris through the prism of cartoons set in the capital. You'll discover the places in Paris that inspired such famous cartoons as Ratatouille, The Aristochats, The Hunchback of Notre-Dame, Anastasia, A Monster in Paris...
This 2-kilometre walking tour is led by a guide used to working with children. It's for everyone, youngsters and adults alike.
The Père Lachaise Investigation
Stroll through the alleyways of Père Lachaise cemetery as part of a family-friendly treasure hunt. You'll discover an unusual site, steeped in history and rich in anecdotes, through a festive investigative visit in the form of a treasure hunt, accompanied by an actor, which will inevitably lead you to the final resting places of celebrities such as Edith Piaf, Oscar Wilde, Proust, Balzac, Delacroix, Molière, La Fontaine, Kardec... The visit lasts two hours and is accessible to children aged 6 and over.
The Dark Dreams Paris
The Dark Dreams is a horrific experience unique in Europe, plunging you into your worst nightmares in a 1,200 square metre interactive haunted house. You'll come face to face with terrifying characters such as evil clowns, serial killers and many more, offering an experience that's a blend of spectacle, escape game and reality.
This adventure will evoke a whole range of emotions, from laughter to terror, guaranteeing memorable thrills. The Dark Dreams is open all year round, from Wednesday to Sunday, and every day during the Halloween period. An unforgettable experience for horror fans.
Which theme parks for Halloween?
For a successful Halloween evening, check out the special events and spooky themed attractions at the theme parks.
Fear in the Park at Parc Astérix
Spook yourself at Parc Astérix with demented attractions, haunted houses, evil creatures and fantastic monsters. Incredible entertainment and shows will thrill young and old alike at the new edition of Fear in the Park from 30 September to 5 November 2023. This year, the park is also offering 7 night-time events, from 7pm to 1am.
The Disney Halloween Festival
From 1 October to 5 November 2023, head to Disneyland Paris for the Disney Halloween Festival. The park is decorated in typical Halloween style with pumpkins, lanterns and other lights.
Take advantage of the Paris by Night tour to visit the City of Light in all its splendour and admire the monuments of Paris.