Ideas for festivals in Paris this summer
---
Do you want to punctuate your discovery of Paris with festive events? The festivals are back this summer for your enjoyment. Discover the emblematic summer celebrations of the capital between music, cinema, humour and culture.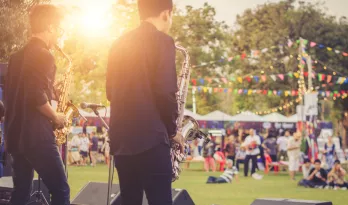 What are the main music festivals?
There are many music festivals in Paris and the Paris region. All musical universes are represented: electro with We Love Green, contemporary music with Solidays, rap at Lollapalooza Paris, rock at Rock en Seine, classical and jazz at the Parc Floral Festivals.
We Love Green
This Parisian festival dedicated to pop-electro music lovers is organised at the Plaine de Saint Hubert in the Bois de Vincennes from 2 to 4 June 2023. You can find the full programme on the event's website.
Solidays
Solidays is back in force this summer at the Hippodrome de Paris-Longchamp from 23 to 25 June 2023. This year, the festival celebrates its 25th anniversary and invites you to a memorable "Birthday Party".
With more than 80 concerts spread over nine stages, the programme has been designed to appeal to everyone. From rap to rock and techno, (re)discover established artists as well as new talents still unknown to the general public. Take advantage of the warm June evenings to sing and dance until 5am with your favourite artists or groups.
In addition to the music, the festival offers a series of inspiring lectures in the Social Club. Each speaker describes his or her worldview on societal and environmental issues.
Lollapalooza Paris
Let's stay at the Hippodrome Paris-Longchamp from 21 to 23 July 2023. Lollapalooza Paris invites all festival-goers who want to get together for a weekend of celebration. With a French Coachella feel, internationally renowned artists such as Kendrick Lamar, Rosalía, Stray Kids, Lil Nas X and Kygo have already been announced.
The little ones are not forgotten with Kidzapalooza, a stage allowing children to discover artists on a stage and to participate in games.
To eat, the Street Food Market offers you the best street food dishes from all over the world.
Rock en Seine
The Domaine national du Parc de Saint-Cloud will be animated by the return of Rock en Seine from 23 to 27 August 2023. For fans of the international pop-rock scene, you can sing and dance with Billie Eilish, Florence + The Machine, Placebo, The Chemical Brothers and The Strokes.
Other events await you: exhibitions, conferences and the Mini Rock en Seine, a festival away from the crowds dedicated to children aged 6 to 11.
Parc Floral Festivals
The Parc Floral Festivals invite you to an eclectic summer from 28 June to 6 September 2023. 32 free concerts of several musical styles will be given: classical with Classique au vert and jazz with the Paris Jazz Festival. Two exceptional evening events are organised on 24 and 30 August 2023.
Which cultural festivals to attend?
Discover the highlights of the cultural programme this summer in Paris with the Festival Paris l'été and the Japan Expo 2023.
Festival Paris l'été
Throughout Paris and the Île-de-France region, the Festival Paris l'été will brighten up your days in the capital, outdoors and outside of traditional venues. Between dance, circus, theatre, music and performances, many emblematic or unusual places in Paris will be invested to promote access to art and culture from 10 to 30 July 2023. To get there, you can hop off at the stops of the blue route.
Japan Expo 2023
Japan Expo returns from July 13 to 16, 2023. It is the meeting not to be missed around Japanese culture at the Paris Nord Villepinte Exhibition Centre. Many animations will punctuate the days.
You will be able to attend meetings, signings and conferences with distinguished guests (musicians, producers, video game creators, mangaka, chara-designers, etc.). You will also be able to take part in initiation workshops, games, video games, sports, Cosplay... A true paradise of Japanese culture.
What are the entertainment festivals?
Don't miss the entertainment festivals accessible to all ages: the Festival d'Humour de Paris, the Fête des Tuileries and the Festival Silhouette.
Festival d'Humour de Paris
From 7 to 11 June 2023, the Festival d'Humour de Paris (FUP) will be held in the legendary Bobino theatre for six exceptional evenings with nearly 60 artists.
Fête des Tuileries
Young and old alike will be delighted by the 60 attractions and rides offered again this year by the Fête des Tuileries in the eponymous garden. This traditional funfair in one of the capital's most beautiful green spaces takes place throughout the summer, in July and August.
How to get there?
Blue route: Hop off at stop 6 Concorde.
Festival Silhouette
For film lovers, the Festival Silhouette returns for its 22nd edition from 25 August to 2 September. Watch one of the hundred or so short films screened at this free festival. These films are out of the ordinary, whether in terms of image or sound treatment, direction or ideas.
This summer, stroll the streets of the French capital at your own pace! Don't miss our selection of Parisian monuments to visit with our Tootbus tours.