The Louvre Museum: everything you need to know
---
The world's largest art museum was opened in 1793. It offers visitors a collection of almost 460,000 paintings and sculptures over an area of over 7,000 m2. Located in the heart of the capital, it is visited by more than 7,000,000 tourists every year.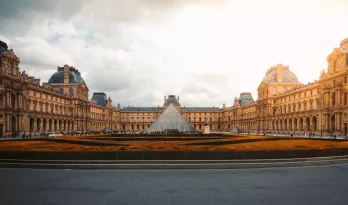 Famous for its world-renowned collection of iconic works such as Leonardo da Vinci's Mona Lisa and the Venus de Milo, the Louvre building itself is also known for its fascinating history and architecture.
What is the history of the Louvre?
Before being a museum, the Louvre was a castle, and then the royal palace. Located in the heart of Paris, on the banks of the Seine and close to the Tuileries Palace, the building was a residence for many kings of France. After the French Revolution, a museum that had been planned for many years was finally opened in 1793.
How to visit the Louvre?
The Louvre is one of the most visited museums in the world. It is open every day (except Tuesday) from 9am to 6pm. An entrance ticket costs €17, but there are many discounted rates available.
The Louvre is located in the heart of the capital. It is on one of our Paris tourist bus routes, our Iconic Paris Tour route. By public transport, the museum can be reached by metro line 1 at the "Palais Royal" station. There are plenty of bus routes and velib bike stations located near the Louvre.
What are the most famous works?
Among the tens of thousands of works that make up the Louvre's collections, some are particularly well known, such as the Mona Lisa, the Raft of the Medusa and the Venus de Milo:
The Mona Lisa
The famous "Mona Lisa" was painted by Leonardo da Vinci between 1503 and 1506.
Raft of the Medusa
Painting by Géricault between 1818 and 1819. This canvas of almost 5m by 7m depicts the wreck of the Medusa, a French frigate that ran aground.
Venus de Milo
This sculpture dates back to the first century BC and was found, missing its arms, on the island of Milo in Greece.
Who created the Louvre?
Finally, one of the museum's most famous works is the building itself and in particular its famous glass Louvre pyramid. Created by the architect Leoh Ming Pei, this structure, over 21m tall, was inaugurated in 1988 and contributes to the worldwide fame of the museum.