The best of Banksy and other street art hotspots in Bristol
---
The birthplace of Banksy, Bristol is the graffiti capital of the UK. We're helping you discover the best artwork with a list of Banksy's murals and other street art hotspots so you don't miss out on the best pieces.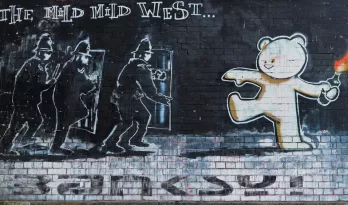 Stormed by a wave of street art in the 1980's, Bristol is still bursting with creativity. The ever-changing graffiti culture has made street art one of its most famous attractions!
The city is filled with art galleries, and is home to over 200 street and graffiti artists. It's one of the best places in Europe for street art. Visiting the city is like browsing an outdoor urban gallery.
Banksy
Born in Bristol in 1974, Banksy has now become a world-famous artist. Some of his earliest work is hidden in and around Bristol City, but he has ventured out of town to make his art known to others. His identity remains one of the art world's best-kept secrets to this day!
Where to find Banksy's works
Banksy's most famous graffiti in Bristol includes:
The Well-Hung Lover, on Frogmore Street
The Police Sniper, on Park Row, towards the Bristol Royal Infirmary
The Girl with the Pierced Eardrum, on Albion Dockyard, Hanover Place
The Grim Reaper, at the M Shed
The Mild Mild West, in Stokes Croft next to Hamilton House
The Masked Gorilla, and the Cat and Dog, in Easton
Valentines Day Mural, on Marsh Lane, Barton Hill
Paint-Pot Angel, in the Bristol Museum and Art Gallery
Take the Money and run, in the car park of Montpelier Health Centre
Banksy has a tendency to come and go from his hometown, but he likes to make his presence known by leaving a new piece of artwork somewhere in the city for all to admire!
Banksy tours
If you want a more in-depth understanding of Bristol's street art scene and to discover Banksy's artworks dotted around the city, opt for a guided tour run by professional artists.
Where The Wall has been running walking tours since 2011 and they have rapidly become one of the most talked-about street art tours. The 2 hour tour offers insights into international street art and Bristol's graffiti art legends. Where The Wall's philosophy is to support independent culture and to promote the arts, therefore all profits made from the Bristol Street Art tours go towards local creative projects.
Where The Wall are now offering self-guided walking tours which are Covid friendly! Uncover the story of Banksy and over 30 years of graffiti art history by accessing the web app, and make your way around the city listening to audio commentaries in 13 different locations of Bristol. One ticket gives two devices access to the app, and enables them to discover the fine street art in Bristol for 24 hours!
If you want to get your hands on a can of spray paint or are the next Banksy-to-be, Graft runs group walking tours featuring graffiti workshops. Not only will you learn how the graffiti scene developed, but you will also discover a wide range of styles and techniques.
Street art hotspots around Bristol
Nelson Street
Once a regular road in central Bristol, Nelson Street was transformed during the See No Evil festival in 2011. 10 multi-storey buildings were transformed into canvasses for massive murals, on which graffiti artists from all over the globe could display their talents. Some of the artworks have now disappeared following construction works, but Nelson Street is still one of the best places for street art in Bristol. Nick Walker's suited man alone (at 20 metres in height!) is very much worth the trip!
How to get there? Hop off at stop 10, Baldwin Street
Stokes Croft
Centre of art, music and independent shops, Stokes Croft is one of the coolest areas in Bristol and the epicentre of street art. This nonconformist neighbourhood is a true open-air gallery with an eclectic and ever-changing selection of graffiti. Banksy's famous Mild Mild West mural can be found there, above The Canteen's outdoor space. This masterpiece has been voted the Alternative Landmark of Bristol.
Easton
With its brilliant independent bars, restaurants and shops, the up-and-coming Easton was voted one of the 50 coolest neighbourhoods in the world. This Indian neighbourhood with a strong sense of community is graffiti-daubed and is also home to some of Banksy's best originals: the Cat and Dog mural on Foster Street, and the Masked Gorilla.
Did you know that the council inadvertently painted over one and another has had a tin of paint thrown over it? Aside from these famous creations, the whole area is a collection of work by outstanding talents. The back alley of Stanley Park is a particularly good spot to admire these modern-day wonders.
Upfest Festival
Europe's largest street art celebration, Upfest is a key event of the Bristol art scene. Every year since 2005 it has taken over North Street in Bedminster. Over a July weekend, more than 300 artists from all around the world come to south Bristol to display their expertise live, alongside live music events and art workshops. The visual spectacle is free to see all year round, just simply walk down North Street.
And if you want to discover the Banksys of tomorrow, head to the Upfest Gallery and take in the exhibitions of top international street artists. You can even take a piece of the attraction home with you as amazing works of art and prints are available to purchase.
Bedminster
As the site of Upfest, Bedminster has had lots of its walls decorated with an explosion of colours. After admiring the pieces on North Street, head to Church courtyard, The Tobacco Factory, Redpoint Climbing Centre and West Street to see jaw-dropping murals by some of Bristol's best young artists. What used to be a mundane and run-down area has been truly transformed into a brilliant open-air exhibition.
Park Street and Queen's Road
Art lovers should also head to the city centre, where some special artwork hides between the beautiful Georgian architecture. Park Street and Queen's Road present a selection of quirky shops and culinary delights, and are famous for their outstanding view of the city! But most importantly, they are home to colourful murals by local artists, such as Banksy and Jody. Just off Queen's road you can also go to Lower Lamb Street to see the words 'You don't need planning permission to build castles in the sky'.
How to get there? Hop off at stop 2, College Green, or stop 9, Anchor Road
Creative spaces worth paying a visit
Bristol isn't all graffiti and street-art murals! Other artists challenge our perceptions of what art is in Bristol's cutting-edge galleries and art spaces.
Arnolfini Gallery
Arnolfini is a well-known attraction in Bristol. Housed in a prominent Grade II listed building, their cafe expands to offer harbourside seating in summer months. The gallery was created in the early 1960's with the vision of showcasing new, experimental and underrepresented art work. Since then, Bristol's International Centre for Contemporary Arts has shown the work of thousands of artists from all over the world to millions of people.
How to get there? Hop off at stop 1, Broad Quay The Centre, or at stop 9, Anchor Road
Watershed
Across the river from Arnolfini is the Watershed, a cinema and art space dedicated to developing talent and creative technology. It has become increasingly popular since its opening in 1982 and is now a go-to place to catch an independent movie, discover transformative, disruptive and magical experiences, or grab a craft beer with friends.
How to get there? Hop off at stop 1, Broad Quay The Centre, stop 2, College Green, or stop 9, Anchor Road
View Art Gallery
One of the largest independent galleries in the South-West of England, View is renowned for its innovative and thought-provoking exhibitions. The best emerging artists can be found there, exploring a mixture of media, from painting and sculpture to photography, ceramics and video. The relaxed and informal atmosphere of the gallery allows people to view art in their own way. Even better, you can buy the artwork on their website after each exhibition!
How to get there? Hop off at stop 8, Hotwell Road
Weapon of Choice Gallery
Weapon of Choice started out as a monthly hip hop and graffiti event, where local artists would paint in front of a live audience. It soon led to the opening of Bristol's first dedicated graffiti art gallery where the work from the best and most sought-after artists from Bristol is showcased. Perfect if you want to take a piece of Bristol home with you!
How to get there? Hop off at stop 4, Clifton Down Station
The battle between legal authorities and graffiti artists continues day and night in Bristol but, with spaces such as these pushing graffiti forward, street art is now gaining mainstream acceptance. Thank you Bristol!
There are a lot of things to do in Bristol if you want to discover more of the city. Why not make the most of your visit by including a sightseeing tour? You'll see the best of Bristol on a double decker bus and you can explore the city at your own pace.