Bristol parks, the 10 best spots in the city
---
Bristol is a city in the southwest of England. Often described as a city in the country, Bristol has plenty of parks and green spaces to spend a lazy afternoon or fun play equipment to keep the kids entertained. With over 400 gardens and parks, you'll never be far from a place to relax. Discover the city thanks to our Bristol Discovery tour.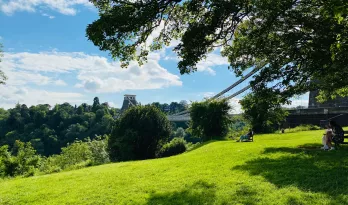 1. Castle Park and St Peter's Church
Castle Park is a popular city park for many people. Situated between Bristol's shopping district and Harbourside, the park offers a tranquil place to sit or stroll. There are also many works of art, creative seats, a carved stone throne and a unique fountain.
Castle Park is steeped in history and only exists because of the extensive damage to the city centre during the Second World War. Trees are a very important part of the park, and most have been planted over the last 40 years to enhance the park experience.
Castle Park is home to St Peter's Church. This church is in ruins as it was bombed during the Second World War. It is now preserved as a memorial.
How to get there ?
Hop off at stop #10, Baldwin Street
2. Brandon Hill and Cabot's Tower
Brandon Hill is Bristol's oldest park, from which you can enjoy stunning views of the city and Harbourside. Located just off Park Street in the West End, Brandon Hill includes a children's play area, beautiful paths and a nature conservation area, and of course the iconic Bristol skyline, Cabot Tower.
Designed by Bristol architect William Venn Gough and funded by public subscription, the tower is built of red sandstone faced with cream Bath stone. It is located in the centre of the park. When open, the tower can be climbed for free.
How to get there ?
Hop off at stop #3, Triangle West
3. Queen Square
Queen Square is a beautiful Georgian park in the heart of Bristol, surrounded by trees and cobbled streets.
Situated between the harbour and Bristol's old town, Queen Square is a popular place for workers and visitors to relax. The square is home to some beautiful Georgian townhouses. You can also regularly enjoy outdoor theatre performances, concerts and other major events.
How to get there ?
Hop off at stop #1, Broad Quay The Centre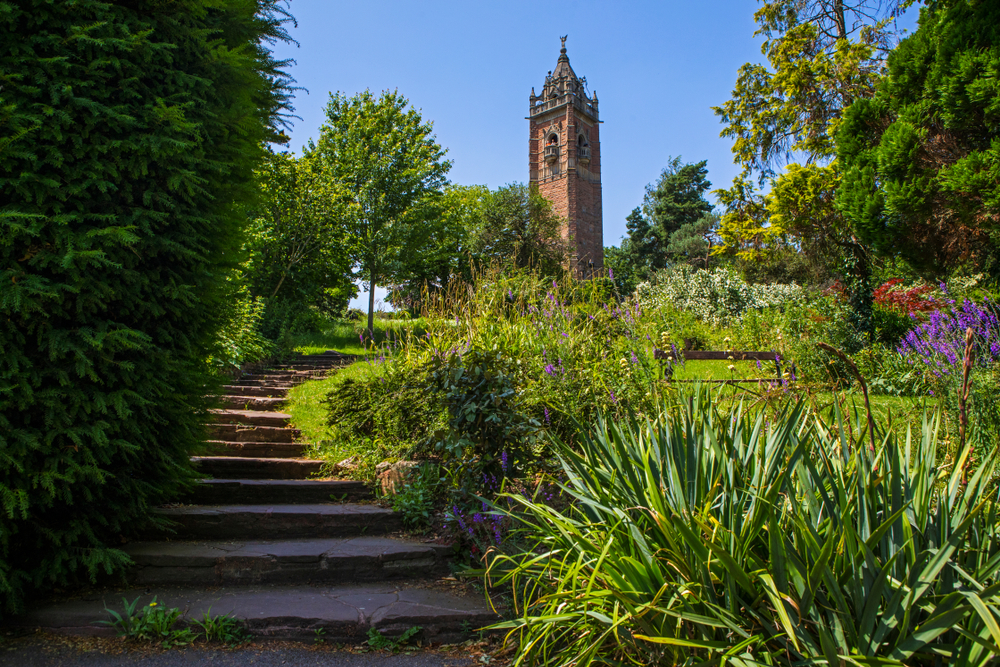 4. The Downs
The Downs border the Clifton Village, Clifton and Redland areas of Bristol. This area consists of Clifton Down and Durdham Down. Together they represent a large area of protected parkland on the edge of the city, within walking distance of other major attractions such as the Clifton Suspension Bridge, giving the impression of being surrounded by countryside.
How to get there ?
Hop off at stop #7, Observatory Road
5. Bristol Zoo Gardens
Bristol Zoo Gardens is home to many exotic species and beautiful gardens which you can enjoy as you walk around each animal enclosure. It's the perfect destination for a breath of fresh air, set in 12 acres of award-winning gardens. Discover over 300 incredible animal species from around the world, including many endangered species.
Children can run around freely on the playground and adventurers of all ages can climb, climb and swing through the air on the aerial ropes course, ZooRopia.
How to get there ?
Hop off at stop #6, Bristol Zoo
6. Arnos Vale Cemetery
It is one of the oldest and best examples of a Victorian Arcadian garden cemetery in the UK. You will find many listed buildings and monuments of significant importance.
Step into the 45 acres of greenery of the spectacular Victorian garden cemetery. Discover the history of the city, told in a tranquil green setting, rich in architecture, fascinating trails and nature walks. From Victorian origins to present day stories, take a look behind the scenes at West Lodge and Spielman Crypt.
How to get there ?
Hop off at stop #11, Bristol Bridge
7. The University of Bristol Botanical Gardens
The University of Bristol Botanic Garden grows some 4,500 species of plants from over 200 plant families on its five acre site. This diversity of plants is unique and is not found anywhere else in the Bristol area.
The University of Bristol Botanic Garden's special collections include an evolutionary Dell, rare native and endangered plants from the South West, Chinese and Western herb gardens and the Mediterranean collection.
As well as tours, the Botanic Garden hosts a variety of events throughout the year, including jazz concerts, science picnics and art and sculpture exhibitions.
How to get there ?
Hop off at stop #5, Apsley Road
8. Ashton Court Estate
Ashton Court Estate is a historic site with two parks containing fallow deer and red deer. A 16th century house stands in 850 acres of grass, woodland and gardens including a rose garden.
There is also an activity centre with a café and golf course, open seven days a week. It is popular with families, dog walkers, runners and cyclists for a stroll.
How to get there ?
Hop off at stop #7, Observatory Road
9. Portland Square
Portland Square is a communal garden located in a Georgian square. It is different from other squares in Bristol in that it is an enclosed oval within a square. The grassy oval area is surrounded by wrought iron railings and ornamental areas. This area includes rose beds and several mature trees including horse chestnut, lime and London plane.
Architecturally, the square is dominated by St Paul's Church, completed in 1794, which faces the north-east of the square.
How to get there ?
Hop off at stop #10, Baldwin Street
10. Leigh Woods
Leigh Wood is a popular woodland area on the outskirts of Bristol. This area is made up of mixed broadleaf and open coppice areas. The wood is accessed via an avenue of copper beech trees, planted to commemorate the Queen's coronation in 1953.
Located close to Clifton Suspension Bridge, there are spectacular views over the Avon Gorge. Enjoy a walk in the woods to explore Bristol's surroundings, with picnic tables set up in the woods.
You are visiting Bristol and lacking inspiration? Check out our top 15 ideas for activities to discover the city. Between monuments, museums, places and activities that can't be missed, you just have to choose! And if you want to share a tasty meal, Bristol offers a wide variety of places to eat.