Top Things to do in Bristol: 15 ideas to enjoy the city
---
Bristol is a fun-packed city with so much to do and see! Whether you are out exploring with the family or spending a weekend with someone special, there is something to do for everyone. From hands-on exhibitions, to historical museums and amazing street art, you'll never find yourself lost for things to do.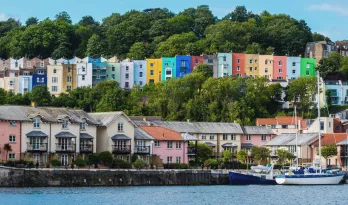 1- M Shed
Exploring the city's history, M Shed is a Bristol museum featuring stories about the city and its people, through collaborations with local experts and communities. You can explore over 2000 years of history in this one museum, and entry is free. There are 150 restored and digitised films that you can dive into to learn all about the music and art from the city's history. The museum also houses over 3000 objects revealing the industrial, maritime and social history of Bristol.
How to get there: hop off at stop 1, stroll down the harbourside near Queen Square and cross Prince Street Bridge to reach Princes Wharf where the M Shed is located.
2- Bristol Floating Harbour
Attractions, events, food and drinks… it is all here at the harbourside! Along Bristol harbour you will find well-known attractions such as We the Curious, Bristol Aquarium, Spike Island contemporary art gallery and M Shed.
Why not kick-start your day with a stroll along the harbour, taking in the scenic views before diving into exploring the attractions within the area. Be sure to stop off for a bite to eat at one of the quirky cafes overlooking the harbour. And if you're here on a Saturday or a Sunday, don't miss out on the street food market.
3- Bristol Ferry Boats
Get unbeatable views of Bristol by boat with a Bristol Ferry Boat which travels from the SS Great Britain to Temple Meads train station. Whether you want to hire a boat for you and your friends, or want to take a cruise with a tour up the Avon Gorge, hop on board and see the city from a completely different perspective. Bristol Ferry offers a range of thematic trips on top to their waterbus service, there sure is something for everyone.
How to get there: the ferry departure point is located between stop 1 and stop 14.
4- Bristol Hippodrome
Don't expect to catch a horse race at the Hippodrome... this late-Victorian theatre is the place to go for stage entertainment in Bristol. Grab yourself a ticket to a much-loved show whether it's a West End musical, National Opera production or pantomime.
With different shows alternating throughout the year, there's something for everyone, including kids. Stock up on the popcorn, make sure you have a drink to hand, sit back and get comfy before the show begins!
How to get there: hop off at stop 1 and walk across the harbourside.
5- Cabot Tower
To have a great view of Bristol head up towards Brandon Hill and the Cabot Tower, a 105ft tower built in 1897 to commemorate the 400th anniversary of the journey of John Cabot from Bristol to Canada. Climb up for free at the top of the tower and enjoy the panoramic view of the city.
While you are there, seize the moment to have a peaceful break. Brandon Hill is the oldest park in Bristol city centre and a nature conservation area also known to be a popular picnic spot.
How to get there: hop off at stop 3.
6- Bristol Museum and Art Gallery
Learn all about ancient civilisation, human inventions and creativity through the 19 galleries of Bristol Museum and Art Gallery. The museum tells the story of the world in every way possible, right from the very beginning. Situated at the top of Park Street, it's easy to get to and also holds exhibitions and events throughout the year. Step in and discover dinosaur galleries, wildlife galleries, pottery and paintings, all for free.
How to get there: hop off at stop 3.
7- Bristol Zoo Gardens
A day out in this amazing animal kingdom is one to treasure. Bristol Zoo Gardens is an award-winning garden spanning over 12 acres of land. Home to over 400 species from across the globe, this charity-run zoo is full of excitement. Not only does the zoo feature animals awaiting your arrival, they also have over 100,000 stunningly rare plants from across the world in their botanical gardens. If you have little acrobats in the family, give their adventure rope course a try and swing like a monkey!
How to get there: hop off at stop 6.
8- Clifton Suspension Bridge
Ah the Clifton Suspension Bridge, the structure that makes Bristol complete. Built in 1831 by Isambard Kingdom Brunel, the suspension bridge is one of Bristol's most recognisable structures. Spanning 214 metres over the River Avon, Brunel marked a major turning point in the history of the city with this bridge that has become an icon of engineering ambition.
The bridge is open 24 hours a day, 7 days a week, all year round and is free to walk across. The sights from the bridge are absolutely gorgeous and the views of the bridge at night from nearby lookouts are even more stunning.
How to get there: hop off at stop 7 and walk to the Clifton Observatory to take in the view, or walk over the bridge.
9- SS Great Britain
Rated the number one visitor attraction in Bristol, the SS Great Britain tells an amazing story of Britain's greatest engineers and one of the most important ships in history. Brought back from Falkland Islands in 1970, the rusted shell of the ship has been restored and turned into 2 museums and a research centre presenting incredible facts and information about Brunel himself and the history of the ship.
You can also discover what life on board was like through interactive activities, making it ideal for a visit with the little ones. Get ready for a real time-travelling experience!
How to get there: hop off at stop 8 and cross the river on board the ferry from Mardyke to SS Great Britain.
10- Bristol Aquarium
Discover over a thousand creatures from sharks, to tropical fish… and even seahorses. With over 40 displays, Bristol Aquarium is the perfect place to take the kids, especially on a rainy day. It's indoors, colourful and full of sea life that you didn't know existed. The aquarium is home to fishes from all over the world, as well as many local species.
On your undersea safari, be sure to take the time to read the information plaques dotted around featuring facts about individual species and their habitats. The aquarium also features a botanical house where you can discover how giant plants' roots filter the tanks' water.
How to get there: hop off at stop 9 and cross the road to reach Bristol Aquarium.
11- We the Curious
Keep kids busy and parents happy by paying a visit to We the Curious along Bristol Harbourside. They remove all the boundaries around science, art and ideas with over 250 interactive activities for everyone to enjoy. Ask as many questions as you like, explore the wonders of science and test out lots of ideas at this venue. It really is a fascinating place for the whole family to visit.
Right behind the centre you will find Millenium Square with a BBC Big Screen, a 25-square-metre LED screen that provides the people of Bristol with free film screenings, public information, and content. Don't miss the bronze statue of Cary Grant, a Bristol-born actor well known for his parts in classical Hollywood's movies.
How to get there: hop off at stop 9 and cross the road to reach We the Curious.
12- Bristol Cathedral
Located on College Green, the Cathedral Church of the Holy and Undivided Trinity, founded in 1140, is one of the United Kingdom's greatest medieval churches. During the 14th century, much of the church was rebuilt in the English Decorated Gothic style. The east end of the church is one of the finest examples of a medieval hall church in which vaulted ceilings in the nave are the same height as the choir and aisles.
How to get there: hop off at stop 9.
13- Banksy Walking Tours
Born in Bristol, Banksy has become a world-famous street artist. Thanks to this fame, his works have become a real must-see. You simply cannot visit Bristol without seeing a piece of his work. This should not be too difficult as his artworks are dotted all around the city.
Visit Bristol have made a list of the artwork still on show in the city which you can pay a visit too, or you can download the 'Self-Guided Street Art Cultural Walking Tour' app on your phone, and use it to locate his works yourself.
14- Shopping in Bristol
When it comes to shopping in Bristol, you're spoilt for choice. Whether you're looking for quirky independent shops selling everything from toys to plants to records to locally designed fashion or a huge great mall, this city really is the shopping capital of the South West of England.
Stokes Croft and Gloucester Road in the north of the city is one continuous road jam-packed with local, alternative shops, cafes and restaurants. In fact it has the most independent shops of any street in Europe.
On the Harbourside, don't miss Wapping Wharf, the new independent food and drink quarter for Bristol. This new neighbourhood is well-known for its eclectic array of trendy restaurants, cafes and shops, as well as CARGO and his converted shipping containers, giving the area a true dockside character.
If you want to find everything under one roof Cabot Circus is the perfect place for you. It's a modern shopping centre in Bristol with 140 stores and the best selection of international brands and local designer boutiques.
Don't forget to stop by St Nicholas Market, a must see for any visitor to the city and one of the city's oldest markets. With over 60 stalls offering a wide variety of goods and food, this buzzy market is a great place to shop and eat. In the adjacent pedestrian streets you can also find several outdoor markets like the Farmers' and Producers' Market every Wednesday from 9am to 2.30pm.
15- Enjoy the countryside
If you want to run from the city centre and enjoy green spaces without leaving the city, just cross Suspension Bridge and take a 15-minute walk from Clifton Village towards Ashton Court or Leigh Wood.
Ashton Court is a mansion house and estate with 850 acres of woodland and grassland designed by Humphry Repton with many activities including two pitch-and-putt golf courses, an orienteering course and horse riding and mountain bike trails. Every year in August, Ashton Court is the home of the Bristol national Balloon Festival.
North of Ashton Court is the Leigh Woods National Nature Reserve, a perfect place to escape the hustle and bustle of the city and get a green fix in the lungs. It's a 2-square-kilometre area of woodland and a prime place for spotting rare species of plants, insects, fungi, animals, and a rich variety of ancient trees.
There are so many things to do in Bristol, so why not make the most of your visit by including a sightseeing tour? You'll see the best of Bristol on a double decker bus tour and you can hop on and off the bus when you want to explore the city. For a first idea about our itinerary, feel free to take a look at our map!