The 22 best restaurants and bars in Cardiff
---
Foodies of the world, let us introduce you to some of the best restaurants and bars in Cardiff. We have decided to take matters into our own hands to offer the only guide you'll need to explore Cardiff's wide culinary landscape. Our mission? Find the perfect treat to satisfy your cravings.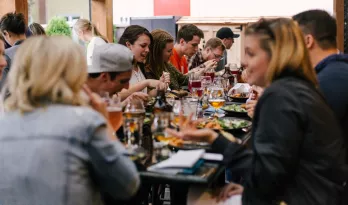 Don't miss out on these culinary journeys and check out our best selection of the city's must-try restaurants and bars.
Our favourite Welsh foods
'When in Rome...' Deepen your exploration of the Welsh capital and try out a Welsh culinary speciality in one of these restaurants.
Fabulous Welshcakes
Carving a real buttery cake, the perfect cross between a scone and shortbread? You'll find just that at Fabulous Welshcakes, a small bakery known for its traditional welshcakes. Flavours range from traditional to cinnamon, white chocolate and cranberry, and they also have a gluten-free option. You're sure to find just the right warm Welshcake to please your taste buds here!
The Potted Pig
The Potted Pig menu gets its authenticity from modern Welsh food with slight influences from French and American cuisine, to create the kind of food you'll just love to eat. Big gatherings? Share an 8-12 guest pig feast with family and friends! Not a fan of pork? Beef ribs and lamb tasting platters are here for you! Continuously rotating their menu around seasonal products, The Potted Pig prides itself on its attention to specific tastes and flavours. Do try their modern menu and pair it with choices from their wide selection of wine, ale, cider and lager.
The Botanist
A beautiful name for a beautiful restaurant! The Botanist is a must-see if you're looking for that special secret garden that will transport you to another world. Enjoy the food, the live music, the conversation, the drinks, and make the most out of the atmosphere. If you want a truly local experience, we recommend grabbing a Sunday roast here. From roast lamb with traditional mint sauce to roast beef with horseradish sauce, you're in for a treat. If you brought the kids along, you can also get a kids roast, or if you're with friends, you have the option to add bottomless drinks!
Pizza places we love
Who doesn't love pizza? Break up your day with a slice of goodness from one of these tasty pizzerias.
Dusty's Pizza
Dusty's offers the finest Neapolitan-style pizzas in a casual street-food setting with artfully graffitied walls. Their soft pillowy pizzas made from locally-sourced products are such a joy to eat. Sit back and enjoy freshly baked pizzas with craft beer, cider or wine. We recommend giving the Limoncello cocktail a try to finish your meal on a citrusy note.
Ffwrnes Pizza
Neapolitan-style pizzas again, you say? Yes, and these ones are wood-fired in a van, believe it or not! Get your freshly made pizza right from Cardiff Central Market and taste the wonderful combination of the finest Welsh ingredients and Italian expertise. You can also catch Ffrness at festivals, pop-up markets and one-off appearances around Cardiff, so keep an eye out or check their Facebook page for your chance to try their pizzas.
The Dough Thrower
Incredibly rich flavours, local ingredients, and a family craft are the building blocks of The Dough Thrower, a local favourite located opposite Victoria Park. This multi-award winner offers a variety of wood-fired pizzas made with an incredible dough. You can taste the passion and the love behind each slice... They can also prepare gluten-free options if you ask nicely - and in advance!
World restaurants that will take you on a journey
Yes, you are exploring Cardiff, but that doesn't mean your taste buds don't want to travel elsewhere at lunch or dinner. If that's the case, try out one of the best world restaurants in Cardiff.
Viva Brazil
In Brazil, rodizio (barbecue) is more than just a cooking method, it's a way of life. Come and experience it for yourself at Cardiff's only fully authentic Brazilian steakhouse. Viva Brazil offers a choice of 14 authentic Brazilian meats, served to your table straight from the charcoal BBQ. We'll let you in on a little secret: if you dine there on a Wednesday, you can get two Full Rodizios and a bottle of wine for £50.
Tŷ Madeira
Looking for an authentic Portuguese culinary experience that is both delicious and affordable? Dive into the delightful flavours of Tŷ Madeira, and choose from a variety of options from their extensive menu! Located at the heart of Cardiff, Tŷ Madeira has a spacious outdoor seating area - a great place to sit and watch the hustle and bustle of this busy cosmopolitan area.
Las Iguanas
Craving some tapas, fajitas, or enchiladas? Las Iguanas is the perfect Latin American restaurant for you! You can also celebrate events there. Whether you're in Cardiff for a birthday, hen or stag do, anniversary or just life in general, you can find what you need at Las Iguanas: there's something for everyone thanks to their party menus and packages. And for all the students out there, they also offer student discounts.
Yakitori 1
A great selection of to-die-for Japanese food is Yakitori 1's speciality. Just take a look at their menu and tell us you don't want to try it right now! Made with fresh and local ingredients, Yakitori 1 is the perfect middle ground between classic and innovative new dishes. If visiting at lunchtime, you can opt to choose from a limited menu where every main is just £9.50!
Hub Box
What's a good restaurant article without a burger place? Hub Box is your essential stop for good American-inspired street food or drinks. Tasty burgers, hand-cut fries, hand-crafted drinks… you can find it all at Hub Box. They also have amazing award-winning gluten free and vegan options! A laid back and delicious experience awaits.
Fine dining in the Welsh capital
Are you after a higher-end restaurant? Read on to discover our selection of the best high-end restaurants in Cardiff.
Pasture
Meat time! Pasture Restaurant is the ultimate temple for all meat lovers. The beef is selected from farms in Wales and South-west England, producing wonderful flame-grilled steaks. If you can reach an agreement on your choice of steak with your party, we recommend going for a house cut, larger steaks designed for sharing. Although meat is the star of the menu, Pasture also has a selection of vegetarian starters and main dishes. Located right next to Cardiff Castle, Pasture makes for an exquisite stop-over during your visit.
Park House
Get the whole fine dining experience at Park House Restaurant & Wine Bar. High ceilings, velvet drapes, a grand piano... everything here makes you feel like the Very Important Person that you are. Park House offers modern French cuisine, using the best of both French and Welsh products. The wine selection is also excellent - don't hesitate to ask the waiters for pairing advice. The icing on the cake is that you can also visit Park House for an afternoon tea with a twist.
Admiral St David
If you're spending time in Cardiff Bay, head to Admiral St David for a meal to remember. Take your own trip around the world at this eclectic restaurant offering dishes inspired by different cultures. Add breathtaking views of the bay, a relaxed atmosphere, and attentive service, and you've got yourself the perfect family lunch.
The yummiest sweet treats
Satisfy your sweet tooth and more with our selection of restaurants and cafes dedicated to desserts and treats.
Kaspa's Desserts
Kaspa's Desserts offer the world's favourite hot and cold desserts all under one roof! With a mouthwatering selection of ice creams, waffles, milkshakes, sundaes, and more, they'll change the way you see desserts.
My Cookie Dough
As its name suggests, at My Cookie Dough they are the experts in all things cookie dough. Their freshly baked cookies come served with fresh ice cream, blended into a thick creamy dough shake or even wrapped with a fluffy candy floss cloud… We're drooling just thinking about it!
The Early Bird
A hidden gem in Cardiff, this rustic little café and bakery is a cosy venue offering homemade speciality doughnuts, pastries and much more! The coffee, made from home-roasted beans, is also worth a try, making The Early Bird the best place in Cardiff for breakfast or brunch.
The Naked Vegan
The ultimate vegan sweet treats! Go relax with one of their delicious hand-made doughnuts, cakes, or other sweets. New recipes are regularly added to the menu, and they also have gluten-free options. If you are looking for vegan delicacies, don't miss out on The Naked Vegan.
The best pubs and cocktails bars
What better way to unwind after a long day exploring the city than with a drink in hand?
Pennyroyal
Looking for a delicious cocktail with a dash of hip-hop atmosphere? Pennyroyal may just be the place for you. Here the cocktails are bold and eccentric, and the atmosphere vibrant. As a GQ Magazine UK Bar of the Year Finalist, you will certainly be able to find that perfect drink for a flavourful evening.
The Alchemist
True to its name, The Alchemist will take on a magical journey. The references to myths and legends in the drinks seem to be calling out to us, making for a mystical atmosphere and an almost theatrical experience. Enchanting, isn't it?
Lab 22
Taking its inspiration from scientists in various time periods and fields, Lab 22 will make you more curious about the minds that shaped our world. The menu describes the pioneers and revolutionaries that inspired each cocktail, along with a few fun facts about these great men and women. If you are looking for a virgin cocktail, Thomas Edison is your man! Look for his symbol to tell whether the drink is alcohol-fee. Before moving on to our last (but not least) recommendation, we will let you in on a little secret... Lab 22 has a lovely rooftop garden.
The Cambrian Tap
Looking for a cosy dog-friendly bar to casually chill out? The Cambrian Tap offers craft beer from all over the world and other hand-picked favourites. You might not recognise the name of the drinks on offer but the staff will be happy to help you out and recommend options catered to your taste.