How to Celebrate St David's Day in Wales?
---
Planning to visit Wales and discover Cardiff in March? Don't miss St David's Day, celebrated by all Welsh people every 1st March. This national day commemorates the death of Saint David, the patron saint of Wales.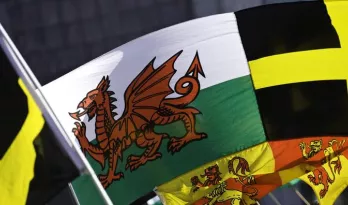 A bit of history to know St David better
St David or Dewi Sant in Welsh was a Celtic monk born in the late fifth century who spread the word of Christianity throughout Wales. He became Archbishop of Wales and founded 11 churches throughout Wales and Brittany and many religious communities. His influence is evidenced by the number of churches dedicated to him in Wales.
There are many stories of miracles surrounding St David.
The most famous miracle associated with St David took place when he was preaching to a large crowd at Llanddewi Brefi. When those at the back complained that they could not hear him, the ground on which he was standing rose to form a hill as a white dove, sent by God, landed on his shoulder.
St David died on 1st March in 589 and was canonised by Pope Callixtus in the 12th century. Since then, the Welsh celebrate the feast of St David.
National St David's Day Parade in Cardiff
Every year, St David's Day parades are held throughout Wales. The most famous one takes place in Cardiff with numerous dragon shows, concerts and theatre groups.
On this occasion, all Welsh people dress in the colours of the country, red, white and green, and wear its national emblems, the daffodil and the leek. The children who participate wear traditional welsh clothing and perform traditional dances.
It is also an opportunity for flag enthusiasts to wave the black and yellow cross banners of St David, the red dragons on a white and green background of Wales and the red and gold lions of the Welsh princes.
St David's Hall
Traditionally, every 1 March, St David's hall hosts the BBC National Orchestra and Chorus of Wales. Every year on St David's Day, renowned musicians and orchestras perform Welsh songs, old and new.
Traditional welsh meal
For Saint David's Day, Welsh gastronomy is also highlighted. Among the typical dishes to be tasted on this day, you will find the Welsh rarebit, delicious toasted bread with cheese. If you're in the mood for something more substantial, try Cawl, a traditional Welsh vegetable and meat soup, or Glamorgan sausages, vegetarian sausages made with leeks.
For those with a sweet tooth, try the delicious Welsh cakes or the Bara Brith, ideal for tea time. This is the perfect opportunity to taste traditional Welsh dishes and try out Cardiff's restaurants.
St. David's Day in the rest of Wales
St. David's Day festivities are not limited to Cardiff. Saint David is celebrated throughout Wales and especially in Pembrokeshire, in the south west of Wales. There is a small town named after its patron saint, which is still an important place of pilgrimage today. Numerous events are organised at St. David's Cathedral and in the surroundings such as the famous St. Davids Dragon Parade at Oriel y Parc.
Cardiff offers many cultural, historical and sporting activities. Take advantage of our Cardiff Discovery Tour to visit the city at your own pace and see the iconic sights of the Welsh capital.