The best things to do in Cardiff
---
The vibrant city of Cardiff is bursting with things to do whatever your interests. With many historic, cultural, shopping and sporting attractions at its heart, discover Cardiff at your own pace with our Tootbus tour.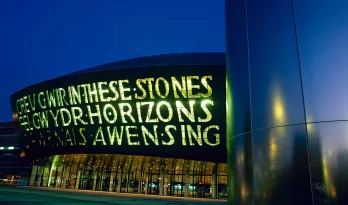 Only designated a city in 1905, and one of the youngest and fastest growing capital cities in Europe, there are few places as vibrant and lively as Cardiff. Sightseeing in this unique city is a hugely enjoyable experience, it is home to many major famous attractions such as :
The Principality Stadium,
Cardiff Castle,
Techniquest,
The National Museum of Wales,
The beautiful tranquil Alexandra Gardens.
Central Cardiff
The centre of Cardiff is filled with historic sites and amusement for every occasion. From secret winding corridors to sporting and cultural venues, and relaxing green spaces, you'll find it all at the heart of the Welsh capital.
1. Visit Cardiff Castle
Cardiff Castle is one of Wales' leading heritage attractions and a site of international significance. Located within the beautiful parklands at the heart of the capital, Cardiff Castle's walls and fairy-tale towers conceal 2,000 years of history. There is so much history and detail that it is worth visiting, and maybe even taking the house tour!
Also, half an hour's drive from Cardiff, discover Caerphilly Castle. This 13th century Norman castle is located in the heart of the town of Caerphilly in South Wales. The castle was built by Gilbert de Clare as part of his campaign to conquer Glamorgan, and was the scene of intense fighting between Gilbert, his descendants and the local Welsh rulers. Surrounded by extensive man-made lakes, it occupies about 30 hectares and is the second largest castle in Britain.
2. Watch a rugby game at the Principality Stadium
The Principality Stadium is the national stadium of Wales, located in Cardiff. Originally built to host the 1999 Rugby World Cup, the stadium has gone on to host many other large events! It is the home of the Wales national rugby union team and is also the second-largest stadium in the world with a fully retractable roof. If you like rugby, don't miss out on the opportunity to go see a Wales international game, you'll be in for a treat!
3. Learn in the National Museum Cardiff
Situated right in the heart of the city, The National Museum Cardiff holds exhibitions and events which will amaze everyone. No matter what may interest you, it will draw you in. Showcasing world-class art and natural history, you can explore the museum at your own leisure and entry is free!
4. Have a unique shopping experience in the Victorian arcades
Several royal arcades form a maze through the centre of Cardiff and host some of the extravagant independent shops in the city. You'll find it all there: cafés, vintage shops, record shops, art galleries, fine eateries, bookshops, and more. This high concentration of Victorian, Edwardian and contemporary arcades, earned Cardiff the nickname of 'City of Arcades'.
5. Take a stroll around Bute Park
Behind Cardiff Castle, just a short stroll from the main high streets, Bute Park is a tranquil oasis in the middle of bustling capital. The 130-acre wide park features an impressive nationally-significant tree collection, which you can explore following one of the trails.
6. Be mesmerised at the New Theatre
The New Theatre is Wales' number one venue for anything theatrical. The theatre hosts a number of touring productions, from West End musicals and plays to children's shows. They also present an annual Christmas pantomime which is not to be missed!
7. Experience magical moments at National Theatre Wales
National Theater Wales is known for its work with local communities and performs all over the country. Although the nation of Wales is their stage, they also have shows at their Cardiff base, where you can catch plays and immersive and interactive productions.
8. Unwind at Alexandra Gardens
Located at the heart of Cardiff Civic Centre, Alexandra Gardens is a peaceful garden laid out with neat and beautiful flower beds and several memorials. It's a truly serene place, perfect to relax, have a picnic or read a book peacefully.
9. Admire the Botanic Garden at Roath Park
Opening in 1894, Roath Park is one of the first public parks in Cardiff, and still to this day retains its classic Victorian atmosphere and layout. Pay a visit to the Botanical Gardens, south of the dam, and admire the gorgeous floral displays. If you're feeling active, why not hire a pedalo and venture out onto the lake?
Cardiff Bay
Europe's largest waterfront development, Cardiff Bay has the most stunning views, and not to mention the breath-taking walk along the barrage. One of the most picturesque parts of the city, the bay definitely deserves a visit. It is packed with places to eat and drink and has enough to keep you occupied all day (and all night). Cardiff Bay is also the starting point for the Taff Trail, a 55 mile (88 km) cycle and walking route.
10. Visit Techniquest
Science comes to life at Techniquest through over 120 hands-on exhibits all waiting to be pushed, prodded and explored. The Science Theatre stages exciting shows for all the family at weekends and in school holidays. Experience the stars as never before and take a fascinating tour of the night sky in the amazing digital Planetarium.
11. Take in the arts at the Norwegian church
Formerly a church used by the Scandinavian sailors, the Norwegian Church is one of the historical buildings situated in Cardiff Bay. The historical wooden church was rebuilt in 1992 and operates as a registered self-funded not-for-profit charity. Small concerts, art exhibitions and conferences are held here. Not to mention that famous children's author Roald Dahl attended this church when he was growing up for regular worship, and was even baptised in this place!
12. Relax at Mermaid Quay
Overlooking the Bay and with a chic, cosmopolitan atmosphere, Mermaid Quay is where Cardiff comes to relax,  with stunning views across the Bay. Situated right on the waterfront and surrounded by a host of iconic buildings, Mermaid Quay also boasts a wide range of boutique shops and luxury services. It also offers fabulous Welshcakes, independent gift shops and is home to the Aquabus waterbus service, offering trips around the Bay and beyond!
13. Admire the Millennium Centre
Wales Millennium Centre opened in 2004 and has already established its reputation as one of the world's iconic arts and cultural destinations. This architectural masterpiece, made of Welsh wood, slate, steel and glass, embodies all that is good about the Welsh national spirit. We would recommend catching a show there but, if you can't, the building itself is worth a visit.
Day trips
Have a bit more time and want to do something different? Take a trip outside of busy Cardiff and relax with the family.
14. Take in the history of Wales at St Fagans
St Fagans National Museum of History holds a special place in the heart of the people of Wales. This open-air museum contains various traditional buildings that have been re-erected in the park, exploring Welsh history from Celtic times to the present day. Good for all ages, St Fagans is also free!
15. Get a tan at Barry island
Located only 30 minutes from central Cardiff, Barry Island is famous for its golden beaches, cafés and family amusement. Barry Island is also home to famous TV programme Gavin and Stacey, and you can enjoy a walking tour of all the famous hotspots from the show! A fun family day out, enjoy the calming sound of the sea, or the screams of joy from Barry Island Pleasure Park... and don't forget to grab yourself a hot doughnut!