The Best Afternoon Tea in London
---
There's something quintessentially British about an afternoon tea! This ritual dates back to 1840 and has remained a firm favourite in the UK. Whether it's a sandwich or scone, here are our top 16 afternoon tea spots to treat yourself to!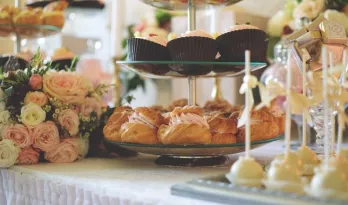 Time: Afternoon Tea is served 12:15pm to 4:15pm (Monday - Sunday)
Address: Level 31, The Shard, 31 Saint Thomas Street, London SE1 9RY
Perhaps one of the most famous London afternoon tea locations, the Aqua Shard's sandwich selection is quintessentially British, serving up roasted lobster and cured smoked salmon delights. Their selection of sweet treats come with a contemporary twist, offering some exciting flavour combinations. What's more, you can admire the city's breathtaking skyline. It doesn't get better than that.
2. The Bar and Lounge At The Goring Price: £50
Time: Monday to Friday 3.30pm, 4pm, 4.30pm (seated in The Veranda)
Saturday 1pm – 4.30pm (seated in The Dining Room)
Sunday 1pm – 4pm (seated in The Veranda)
Address: 15 Beeston Place, London, SW1W 0JW
Looking for an award-winning afternoon tea in 5* surroundings? Then head to The Bar and Lounge at The Goring, which is just a royal wave from Buckingham Palace. Here you can sample a selection of mouth-watering pastries, cakes and sandwiches. This hotel has it all; the food, the service and the ambience.
3. Diamond Jubilee Tea Salon at Fortnum & Mason Price: £62.50
Time: Monday to Thursday: 12pm – 6.30pm
Friday 11.30am – 7pm
Saturday 11.30am – 7.30pm
Sunday 11.30am – 6pm
Address: 181 Piccadilly, London, WIA IER

This Georgian inspired restaurant offers more than seventy-nine famous teas to accompany your freshly-baked scone and clotted cream. At the Diamond Jubilee Tea Salon at Fortnum & Mason, you can indulge in sweet and savoury treats that are good enough for any royal- even the Queen herself. Choose from a selection of traditional finger sandwiches; coronation chicken, honey roast ham and smoked salmon.
4. Brown's Hotel Price: £55
Time: Monday to Sunday: 12.00pm-5.30pm
Address: Albemarle St, Mayfair, London W1S 4BP
The English Tea Room at Brown's Hotel has hosted many famous guests since it opened its doors in 1837, from Rudyard Kipling to Queen Victoria. This oh-so-British experience is the perfect way to spend your afternoon and offers great value for money. Guests never leave this establishment feeling hungry because the Afternoon Tea is replenished at no extra cost.
5. Claridge's Price: £70
Time: 2.45pm-5.30pm
Address: Brook Street, Mayfair, London W1K 4HR
This is a truly special place to enjoy a selection of fine treats and delicious tea, handpicked by a qualified tea connoisseur. Part of our English heritage, Claridge's is a well-known afternoon tea location that just can't be beaten. Enjoy finger sandwiches, raisin and apple scones and a selection of sweet pastries.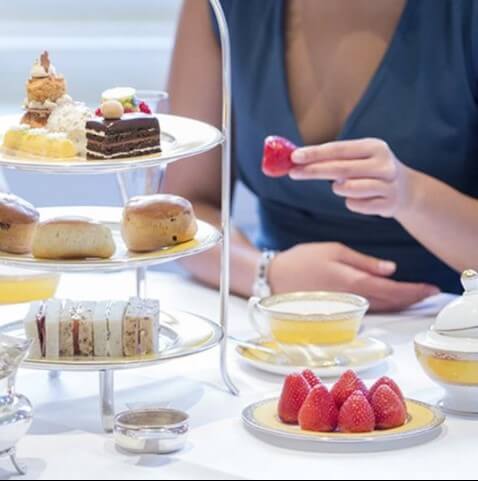 6. Renaissance Hotel Price: £38
Time: Thursday to Sunday: 1.00pm-6.00pm
Address: Euston Road · London, NW1 2AR
A traditional afternoon tea experience, the Renaissance Hotel plates up savoury sandwiches, scones and a selection of freshly baked goods, from coffee and walnut cake to their lemon and raspberry Victoria sponge. Situated near King's Cross station, it's the perfect place to indulge in 'one last treat' before heading home.
7. Palm Court at the Ritz Price £55
Time: 11.30am-7.30pm
Address: 150 Piccadilly, London, W1J 9BR
Perhaps one of the more lavish afternoon tea locations that London has to offer, a visit to Palm Court at The Ritz is both charming and truly memorable. Appreciate finely-cut sandwiches, scones oozing with jam and clotted cream, along with a range of exquisitely presented pastries. If you're thinking of booking between Monday-Thursday it is worth looking at the offers that are available.
8. The Promenade and the Spatisserie at The Dorchester Hotel Price: £55
Time: 11am-6pm
Address: 53 Park Lane, W1K 1QA UK
Situated in London's most luxurious spa, The Spatisserie is a relaxing space to treat yourself to a little bit of what you love. Offering seasonal specialities, this culinary experience celebrates the best of British. Whether you're marking a special occasion or simply indulging, this place won't leave you feeling disappointed.
9. Thames Foyer at The Savoy Price: £65
Time: Wednesday – Sunday: 12.00pm – 4.45pm
Monday – Tuesday: closed
Address: 91-92 Strand, London, WC2R 0DW
At the heart of The Savoy Hotel is Thames Foyer, the ideal place to enjoy finger sandwiches and scrumptious sweet treats. Situated underneath a beautiful glass dome, guests are serenaded by a pianist, who sits underneath a gazebo in the winter garden. The Savoy is truly a world-famous afternoon tea experience.
10. Town House At The Kensington Price: £42
Time: Everyday
Address: 109-113 Queen's Gate, London SW7 5LR
If you are a fan of the Disney classic, Beauty and The Beast, then you will enjoy this particular tea spot. Sample vanilla and gold jelly served in a symbolic rose petal, cream courtesy of Mrs Potts herself, along with other sweet treats inspired by the classic film. From 1st- 31st of December, the afternoon tea at Town House is set to be even more magical, as the 'Tale as Old as Time' themed afternoon tea in London turns festive.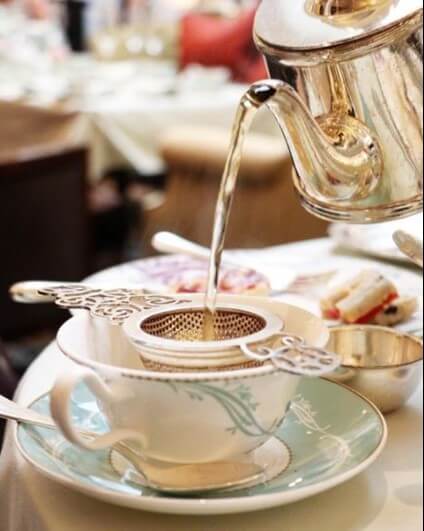 11. The Ampersand Hotel Price: £44.50
Time: Monday to Friday: 12noon – 6:30pm, Saturday to Sunday: 11am – 18:30pm
Address: 10 Harrington Rd, Kensington, London SW7 3ER
Influenced by the hotel's neighbour, The Science Museum, The Ampersand serves up a science-themed afternoon tea that both delights and surprises their guests. Dust for a collection of shortbread dinosaur biscuits and use test tubes to construct the perfect scone. This is a brilliant place to bring your children, as they will appreciate the selection of themed treats.
12. High Tea at Farmacy Price: £50
Address: 74 Westbourne Grove, London, W2 5SH
If you want to enjoy high tea in London without calories, then Farmacy serves a plant-based menu that is free from dairy, refined sugars, additives and chemicals. Tantalise your taste buds with a pulled jackfruit taco served with fresh chilli and coriander. 'Sweet treats' include banana & maca caramel cake, strawberry & cashew mousse and tahini & dark chocolate truffles. Healthy food that still packs-a-punch.
13. The Lalit London
Time: Monday to Sunday: 12:30 pm - 4:00 pm
Address: 181, Tooley Street, London, SE12JR
Serving authentic Indian cuisine, The Lalit London puts a spin on the traditional afternoon tea. Enjoy the stunning balcony dining area which offers a peaceful setting to appreciate great food and good company. The restaurant also offers a vegetarian option which is highly regarded on TripAdvisor.
14. The Luggage Room
Time: Saturday & Sunday
Address: Grosvenor Square, London, W1K 6JP
Come to The Luggage Room and enjoy Low Tea. Yes, in the spirit of the roaring 20's, Low Tea is the socially comfortable alternative to afternoon tea or cream tea. Set in an intimate London cocktail bar you can sit back, relax and sample hot savoury delights such as pickled mushroom and crème fraiche tarts and wild boar sausage rolls. If you have a sweet tooth, you'll also enjoy the scone trifle and salted caramel meringue.
15. Mr Fogg's Residence Price: £44
Time: Saturday afternoon
Address: 15 Bruton Lane, Mayfair, London
Named after the eccentric British adventurer who featured in Jules Verne's classic novel, Around the World in Eighty Days, Mr Fogg's Residence is a charming establishment to enjoy a 'tipsy tea.' These 'spirited' teapots are full to the brim with gin or champagne-based cocktails; there's plenty of unique flavours to choose from. Did we mention that there is an option to upgrade to a bottomless teapot? It goes without saying that any tipsy tea option is accompanied by a selection of sandwiches and cakes.
16. The Berkeley Price: £60
Time: Afternoon Tea is served Monday - Sunday: 1pm - 5.30pm.
Address: Wilton Place, Knightsbridge, London SW1X 7RL
A simply charming location, The Collins Room at The Berkeley Hotel offers stylish surroundings with a welcoming atmosphere. Don't be fooled though, this is an afternoon tea with a difference. If you're a fashionista or have an eye for design, you'll appreciate this Pret-a-Portea inspired theme. Share Gucci's pink candyfloss mousse, a Mulberry handbag inspired chocolate cake and Stella McCartney's Battenberg cake. Of course, the food that is served changes depending on the season, much like the season's fashion trends.
So there you have it. Some fantastic venues where you can enjoy the best afternoon tea in London! Why not let your stomach settle on a hop-on hop-off bus tour? Check out our amazing offers on London's most popular tourist attractions.