The Best Pancakes in London
---
It doesn't have to be Pancake Day in London to eat delicious pancakes. Whether you are looking for American style pancakes, French-style crepes, Dutch pancakes, gluten-free or vegan options, there are lots of great pancake houses in London.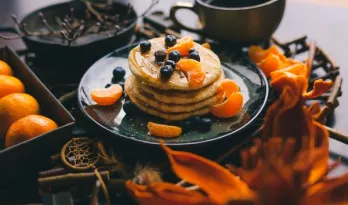 Where to find the best pancakes in London?
Whether you are looking for traditional pancake restaurants in London or you just want to grab a crepe on the go, there are plenty of places to choose from. When you need a break from your tour with Tootbus, tuck-in to a delicious stack of pancakes for breakfast, lunch or dinner and discover some of the best pancakes in London.
Where: Brixton Village Market
Tuck-in to classic pancakes in London, from £3.90, or try exciting new flavour combinations at Senzala. Choose from sweet or savoury French crepes and galettes with vegetarian, vegan and gluten-free options. The menu is inspired by Brazilian influences and includes exciting savoury combinations such as El Egg Ranchero, filled with chorizo, egg, white onions, tomato chutney, beans, jalapenos, guacamole and parsley. Senzala is open between 9am-11pm, depending on the day, and you can also choose from a range of sides, starters and salads.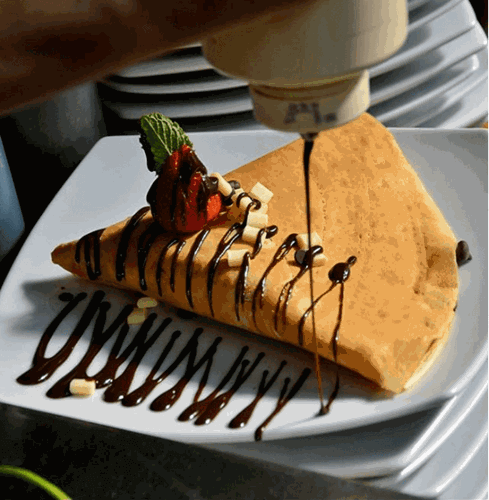 Where: Southwark
Pancakes are for life, not just for breakfast. For a variety of pancakes at any time of day, head to Where the pancakes are. Choose from American style, Dutch baby pancakes, savoury Blinis and buttermilk pancakes with a variety of sweet and savoury toppings. Where the pancakes are is not a traditional pancake restaurant in London and they offer classic pancakes with a modern twist, in a range of sizes. They also have monthly specials with different colours and flavours so you can enjoy pancakes all day long.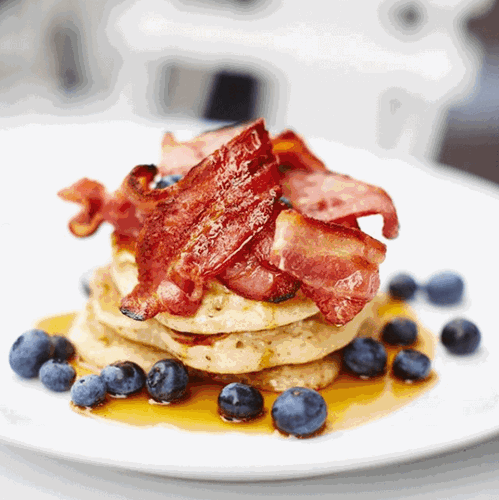 Where: Holborn, Chelsea, Kensington
Known as the original pancake house in London, My Old Dutch has been serving up stacks of delicious pancakes since 1958. Pancakes start from £6.95 and the choices are endless. Indulge in sweet, savoury, butterscotch, waffles, poffertjes, lite options with fewer calories or vegan pancakes and gluten-free pancakes are available on request. You can also make your own pancakes, order online and take-away.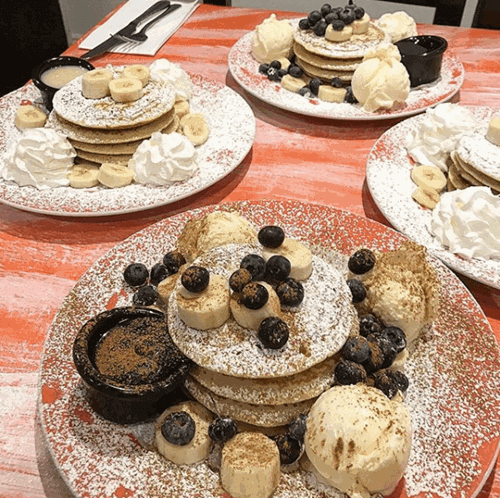 Where: Pop-up locations in London
Fuwa Fuwa is the one place for you if you want to try Japanese pancakes in London. The pop-up pancake restaurant in London serves souffle style pancakes which are fluffy, airy, soft and delicious. These tasty Japanese pancakes take around 20-minutes to cook from fresh but they are totally worth the wait. Pancake toppings include blueberry and yuzu cheesecake, s'mores, honey butter with maple cream and maple syrup and matcha pancakes, amongst others. Keep an eye out for Fuwa Fuwa's latest pop-up location in London to visit the UK's first Japanese pancake shop.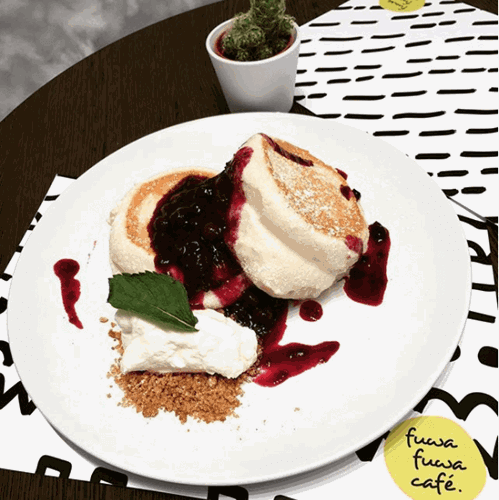 Where: Angel in Islington, Battersea Rise, Canary Wharf, Hackney Wick, Hoxton, Soho, London Bridge, Spitalfields
It's pancake day in London every day at The Breakfast Club. This all-day brunch cafe is an 80s kid's dream and serves breakfast until 12pm. The brunch menu includes pancakes with bacon or berries and maple syrup, all-American pancake breakfast, salted caramel and banoffee and vegan blueberry pancakes. Delicious pancakes don't end at breakfast and you can enjoy them for lunch, dinner and pudding alongside shakes, smoothies, hot drinks, cocktails or beer.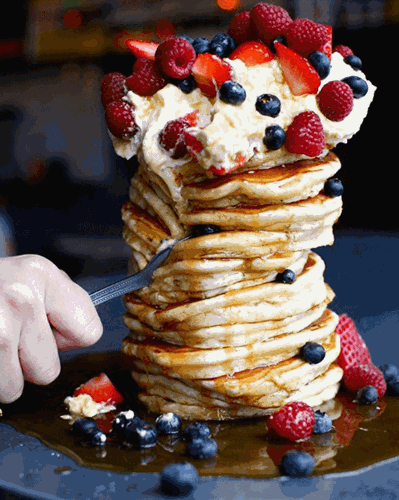 Where: Spitalfields, Shoreditch, Camden
The Diner is an old-school American diner serving traditional American pancakes in London. The all-day breakfast menu includes a stack of 3 pancakes, filled with either banana, buttermilk, blueberry, choc chip or strawberry & chocolate. The dedicated vegetarian and vegan menu is currently only available at the Dalston, Shoreditch, Spitalfields and Strand restaurants. Opening times depending on the day and location, and there are plenty of other options on the menu if not everyone in your group wants to eat pancakes. But who wouldn't want to sample some of London's best pancakes?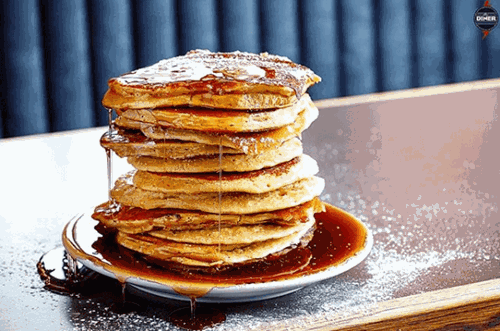 Where: Richmond
For traditional French crepes and authentic French cuisine from Brittany, head to Chez Lindsay. Open all day, every day, the menu is filled with seafood and pancakes along with an extensive range of wine and cider. Crepes start from £4.25 and you can indulge in classic savoury options like cheese with ham, egg or tomato or indulgent specials such as mixed seafood or smoked salmon with lemon and chive cream. The extensive dessert list of sweet crepes includes classic toppings such as Nutella, honey and almond, jam and chocolate sauce.