Cool things to do in London for teens
---
While you should always visit the iconic landmarks, why not try out these terrific and unique ideas for teens from paddle boarding to abseiling, there's something for them to enjoy!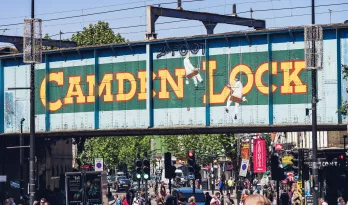 The Crystal Maze Live Experience
Test your mental and physical ability as you take on the ultimate team challenge. This is one for all the family and your hard to impress teen will certainly want to join in with this activity! With challenges set across 4 escape rooms, individual members of your team will participate in 2-3 minute challenges to earn as many crystals as they can. If you're looking for an adrenaline rush, try the Crystal Maze experience and become the star of this real-life escape game.
How to get there? hop off at stop 1 Coventry Street on the yellow route
Oxford Street
What would a trip to London be without a proper shopping session? To satisfy the whole family, teenagers and parents alike, head to Oxford Street. This 2.5 kilometre long shopping street in London has over 600 shops for all ages and budgets. From the most famous brands such as Nike, Zara or Topshop to trendy boutiques and department stores, you're bound to find what you're looking for!
How to get there? hop off at stop 1 Coventry Street, or stop 16, Oxford Street on the yellow route
Street Art Walking Tour
Ok, so if you're heading to London with a teen in tow, why don't you consider swapping an art gallery for a street art walking tour? Discover an alternative London and head to the vibrant East End where you can take in street art by foot or by bike.
How to get there? hop off at stop 9, Tower of London, on the yellow route
House of Vans SkatePark
Underneath Waterloo station, you'll find the House of Vans. If your teen is an avid BMX rider or skateboarder then you'll definitely earn some brownie points if you set some time aside to visit this place. Embracing creative expression, this place hosts an 'off the wall' skate park, art installations, music and street culture.
How to get there? hop off at stop 3 London Eye or 4 Waterloo Station on the yellow route, or stop 3 Westminster Bridge on the blue route
London Eye
Climb aboard a capsule of the London Eye observation wheel and be amazed by a view of London 135 metres above the ground. Enjoy a breathtaking 360 degree view of the capital and its most iconic landmarks. It will take your breath away!
How to get there? hop off at stop 3 London Eye on the yellow route or stop 3, Westminster Bridge, on the blue route
Thames Rockets
If you want to see London's most iconic landmarks with a twist, look no further than Thames Rockets speedboats. Accompanied by experienced guides and skippers, discover London's capital at high speed from the Thames. For teenagers looking for a thrill, visiting London has never been so exciting!
How to get there? hop off at stop 3 London Eye on the yellow route or stop 3, Westminster Bridge, on the blue route
London Dungeon
For those who love thrills, bloody and macabre stories, you can face your fears at the London Dungeon! Revisit the darkest hours of British history and discover the legendary Jack the Ripper, walk through the dark and sinister streets of Whitechapel, confront Sweeney Todd and escape the flames of the Great Fire of London. Not for the faint-hearted!
How to get there? hop off at stop 3 London Eye on the yellow route or stop 3, Westminster Bridge, on the blue route
Covent Garden
If you want to immerse yourself in the hustle and bustle of London, Covent Garden is the place to be. It's the ultimate cool neighbourhood that will appeal to all teenagers. Right in the heart of London, Covent Garden is full of things to do: markets, restaurants, bars and trendy shops. Everything a teenager could wish for!
How to get there? hop off at stop 5 Covent Garden on the yellow route
All Star Lanes
If you need to fill up some time in the evening, then bowling might be a good option. Before you go rolling your eyes, we're not suggesting any ordinary bowling alley. We suggest heading over to All Star Lanes, a high-end boutique bowling experience.
How to get there? hop off at stop 5 Covent Garden on the yellow route
Tower Bridge
Change your perspective and enjoy a panoramic view of London from the river Thames. At 42 metres above ground, stroll along the walkways of Tower Bridge and experience the thrill of watching the hustle and bustle of London through the transparent glass floor. If you're lucky, you'll even get to see the lifting of the bridge as river traffic flows.
How to get there? hop off at stop 8 Tooley Street or 9 Tower of London on the yellow route
Science Museum
Looking for a teen friendly museum? The Science Museum is your best bet. Armed with interactive and hands-on exhibitions, learning is disguised by fun. There are also some unique experiences to be had. We'd recommend checking out Space Descent VR with Tim Peake, an out-of-this-world guide through space!
How to get there? hop off at stop 11 Museums on the blue route
Madame Tussauds
Meet over 150 celebrities and personalities from all around the world as you walk through the 11 areas of London's most famous wax museum. Take a picture with the Queen of England, famous singers or actors and even your favourite Marvel superheroes. For thrill seekers, try the immersive Marvel Universe 4D experience, the newest attraction, and fight alongside Spider Man and Captain America.
Camden Market
If you want something that requires a little less energy to enjoy London with teenagers then head to Camden Market! Explore the unique shops & quirky stalls and enjoy the delicious street food that's on offer. Immersed in alternative culture, Camden certainly has a wide appeal.
Wire & Sky
Ok, so this one is not for the fainthearted. If your teenager is a bit of a daredevil, you might consider an aerial adventure. Wire & Sky can offer you the opportunity to experience spectacular views of this city- while abseiling down some of London's most famous attractions. Led by qualified instructors, your teen could find themselves abseiling down the ArcelorMittal Orbit or scaling The 02!
Warner Bros Studio Tour
Follow in the footsteps of Harry Potter by exploring the iconic sets and secrets of the filming. The Warner Bros Studio Tour reveals the breathtaking special effects behind the scenes of the famous saga and takes you to meet the magical creatures. Discover how Aragog or the Basilisk came to life thanks to the genius of the technical teams. Get ready to embark on a journey into the heart of magic!
Paddle Boarding
Instead of exploring London's waterways by boat, why not hire a paddle board instead? Active 360 operate instructor led paddle boarding sessions from Key Bridge, Putney, Paddington and Brentford Lock. Paddle boarding is much safer and easier to learn than most water sports, which should put your mind at rest.
Oxygen Freejumping
Now you have successfully removed your teenager from their bedroom, why not get them involved in an activity that encourages exercise? (It's easier than you think!) Oxygen Freejumping is a trampoline park based in Acton where your teen can let off some steam. Personally, our favourite activity on offer is trampoline dodgeball. However, there are lots of activities on offer; from free running to the Bear Grylls indoor obstacle course!
Of course, it's a crime to go to London and not see the famous landmarks and attractions. If you don't fancy dragging your moody teenager on the tube, book a sightseeing bus tour with the Tootbus. It's the easiest and quickest way to see the city and leaves you enough time to try an activity that's a little bit more unusual.