Famous Filming Locations in London
---
Take a hop-on hop-off bus tour with Tootbus and hop-off to explore the city on foot to find your favourite movie locations in London.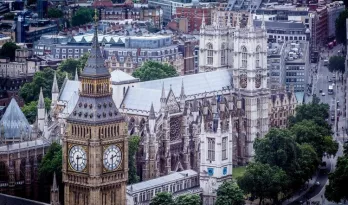 Harry Potter Film Sites in London
Enter the wizarding world when you visit these Harry Potter filming locations in London.
Where was Harry Potter filmed?
Much of the franchise was filmed at Leavesden Film Studios where you can now take the Warner Brothers Studio Tour, however, many scenes were shot in London.
Platform 9 ¾: Head to King's Cross where you will recognise the external facade of St Pancras and visit the platform in the station.
12 Grimmauld Place: The home of Sirius Black is just a short walk from King's Cross at 23-29 Claremont Square in Islington.
The Leaky Cauldron: Find the entrance to The Leaky Cauldron at Leadenhall Market and Borough Market, as both locations were used to film the entrance to Diagon Alley.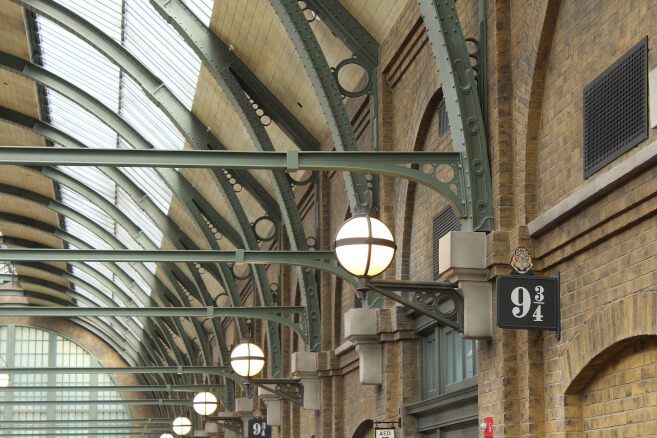 Sherlock Holmes Filming Locations in London
Retrace the steps of the famous detective and his companion, Watson.
221b Baker Street: Marked by a blue plaque on the wall, just a short walk from Madame Tussauds, is Sherlock's Holmes' home. But did you know that external shots of his home were actually filmed in North Gower Street, just half a mile north-east?
St Bartholomew's Hospital: Scenes were shot at the hospital in Smithfield which was a regular meeting place for Holmes and Watson to conduct experiments and solve crimes.
Diogenes Club: See the fictional gentleman's club at 10 Carlton House Terrace which is home to the British Academy.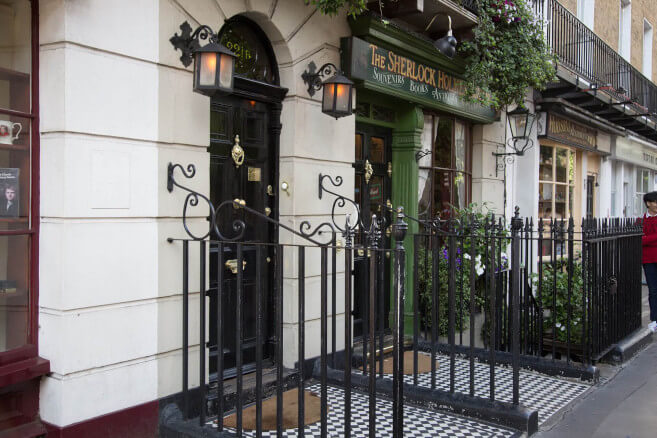 James Bond Film Locations in London
Shake up your trip to London and stir things up Bond style.
The World is Not Enough: Go back to the Brosnan days and take a speedboat along the Thames or climb up the O2 arena, just like he does in the movie.
Skyfall: Visit the National Gallery in Trafalgar Square to see where Q meets with Bond in front of JMW Turner's 'The Fighting Temeraire' in Room 34 which was used as one of the Skyfall filming locations.
Spectre: Visit more Spectre filming locations as Daniel Craig returns and see the MI6 HQ at the SIS Building in Vauxhall along with London's City Hall.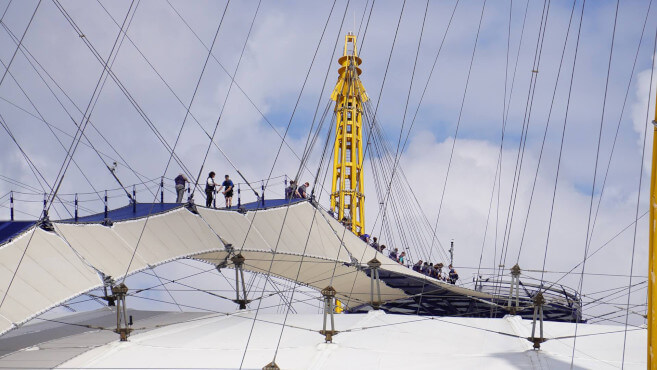 Mary Poppins Film Locations in London
A childhood classic, Mary Poppins is the gift that keeps on giving and you can step into the story on your jolly holiday to London.
Where was Mary Poppins filmed?
The original movie was filmed in Walt Disney Studios in California, but the 2018 sequel went back to the stories classic roots and took to the streets of London to film many scenes.
Feed the Birds: Sit on the steps of St Paul's Cathedral and cycle past Buckingham Palace just like Jack the lamplighter.
Invest tuppence in the bank: Stand outside the Bank of England near Threadneedle Street and see Big Ben which sets the scene for the climactic moment in Mary Poppins Returns.
Cherry Tree Lane: Although the Banks' family home is not real, you can visit P.L Travers home at 50 Smith Street in Chelsea which was said to be the inspiration for Cherry Tree Lane.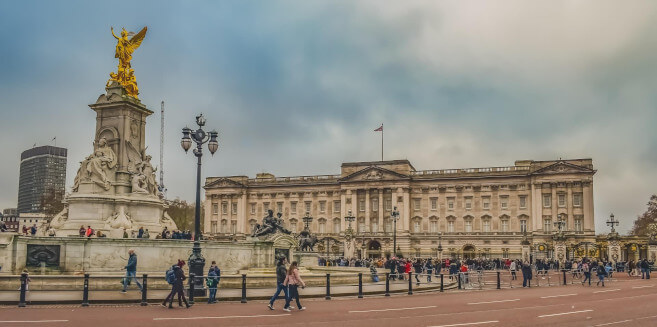 Paddington Bear Film Locations in London
As one of the most famous British bears to grace our screens, Paddington had his fair share of adventure in London.
Where was Paddington Bear filmed?
Set in the capital city, much of the movie was filmed on location in London.
Paddington Station: The station is closely associated with the bear and whilst the platforms were used for filming, the exterior of Paddington Station was actually filmed outside Marylebone tube station.
Paddington Bear house in London: The Brown family home is at 30 Chalcot Crescent in Primrose Hill.
Gruber's Antique Store: Head to Notting Hill to Alice's Antiques on Portobello Road, where Paddington is taken to try and find out where he came from.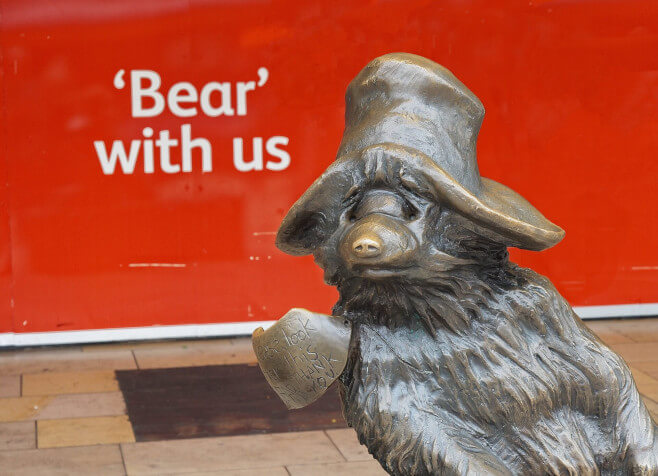 Spiderman London Filming Locations
The Marvel movie for summer 2019 weaves a tangled web through London. Peter Parker and his friends take a tour around Europe in Spider-Man: Far From Home.
Although parts of the movie were shot in Leavesden Studios, there are lots of landmarks around the city that Spidey and his friends visit throughout the film.
The gang arrives in St Pancras International, there is also a scene which takes place at the Tower of London and the superhero is spotted swinging across the Tower Bridge, so grab your camera and take some pictures!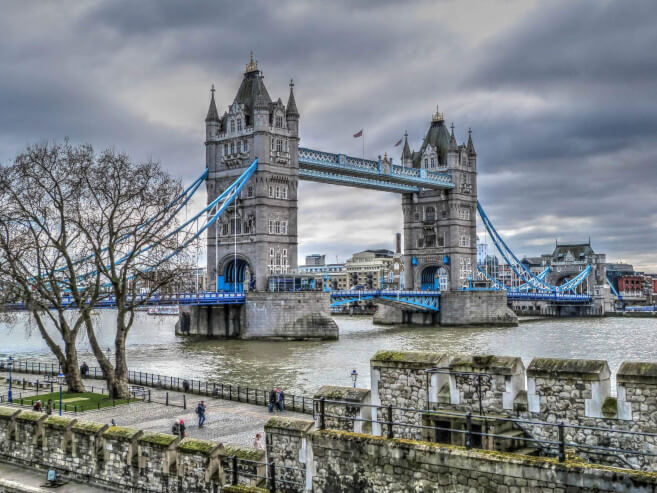 Doctor Who Filming Locations in London
As a fan favourite for many decades, Doctor Who has travelled through space and time and has landed his Tardis in London in different forms.
Christopher Eccleston: In the first episode of the TV shows revival, the Doctor lands his Tardis right outside the London Eye as he explains recent events to rose.
David Tennant: He returns to London for 'The Shakespeare's Code' episode which takes place in The Globe Theatre.
Matt Smith: The Tardis lands once again for 'The Bell's of St John' episode, but this time on South Bank with great views of Parliament in the background.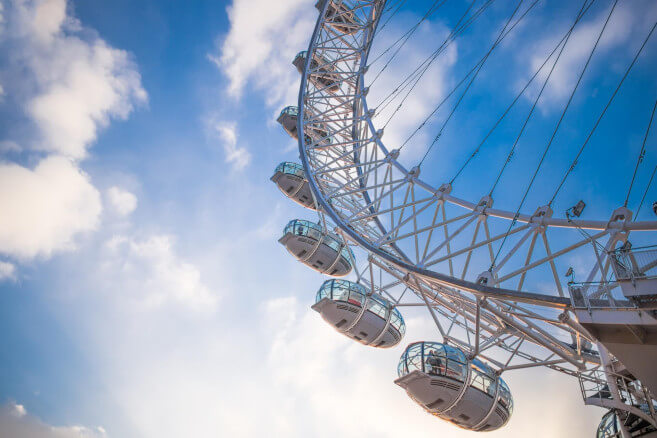 Peter Pan Locations in London
The boy who never grew up has deep roots in London and there are traces of his shadow around the city.
The Darling Home: Upon moving to London, J.M Barrie became friends with the Llewellyn Davies family. They had five boys and lived at 31 Kensington Park Gardens which inspired the home of the Darling family and is marked with a blue plaque.
Peter Pan Statue: Take a stroll through Kensington Gardens to find the Peter Pan statue in London, just west of The Long Water.
Second star to the right and straight on til morning: No trip to London is complete without seeing the Peter Pan London skyline. See the Houses of Parliament and Big Ben from Westminster Bridge, marking the iconic moment where Peter Pan and the Darling children take flight.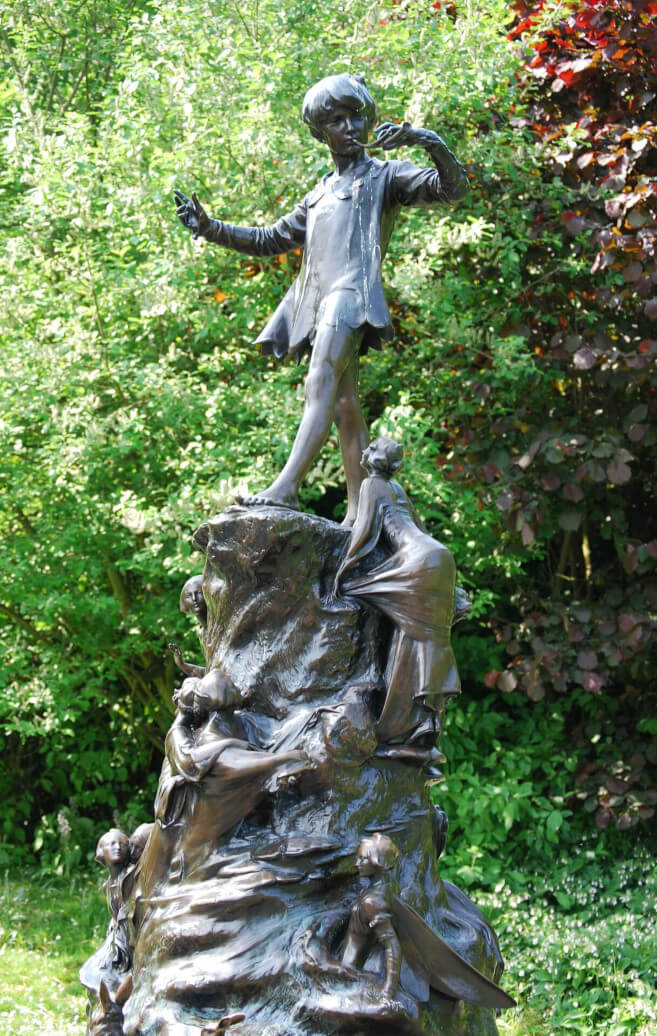 Oliver Twist London Locations
Are you hungry for more? Dickens' classic novel was set in London and there are a few places you can visit which may give you a taste of the movie.
Where was Oliver Twist filmed in London?
Unfortunately, the classic Oliver Twist movie wasn't filmed on location in London, but you can consider yourself lucky as the city was recreated at Shepperton Studios on film sets.
The Workhouse: It is thought that the workhouse was based on 38 Cleaveland St in Paddington, as it was just 9 doors down from Dicken's Childhood home.
London Bridge: Head to the meeting point of Mr Brownlow, Rose Maylie and Nancy before they found somewhere secretive to talk.
Fagin's Den: Although it was fictional, it is thought that the den was based in the Saffron Hill area which, at the time, was a dirty neighbourhood with narrow streets between Holborn and Clerkenwell.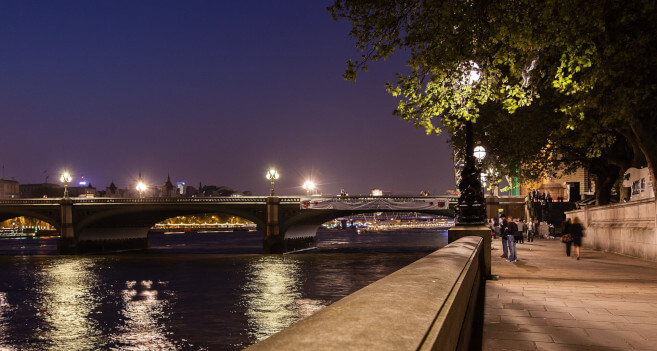 Christopher Robin Filming Locations in London
Another of Britain's famous bears returned to our screens in 2018 and you can visit many places in London where Christopher Robin was filmed.
Where was Christopher Robin Filmed?
Although the movie was partially shot in Shepperton Studios, it truly captured the best of Britain by filming on location.
Hundred Acre Wood: Although it is a bit further from London, you can visit the Hundred Acre Wood at Ashdown Forest in East Sussex and also Windsor Great Park, just outside of Windsor.
Christoper's Boarding School: See where Christopher Robin went to boarding school by visiting the Royal Hospital Chelsea.
Christopher's Home in London: Find the Robin family home and the garden where Christopher Robin reunites with Pooh at Merrick Square in Southwark.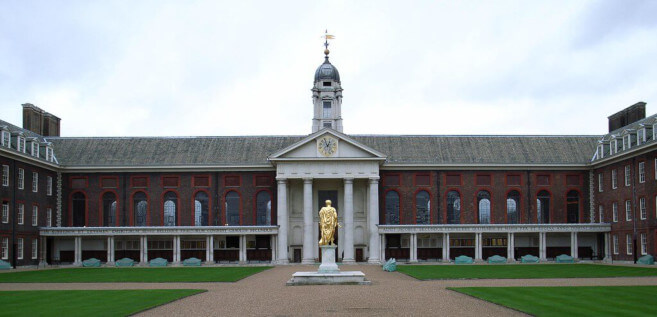 To discover the magic of the movies, there are plenty of London filming locations for you to seek out with the family. Find iconic landmarks and have a photoshoot of your own on the streets of London, without heading to top-secret studio spaces.
Why not make your journey around London even easier by hopping on a Tootbus tour bus? Hop-on and off as many times as you like and see your favourite movie locations in London up close from our sightseeing bus. Book your tickets now!