Things to Do and See in Greenwich
---
To help you make the most of your trip, we've created this guide to the best things to see and do while visiting one of London's most unique and historical districts.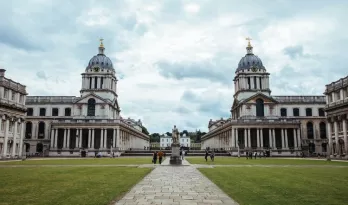 How to get to Greenwich?
First things first: how do you get to Greenwich? You can hop on the river cruise at either Westminster Pier or Tower Pier.
Once on-board the boat, don't forget to get your camera ready to capture spectacular views of some of the capital's most impressive landmarks – including the Tower of London, London Bridge, and the London Eye.
What historic attractions are not to be missed in Greenwich?
As an area steeped in rich maritime history, Greenwich is home to four fascinating and educational Royal Museums: The Royal Observatory, National Maritime Museum, Cutty Sark and Queen's House.
The Royal Observatory, Greenwich
Sitting at the top of Greenwich Park, the Royal Observatory is the historic headquarters of British astronomy and the epicentre of Greenwich Mean Time (GMT). Here you can discover how pioneering scientists first mapped the sea and stars for the purpose of time-keeping and ocean voyages, before experiencing the great expanse of our universe via London's only public planetarium.
The National Maritime Museum
Housed in one of Greenwich's most historical buildings, the National Maritime Museum offers all the family a chance to experience a boatload of wonderfully immersive exhibitions. The AHOY! children's gallery, for example, provides little ones with the opportunity to 'explore' a variety of maritime-themed scenes, including polar landscapes, pirate-infused panoramas and much, much more.
As the last surviving tea clipper in the world, the Cutty Sark is one of Britain's most famous ships. Climb aboard and observe what life was like for sailors in the late nineteenth century, when the Cutty Sark carried tea back from China and was the fastest ship of her kind. There is also a selection of family-friendly activities and workshops to enjoy while on-board.
Last but certainly not least in the quartet of magnificent Royal Museums in Greenwich is the Queen's House. A visit to this architecturally stunning building offers you the chance to enjoy a range of majestic art by Great Masters, not to mention centuries of royal heritage. Throughout the year, Queen's House also hosts a range of world-class exhibitions that are well worth checking out.
Top-Notch Pubs and Traditional London Culture
No trip to Greenwich is complete without sampling the local cuisine of pie and mash. And luckily, there is no shortage of top-notch pubs and restaurants eager to plate up world-class versions of London's most traditional recipe for you to try. Just don't forget to wash it down with a pint of real ale for the authentic palate-pleasing experience.
If you're in the mood for souvenir shopping, you should also pencil a visit to Greenwich Vintage Market into your itinerary. It's home to over 40 stalls, selling everything from antiques and jewellery to vintage collectibles you won't find in any London gift shop.
The Greenwich and Docklands International Festival is held every year between June and September. A ten-day jamboree that includes a huge range of dance, theatre, street performances and more, the festival offers a fantastic way to make the most of the good summer weather.
Parks and Views
In addition to the unique combination of history and culture, Greenwich boasts several gorgeous parks to visit and breath-taking views to enjoy.
Greenwich Park, formerly a hunting ground for Henry VIII, is the largest and oldest Royal Park in London. It provides an urban retreat for many animals and is teeming with over 70 species of bird. There is also a wide range of child-friendly activities to enjoy, while a trek to the peak of the park's largest hill offers magnificent panoramic views of London's cityscape.
To grab your 24, 48 or 72-hour Tootbus sightseeing ticket, take a look at our different tours !