Tourist Attractions: Westminster Abbey
---
Westminster Abbey is officially called the Collegiate Church of St Peter at Westminster and doesn't operate as a regular church reporting to the hierarchy within the Church of England. The church is directly responsible to the Sovereign having been designated with a special 'Royal Peculiar in 1560.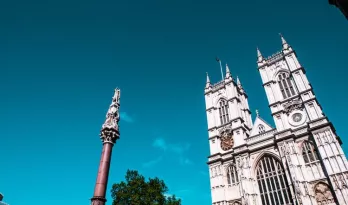 How old is Westminster Abbey?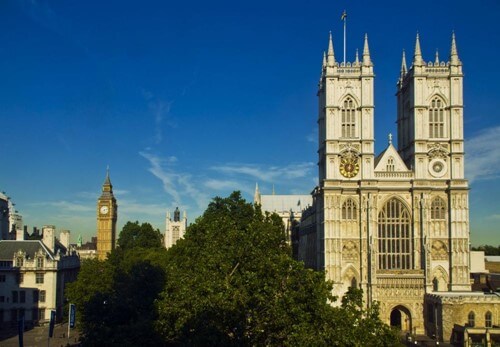 The origins of the Abbey date back to the 960s or early 970s when Saint Dunstan and King Edgar installed a community of Benedictine monks on the site. Between 1042 and 1052, the Abbey, named St Peter's Abbey, was rebuild by Edward the Confessor to provide himself with a Royal burial church. Completed around 1060 it was the first church in England to be built in a Romanesque style. It was consecrated on the 28th December 1065 a week before Edward's death, and who was subsequently buried in the church.
Who built Westminster Abbey?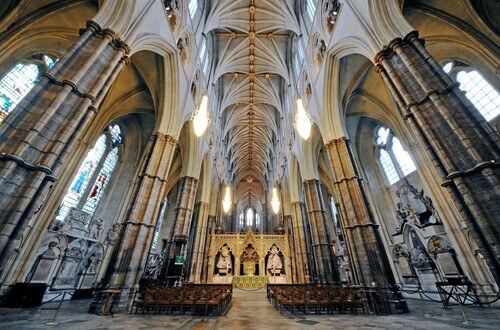 Construction on the Westminster Abbey we see today began in 1245 by Henry III who had selected it as the site for his burial. The Abbey became the coronation site of Norman Kings, though none were buried there until Henry III. The church was rebuilt in an Anglo-French Gothic style as a shrine to venerate King Edward the Confessor. Work on Westminster Abbey continued between 1245 and 1517 with it being completed by architect Henry Yevele. In 1503 Henry VII added a Perpendicular style chapel which was dedicated to the Blessed Virgin Mary. In 1540 Henry VIII gave Westminster Abbey cathedral status which would spare it from the destruction or dissolution.
How tall is Westminster Abbey?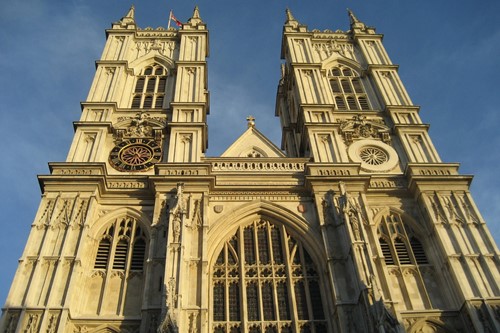 Nicholas Hawksmoor was the mastermind behind building the two Western Towers at Westminster Abbey which were constructed between 1722 and 1745 and which were inspired by a Gothic Revival design. The walls and floors of the Abbey are made from purbeck marble. Westminster Abbey is 69m (225 feet) high, with a width of 26m (85 feet) and a floor area of 32,000 square feet.
Are Coronations held at Westminster Abbey?
Since the coronations of both King Harold and William the Conqueror in 1066, Westminster Abbey has seen every English and British monarch crowned there (except Edward V and Edward VII who were never crowned). The King Edward's chair is the throne on which English and British sovereigns are crowned. The chair is now located within the Abbey in the St George's Chapel near the West Door and has been used for every coronation since 1308. Since 1066 there have been 39 Coronations.
The most recent Coronation at Westminster Abbey was that of Queen Elizabeth II who was crowned Queen at the age of 25 on the 2nd June 1953 after the death of her father King George VI on the 6th February 1952. The Coronation took place more than a year after King George VI's death because of the tradition that holding such a festival is inappropriate during the period of mourning that follows the death of a monarch. During the service Queen Elizabeth II took and subscribed an oath to govern the peoples according to their respective laws and customs.
This was the first coronation to be televised with 27 million people in the UK alone watching it, plus millions from overseas.
How many Royal Weddings have there been at Westminster Abbey?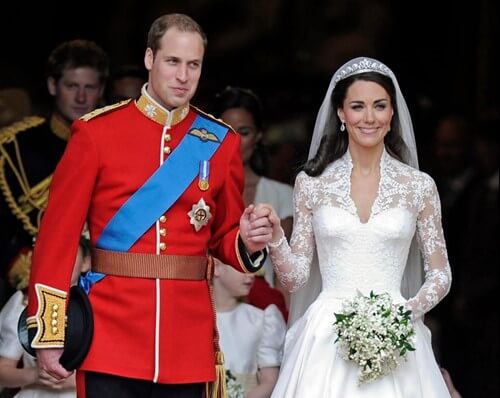 To date there have been 17 Royal Weddings at Westminster Abbey, which in chronological order are:
11 November 1100: King Henry I of England was married to Matilda of Scotland
4 January 1243: Richard, Earl of Cornwall (later King of Germany), brother of King Henry III of England, to Sanchia of Provence (his second wife). Sanchia was sister of Eleanor of Provence, Henry III's queen.
9 April 1269: Edmund of Crouchback, 1st Earl of Leicester and Lancaster, son of King Henry III was married to Lady Aveline de Forz
30 April 1290: Joan of Acre, daughter of King Edward I, was married to the 7th Earl of Gloucester
8 July 1290: Margaret of England, daughter of King Edward I, was married to John II, son of Duke of Brabant
20 January 1382: King Richard II of England was married to Anne of Bohemia
18 January 1486: King Henry VII of England was married to Elizabeth of York
27 February 1919: Princess Patricia of Connaught was married to Capt the Hon Alexander Ramsay
28 February 1922: The Princess Mary, daughter of King George V, was married to Viscount Lascelles
26 April 1923: The Prince Albert, Duke of York (later King George VI), second son of King George V, was married to Lady Elizabeth Bowes-Lyon (later to become Queen Elizabeth The Queen Mother)
29 November 1934: The Prince George, Duke of Kent, son of King George V, was married to Princess Marina of Greece and Denmark
20 November 1947: The Princess Elizabeth (now Queen Elizabeth II), elder daughter of King George VI, was married to the Duke of Edinburgh (who was Lt Philip Mountbatten until that morning)
6 May 1960: The Princess Margaret, second daughter of King George VI, was married to Antony Armstrong-Jones (later Earl of Snowdon)
24 April 1963: Princess Alexandra of Kent was married to the Hon Angus Ogilvy
14 November 1973: The Princess Anne, only daughter of Queen Elizabeth II, was married to Captain Mark Phillips
23 July 1986: The Prince Andrew, Duke of York, second son of Queen Elizabeth II, was married to Miss Sarah Ferguson
29 April 2011: Prince William, Duke of Cambridge, grandson of Queen Elizabeth II, was married to Miss Catherine Middleton
Who is buried at Westminster Abbey?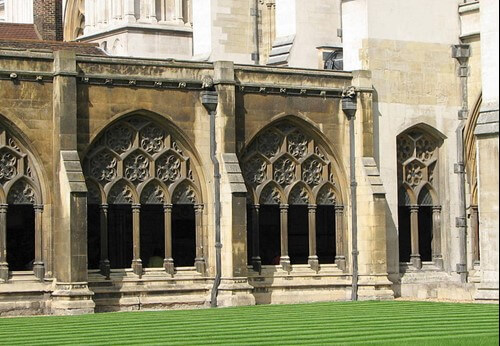 Since 1760 most Kings and Queens have been buried in Westminster Abbey with over 3,300 people being either buried or commemorated there. Included in this is 17 British monarchs and influential figures including Isaac Newton, Edward the Confessor and Charles Dickens.
What is the Chapter House?
Built between 1245 and 1253, the Chapter House was built at the same time as the east parts of the Abbey under Henry III. It's built in a Geometrical Gothic style with an octagonal crypt below. A pier of eight shafts carries the vaulted ceiling with the sides including the remains of 14th Century paintings and numerous stone benches. The house includes an original mid-13th-century tiled pavement with a door which is believed to be the oldest in England having been built in 1050. The Chapter House was originally used in the 13th Century by Benedictine monks for daily meetings, with it later becoming a meeting place of the King's Great Council.
Is there an Organ in Westminster Abbey?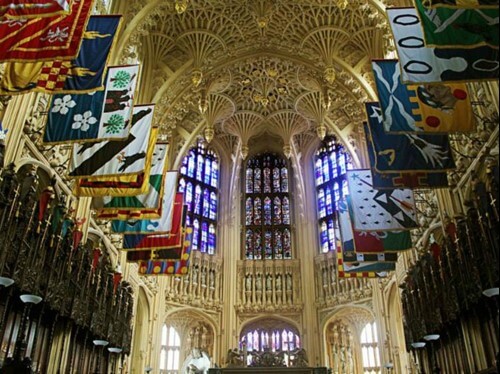 Installed in 1937 by Harrison & Harrison for the Coronation of King George VI, the Westminster Abbey organ includes 84 speaking stops, four manuals and five-manual pipework installments from the previous organ built by William Hill in 1848. The current Organist and Master of the Choristers is James O'Donnell who has held this position since 2000.
Is Westminster School part of Westminster Abbey?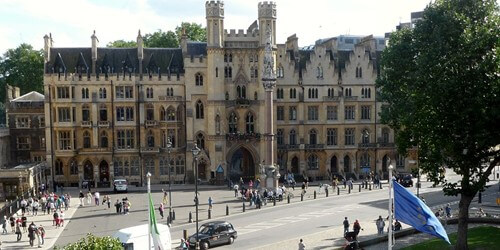 Within the Westminster Abbey there is Westminster School, a boarding secondary school and sixth form established in 1560. Also within the Abbey is the Westminster Abbey Choir School which is a boarding school for 8 to 13 year old boys, established in 1560 as well. The choirboys who sing the services within the Abbey are educated as Westminster Abbey Choir School.
How to tour Westminster Abbey?
Westminster Abbey is open to visitors on selected days on the month of June. Please visit their website for more information.
It is not possible to enter the Abbey for worship or as a visitor with large or bulky items of luggage. This includes suitcases (including those on wheels) and large rucksacks.