Your Guide to Vegan Food in London
---
Being vegan can sometimes be difficult, especially when you're visiting new places, but it doesn't have to be. We've found some of the best places to enjoy vegan food in London, from street food and markets to cafes and restaurants.
Discover delicious vegan pizzas or tasty sweet treats when you're in the capital in our handy guide and make your way around the city with a hop-on hop-off bus tour with Tootbus.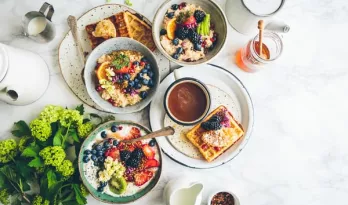 Vegan Bakeries London
Getting your hands on vegan-friendly goodies isn't always easy, but we've found some of the best vegan bakeries in London for cakes, pastries and more.
Vegan Patisserie
Where: Ruby's of London, Greenwich Market
When: Tuesday to Sunday
Best for: Cakes
You'll find a range of tasty baked goods at Ruby's of London, including vegan cakes, cupcakes and donuts. Not only do they specialise in vegan products, but Ruby's also cater to other dietary needs with gluten free and wheat free options.
Vegan Donuts and More
Where: Cookies and Scream, Holloway Road
When: Wednesday to Sunday
Best for: Shakes, donuts and cookies
The retro Cookies and Scream will tickle your taste buds with their range of sweet treats. Choose from vegan cookies, brownies, pies, donuts and vegan shakes which are so delicious, you won't realise they are 'free from' anything.
Vegan Pastries
Where: The Artisan Bakery, near Wembley
Best for: Croissants
The vegan croissants from The Artisan Bakery have been described as tasting better than the real thing. The Artisan Bakery produce delicious pastries, baked goods and sweet treats so make sure you pay a visit to this vegan pastry paradise.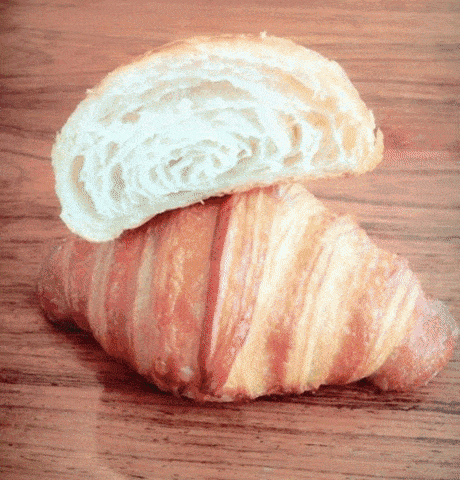 Vegan Snacks London
Whether you're after a snack to grab on the go, or a sit-down meal for breakfast and lunch, there are a selection of vegan cafes in London.
Vegan Brunch
Where: Mildreds, Kings Cross
When: open every day
Best for: Brunch
For vegetarian or vegan brunch in London, head to Mildreds where you'll also find organic and gluten-free options. Choose from cooked breakfast, pancakes, breakfast bowls and more and add a cocktail if you're feeling fancy.
Vegan Cafe
Where: 222, West Kensington
When: Wednesday to Sunday
Best for: Lunch
Everything here is 100% vegan! So, pile up your plate, take a seat or take away your lunch of wholesome vegan goodness. There are gluten-free options available and an evening a la carte menu from 5:30 pm.
Vegan Supermarket
Where: GreenBay Supermarket, West Kensington
When: Open every day
Best for: Food, fashion, household and beauty products
If you are staying in London for a long time or want to meal prep during your stay, visit or order online from this 100% vegan supermarket in London. You'll find fresh food, home baking, pet food, clothes, beauty products and cleaning products for cruelty-free living.
Vegan Street Food London
If you already follow a vegan diet, or just want to try something new, head to a vegan market for some delicious street food.
Camden Market
Where: Camden Market, Camden
When: Daily (depending on business)
Best for: Everyone
Camden Market food court offers a range of worldly street food for a range of dietary needs. So head there with your friends and tuck into a delicious vegan feast from vendors such as Magic Falafel, Osu Coconuts and Young vegans.
Vegan Junk Food London
Being vegan doesn't mean eating salad all the time and there is no shortage of vegan junk food in London when you want to indulge.
Vegan burger in London
Where: The Vurger Co, Shoreditch
When: Open every day
Beat for: Vegan burger
The Vurger Co make their burgers from veggies, seeds, nuts, legumes and grains. Make your burger extra tasty with sides, vegan cheese or from a salad bowl and enjoy vegan shakes or desserts to eat in or take away.
Vegan fried chicken in London
Where: Temple of Seitan, Camden and Hackney
When: Open daily
Best for: Fried chicken
For a selection of finger-lickin' goodness, head to Temple of Seitan for vegan fried chicken in London. Although there is usually a large queue, it is worth the wait for hearty sriracha 'chicken' meals with tasty vegan sauces.
Vegan Pizza in London
Where: Purezza, Camden
When: Daily from 12:00 pm
Best for: Pizza
Head to Camden for one of the best vegan pizzas in London. Purezza have a wide range of delicious vegan pizzas, including gluten-free options ! Choose from starters, mains and desserts for a delicious Italian feast.
Vegan Donner Kebab
Where: What the Pitta, Camden
When: Open daily
Best for: Donner kebab
Enjoy a donner kebab that is totally vegan or choose from a salad box, mixed mezze plate, Turkish pizza or meal deal options. End your meal with a vegan baklava or ice cream and have it delivered straight to your door with Deliveroo or Uber Eats.
Vegan Fish and Chips
Where: Sutton and Sons, Stoke Newington & Islington
When: Daily (depending on business)
Best for: Fish and chips
Tuck into 'fish' cakes, 'prawn' cocktail, pies, 'sausage', 'fish' burgers and a variety of vegan sauces from this dedicated menu for vegan fish and chips in London. You can even take your meat-eating pals along to indulge in the classic chip shop menu.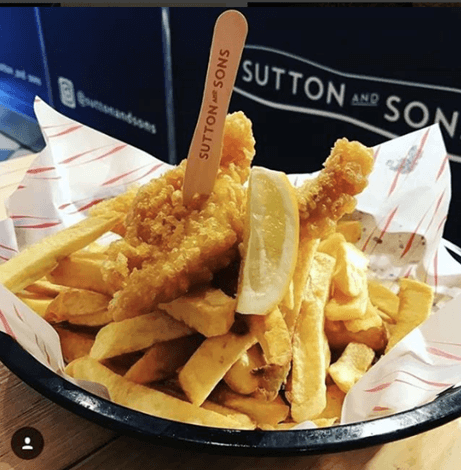 Vegan Restaurants London
There is no shortage of vegan restaurants in London and you'll find worldly cuisine with a vegan-friendly twist all over the city.
Vegan Mexican Restaurant
Where: Club Mexicana
When: Open every day
Best for: Mexican food
For Mexican style vegan food which is full of flavour, you need Club Mexicana. Whether you are craving tacos, nachos, guacamole, salsa or chimichurri, their dishes are sure to tickle your taste buds.
Vegan Italian Restaurant
Where: Riccardo's, Chelsea
When: Open daily from 11am
Best for: Italian food
Perfect for the whole family, you'll find traditional Italian cuisine as well as a gluten-free and vegan menu. Indulge in tapas, pizza and more and get a taste of Tuscany delivered straight to your door.
Vegan Japanese Restaurant
Where: Itadaki Zen, Kings Cross
When: Tuesday to Sunday
Best for: Japanese
Visit Europe's first organic and vegan Japanese restaurant in London for sushi, sides, lunch, drinks and desserts. All meals are handmade to order, so don't hesitate and try those delicious Japanese dishes.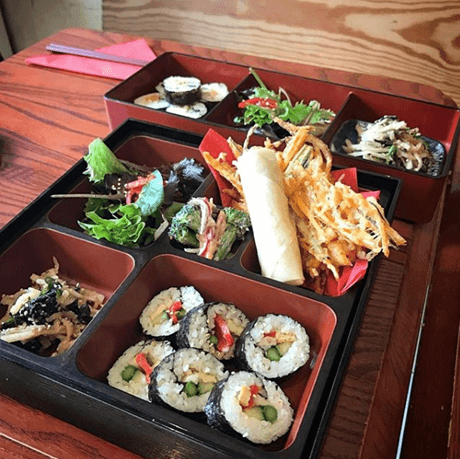 Explore London's vegan restaurants and vegan food scene when you are visiting the capital whether you are vegan or just want to try something new. With so much to choose from, your food will never be lacking flavour and you'll always be spoilt for choice. During your stay, why not take a tour around London with Tootbus and see the best bits of the city on board one of our comfortable buses.