The 10 Best Paris Christmas Markets
---
For the end of year celebrations, Paris offers some very beautiful Christmas markets, in an atmosphere conducive to pleasure, discovery and multiple activities. For visitors, it is the ideal time to stroll with the family, do some shopping and discover Paris in a different way.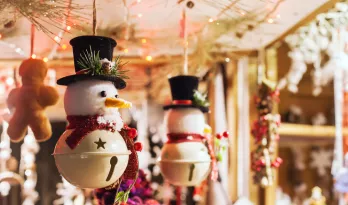 The Jardin des Tuileries Christmas Market
Located in the Jardin des Tuileries, this market is certainly the largest and best known Christmas market in Paris. From 19 November 2022 to 8 January 2023, the fairground Christmas market (located on the Avenue des Champs-Élysées before 2018) returns to one of the most beautiful parks in Paris. Both a market and a funfair, numerous activities await you.
Find a selection of gift ideas and gastronomic products in the wooden chalets. As every year, the specialities made in France are honoured. Come and enjoy the rides, admire the capital from the top of the Grande Roue, have fun on the mythical 1,200 m2 ice rink and even meet Father Christmas.
How to get there?
Blue route: Hop off at stop #3 Musée du Louvre or 6 Concorde
The Canopée des Halles Christmas Market
This market will be held under the Canopée des Halles from 14 November 2022 to 29 December 2022. With around twenty exhibitors, it offers a beautiful festive atmosphere in the heart of Paris. Just a stone's throw from the Louvre Museum, come and discover beautiful handcrafted gifts.
How to get there?
Blue route: Hop off at stop #3 Musée du Louvre
Notre-Dame de Paris Christmas Market
From 9 to 26 December 2022, the Notre-Dame de Paris Christmas market will feature artists showcasing their skills in French crafts and gastronomy. Nearly 40 art craftsmen, fashion designers and accessory sellers will be present. Children will be able to enjoy the presence of Father Christmas and take part in the free activities. Everything is set up for a wonderful time.
How to get there?
Blue route: Hop off at stop #4 Notre-Dame
The Afro-Caribbean Christmas Market
Located in the 3rd arrondissement of Paris, at the Galerie Joseph, this market offers a large number of stalls in Afro-Caribbean colours on 26 and 27 November 2022.
With more than 100 exhibitors, entertainment and a restaurant area, it is the ideal place to taste the cuisine of Africa and the West Indies. Admission is free of charge and hot chocolate is provided. Festive atmosphere guaranteed!
How to get there?
Blue route: Hop off at stop #4 Notre-Dame
The Saint-Germain-des-Prés Christmas Market
With glittering trees and magical, atypical chalets, this market on Boulevard Saint-Germain is simply chic and charming. From 20 November 2022 to 26 December 2022, you will be able to discover numerous stalls offering new flavours.
It's also an opportunity to find gift ideas with original and quality handmade creations as well as culinary specialities. Don't miss the many events on offer.
How to get there?
Blue route: Hop off at stop #4 Notre-Dame or #5 Musée d'Orsay
The Montparnasse Christmas Market
Composed of 40 chalets, this traditional Christmas market is at the foot of the Montparnasse Tower, more precisely on the Place Raoul-Dautry. It offers visitors a wide variety of quality local products, original creations and delicacies for young and old. It's a great way to get into the Christmas spirit if you've just arrived in the capital from the Montparnasse station.
How to get there?
Blue route: Hop off at stop #4 Notre-Dame or #5 Musée d'Orsay
The Eiffel Tower Christmas Market on the Champ de Mars
The Christmas Village returns to the foot of the Eiffel Tower from 16 December 2022 to 2 January 2023. Set up on the Champ-de-Mars, this Christmas village offers you the opportunity to taste French local products.
For example, an Alsatian stand will be offering mouth-watering specialities from the region. The Savoyard stand takes you on a gourmet journey to the mountains. Finally, a mulled wine stand prepared on site with fresh local products will allow you to warm up.
How to get there?
Blue route: Hop off at stop #9 Tour Eiffel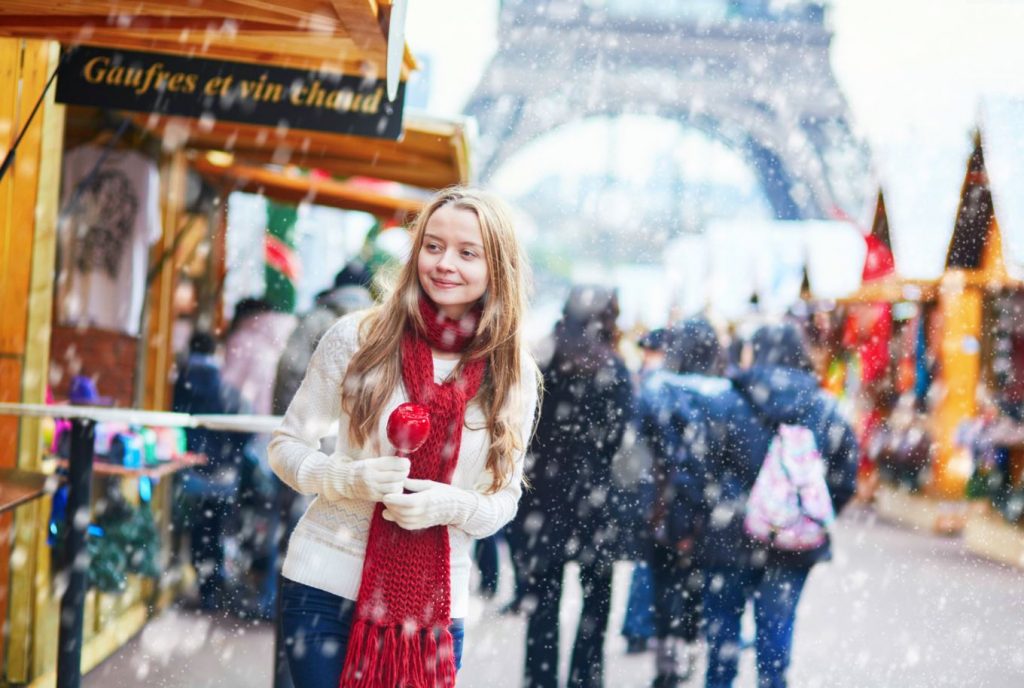 The Alsatian Christmas Market at the Gare de l'Est
This station welcomes trains from various locations in eastern France. Consequently, it is a 100% Alsatian Christmas market that will take place from 1 to 17 December 2022 on the station's forecourt.
You will have the opportunity to find the best of Alsatian gastronomy: pretzels, foie gras, charcuterie, gingerbread, flammekueches, chocolates, not forgetting the famous sauerkraut. Some shopkeepers even offer free tastings of regional products and gourmet baskets. Something to warm hearts in this winter period.
The Abbesses - Montmartre Christmas Market
The Place des Abbesses in the Montmartre district hosts its traditional Christmas market throughout December. French handicrafts are in the limelight and many activities are organised especially for children, such as a visit from Father Christmas and a merry-go-round. Come and share a warm and friendly moment at the foot of the Sacré-Coeur basilica.
The Christmas Market at La Défense
The magnificent Christmas village of La Défense is one of the largest markets in the French capital. Located on the Parvis de la Défense, you can find more than 300 wooden chalets, beautiful trinkets and several chic restaurants offering exquisite food from 25 November to 29 December 2022.
After touring the Christmas markets in Paris, continue your visit to the capital on foot with Tootwalk. Thanks to the Tootbus application available on App Store and Play Store, adopt the Parisian way of life. From the Louvre to Notre-Dame via the Musée d'Orsay, take advantage of a 45-minute tour to discover the habits and pleasures of the capital's inhabitants.