10 Father's Day Activities in Paris
---
Father's Day 2023 is coming up and you're looking for ideas to share a family moment in Paris? On 18 June, celebrate your dad by discovering Paris in a panoramic bus or with our selection of unforgettable activities.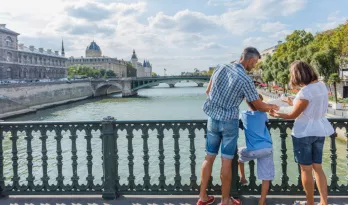 Ideas for a dynamic Father's Day?
For adventurous fathers, there are several opportunities in Paris. Opt for a Parisian escapade by bike or in the air in a balloon!
Guided bike tour
As Joe Dassin says, "Dans Paris à vélo on dépasse les autos". So why not take advantage of this practical and eco-responsible means of transport to discover the capital on Father's Day?
You will find a wide range of thematic guided bike tours at Paris Bike Tours or Paris à Vélo. It's up to you to choose the experience that suits you best! For example, you can opt for a discovery of the hidden treasures of Paris or a visit to the city's must-see attractions.
These bike rides usually last between 3 and 4 hours and allow you to discover Paris in an original way while having fun. The hardest part will be to choose from all the proposals.
Flying over Paris
Your dad is not suffering from vertigo? Good for him! For this original activity idea, you don't have to be afraid of heights. To surprise your dad, take him on board the Generali Balloon and fly over Paris at an altitude of 150 metres.
Discover the capital as you have never seen it before on board the largest balloon in the world. Filled with 6,000 m3 of helium, this gigantic balloon is not only a tool for measuring air quality but also a popular tourist attraction that can accommodate up to 30 people on board.
How to get there?
Blue route: hop off at stop 9 Eiffel Tower.
What cultural activities to do on Father's Day?
If you prefer cultural outings, we have what you need: a sightseeing tour of the city by bus, a cruise on the Seine, exhibitions, and a show at a cabaret.
Tootbus Sunset Escape
Father's Day is also the opportunity to discover Paris in a different way! Enjoy an original activity combining a tour of the city at nightfall on board a panoramic bus, followed by a cruise on the Seine.
Paris exhibitions
Why not take advantage of Father's Day to go on a cultural outing with your family and discover one of the many exhibitions taking place in Paris? As the French capital offers a plethora of them, we have selected two for you.
Discover the Notre-Dame de Paris cathedral as you have never seen it before. Since the closure of the building following the fire in 2019, members of the CASA association organise free tours around the cathedral. You can check their calendar to find out when the next tours will take place.
Until 4 January at the Muséum national d'Histoire naturelle, the "Felines" exhibition invites you to discover the 38 felines that live on our planet. You will learn more about these animals, which inspire as much fascination as fear.
How to get there?
Blue route: hop off at stop 4 Notre-Dame - Quartier Latin.
An evening at the cabaret
Father's Day is the opportunity to make your father happy by organising an evening to discover the Parisian nights. The cabarets are the legend of these nights thanks to their breathtaking sets, their beautiful dancers and their colourful shows. Many cabarets offer evening shows with dinner, but we suggest that you choose one of the most famous cabarets in Paris.
The Moulin Rouge, nestled in the heart of Montmartre, is certainly the most famous cabaret in Paris and offers beautiful shows. Another good address, located in the Montmartre district, is the Cabaret Michou. The Crazy Horse, the third most emblematic cabaret in Paris, located in the Champs-Elysées district, is also worth a visit!
How to get there?
Blue route: For the Crazy Horse, hop off at stop 7 Champs-Elysées - Georges V.
What activities to choose for a fun Father's Day?
If you want to do a fun activity with your father, why not try virtual reality or bowling!
Virtual reality experience
Looking for an original gift idea to spend the day with your father? This year, take your dad into a new dimension with virtual reality. With its 400 m², Sparkling VR is the largest virtual reality room in Paris.
With its retro atmosphere and high-end services, the room is designed like a loft and has a bar. You will be able to play in teams thanks to state-of-the-art virtual reality headsets and controllers.
Sparkling VR offers more than twenty immersive experiences, simulators or video games to give you an unforgettable and magical moment.
How to get there?
Blue route: hop off at stop 1 Haussmann – Department Stores.
A game of bowling
How about celebrating Father's Day with a game of bowling? In the heart of the 5th arrondissement of Paris, the Bowling Mouffetard is the ideal place to spend a fun moment with your family.
Open from 10am to 2am on Saturdays and Sundays, this bowling alley, with its retro decoration, its bar and its 8 lanes offers a warm and friendly atmosphere. In addition to the bowling alley, you will find billiards, table football and a few electronic games that will delight the children.
To complete your bowling session and extend the evening, don't hesitate to go to rue Mouffetard which is full of bars, restaurants and brasseries.
How to get there?
Blue route: hop off at stop 4 Notre-Dame - Quartier Latin.
Where to go for a gourmet Father's Day?
Are you tempted by spirit tastings or brunches? If so, we have some good and original places to recommend.
The Louvre cellars
Is your dad a wine lover? We've found the ideal activity for a Father's Day gift with an oenological theme.
In the heart of Paris, discover the Caves du Louvre with its 800m2 of vaulted cellars dedicated to wine. The wines of the former royal wine cellar of the 18th century will no longer hold any secrets for you. Depending on your wishes and your budget, the cellars offer several tasting options. You can opt for a guided tour of the cellars followed by a tasting or even take part in a workshop to create your own wine.
How to get there?
Blue route: hop off at stop 3 Musée du Louvre.
The whisky house
Does your daddy prefer spirits and strong alcohols to wine? Don't panic, we also have a gift idea for you! Let him discover La Maison du Whisky in the 8th arrondissement of Paris.
This shop is a privileged meeting place for enthusiasts, amateurs and professionals. Discover whiskies from all over the world and let yourself be guided by the advice of experts.
In addition to a space 100% dedicated to whisky with more than 2225 references, the shop at 20 rue d'Anjou also has a place for sharing and experience: the Lab. Launched in September 2018, this space is entirely dedicated to training and tasting. Numerous workshops and masterclasses are organised there and allow you to meet key players in the whisky industry.
How to get there?
Blue route: hop off at stop 7 Champs-Elysées - Georges V.
Family brunch
On this Father's Day Sunday, why not opt for a family brunch? Paris is full of places that will delight your taste buds in a friendly atmosphere. We have selected two of our favourite addresses for you.
For a taste of the Californian dream in the centre of Paris, go to Cali Sisters. Camille and Juliette, two sisters with a passion for California, will welcome you in a warm and bohemian atmosphere. You will enjoy a brunch as in L.A., as healthy as it is delicious.
For a very Parisian and colourful moment we recommend Les Bariolés de Maud. This address, voted in the Top 10 of the best brunches in Paris, offers a tasty brunch full of surprises. At Maud's, everything is homemade and renewed according to the season!
How to get there?
Blue route: For Les Bariolés de Maud, hop off at stop 1 Haussmann – Department Stores. For Cali Sisters, hop off at stop 2 Opera Garnier
To end the day on a high note and enjoy the capital at nightfall, discover the best places to watch the sunset in Paris and set off to discover the City of Light on our Paris by Night tour.