Make Music Day in Paris
---
Make Music Day returns to Paris for its 40th edition on 21 June 2022. Enjoy this special occasion to visit the capital during the day by panoramic bus thanks to our Paris Discovery tour. Then stroll through the City of Light at dusk, taking advantage of the various activities on offer.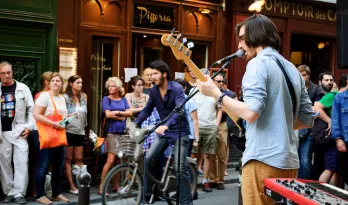 Created in 1982 by the Ministry of Culture, Make Music Day is a festive, popular and spontaneous event, open to all musicians, amateurs of all levels or professionals. The event celebrates living music and highlights the breadth and diversity of musical practices, as well as all musical genres.
The 2022 edition will celebrate its 40th anniversary on 21 June, the summer solstice. This unique and symbolic date testifies to its durability and its anchoring in the french cultural landscape.
In Paris, multiple stages are set up all over the place, especially in the main squares and gardens of the capital. Discover our top 5 ideas for activities on this unique evening.
Army Museum
For Make Music Day, the Army Museum in Paris invites you to come and discover its music collections during a unique day. Musical interludes will accompany visitors throughout their visit, during the day and at night. This event is held in conjunction with the concerts of the Invalides' musical season, offered throughout the year. It highlights the important role of music in the history of the Hôtel national des Invalides. Admission is free.
How to get there?
Blue route: Hop off at stop n°10 Pont Alexandre III - Invalides
Sunset Sunside
The Sunset Sunside club puts jazz in the spotlight for this new edition of Make Music Day. The famous Parisian jazz club welcomes the Clémence de Tournemire Quartet for a Sunset Vocal Session. The evening's programme includes a series of concerts paying tribute to Ella Fitzgerald at 7pm, Sarah Vaughan at 9pm and Billie Holiday at 11pm. This event is free.
How to get there?
Blue route: Hop off at stop n°3 Musée du Louvre or stop n°4 Notre-Dame - Quartier Latin
Irish Cultural Centre
The Irish Cultural Centre invites you to discover and listen to new international artists from 6pm to 10pm. For this 2022 edition of Make Music Day, the Irish Cultural Centre is partnering with the Irish Embassy in France, the Senegalese Embassy in France, the French Embassy in Ireland and the Cork Midsummer Festival. This event will bring together artists from the hip-hop scene from France, Ireland and Senegal.
How to get there?
Blue route: Hop off at stop n°4 Notre-Dame - Quartier Latin
Petit Palais
The Petit Palais is once again collaborating with the "Jeunes Talents" association. This association organises chamber music concerts to promote talented young musicians and access to classical music for all.
For the occasion, you can attend three free mini-concerts of thirty minutes each at 2pm, 3pm and 4pm, with free access (subject to availability).
How to get there?
Blue route: Hop off at stop n°10 Pont Alexandre III - Invalides
Concert at the Radio France Auditorium
The Radio France Auditorium will host the eighth edition of Viva l'Orchestra on Tuesday 21 June at 8 pm. This project of the Orchestre National de France brings together every year more than 100 amateur and professional musicians of all ages and levels to play together.
You will have the opportunity to listen to nearly 10 composers: Paul Dukas, Georges Bizet, Hector Berlioz, Jean Sibelius, and Jacques Offenbach. This year, this ambitious concert is conducted by Cristian Măcelaru. Free booking for the event is available online on the Maison de la Radio website.
How to get there?
Blue route: Hop off at stop n°9 Tour Eiffel
To continue your discovery of the Parisian capital at dusk, discover our top 5 best spots to admire the sunset in Paris. You can also contemplate Paris at dusk with our Paris By Night Tour. This unique offer combines a bus tour and a cruise on the Seine. You will be able to sail aboard the Vedettes de Paris cruise boats and enjoy a glass of champagne.