Paris Plages 2022, summer in Paris
---
Paris Plages is back this summer in the capital for its 20th edition. Take advantage of this opportunity to visit Paris at your own pace and discover the city's emblematic sites on board our Paris Discovery tour.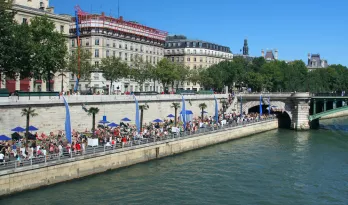 Paris Plages: a little history
Paris Plages returns this summer from 9 July to 21 August 2022. This operation has been run by the Council of Paris since 2002. This year, Paris Plages celebrates its 20th edition! The aim of this event is to allow Parisians who do not go on holiday and visitors to enjoy free leisure and relaxation areas during the heat of the summer.
Paris Plages means deckchairs and palm trees along the quays of the Seine, with a variety of activities every day for young and old alike... Car traffic will be stopped on this section of the Georges-Pompidou expressway for the duration of the operation, from its installation to its dismantling.
The locations of Paris Plages 2022
Parc Rives-de-Seine
Enjoy exceptional views of Paris' historic monuments from the Parc Rives-de-Seine, such as Notre-Dame Cathedral, the Louvre and the Musée d'Orsay. During Paris Plages, numerous lawns and wooden terraces welcome walkers to enjoy an exceptional and atypical setting, between palm trees and parasols.
In order to allow the youngest to have fun while staying cool, the Council of Paris provides BHMLs (libraries outside the walls) with books and comics on loan as well as giant games, table football, all dotted with misters. Adults will be able to attend tai chi, do in and petanque classes. First aid courses are also organised. The beach is open every day from 10am to 6.30pm.
The Bassin de la Villette
The Bassin de la Villette, in the 19th arrondissement, is home to the giant swimming area of Paris Plages since 17 July 2017. It consists of 3 pools of different depths: one 40 cm deep, a second 1.20 m deep and the large one 2.20 m deep. These pools are therefore suitable for accompanied children (children under 10 years of age must be accompanied), people with reduced mobility, as well as amateur and experienced swimmers.
Supervised by lifeguards throughout the day, the swimming area is open from 11am to 8.30pm in two-hour shifts, i.e. from 11am to 1pm, then from 1.30pm to 3.30pm, then from 4pm to 6pm, and finally from 6.30pm to 8.30pm.
On the quay, bungalows, showers and sanitary facilities allow everyone to put on their bathing clothes, and refreshment stands and ice-cream parlours await visitors in search of refreshment.
Around the canal, many activities are proposed: canoeing, kayak polo, stand up paddle, pedal boats, pedal bikes, table football, tai chi practice... or even libraries outside the walls with comic books on loan. For children aged 3 to 7, the Ludo Plages offer trampolines and activities. While adults can learn breakdancing, ballroom dancing...
The nautical zone is open free of charge every day, from Monday to Friday from 10am to 10pm and on Saturday and Sunday from 10am to midnight.
Paris Plage 2022 events
Sport
The range of sporting activities is extensive on both sites of Paris Plages. Along the banks of the Seine, you can try out callisthenics and Tai Chi. You can also attend dance classes and table football enthusiasts can have a great time. Finally, a southern flavour will be brought to the Parisian capital with the installation of petanque courts.
The Bassin de la Villette will be transformed into a real water sports base, with the provision of various boats: pedal boats, rowing boats, kayaks, sailing boats, etc.
Culture
The Fnac Live 2022 festival returns from 29 June to 1 July. On the programme: Jane Birkin, Jacques, Lonny, Thylacine, Pierre de Maere, Bob Sinclar & Pedro Winter, Jazzy Bazz... 30 artists spread over two stages: the outdoor Grand Stage located on the square of the Hôtel de Ville, and the indoor stage installed in the salons of the City of Paris.
Children
Paris Plages also offers activities for children. A large number of activities are reserved for youngsters as part of the operation. Various activities and events will keep your children busy all summer long: mini-golf, pedal boats, a children's cultural café, events based on the beach club concept, demonstrations and fun workshops, large-scale board games, open-air games libraries, etc.
To make the most of your summer, discover our agenda of summer festivals in Paris. And to extend your beautiful sunny day, our Paris by night offer is an original idea for an unforgettable evening. Our offer combines a visit on board a panoramic bus and an aperitif cruise on the Seine.