Brussels, things to do with kids
---
After visiting the city on our Brussels Discovery Tour, take advantage of the many activities to do with your family. The Belgian capital is full of places that are accessible from a very young age. Discover our top ten activities in Brussels to do with children: historical sites, museums, gastronomy, green spaces...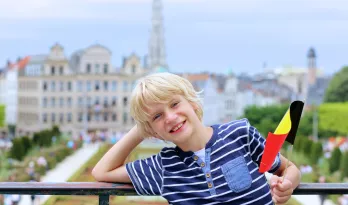 What are the best things to do in Brussels with kids?
Brussels is a city rich in activities to discover with your children. Stroll around Brussels city centre, visit the Belgian Comic Strip Centre, visit the many museums and discover the European Quarter.
1. Downtown Brussels
Stroll through the streets of the centre of Brussels with your family to discover the city's various emblematic monuments: the Grand-Place, the Manneken Pis and its female version, the Jeanneke Pis, the Cathedral of Saints-Michel-et-Gudule... Walk through the Place Royale and admire the statue of Godfrey of Bouillon in its centre.
If you are visiting Brussels on a rainy weekend, take shelter in the Galeries Royales Saint-Hubert. This historic site is home to numerous shops, restaurants, a theatre and an art house cinema.
How to get there?
Hop off at stop 1, Gare Centrale / Centraal Station
2. Belgian Comic Strip Centre
Immerse yourself in the world of comics at the Belgian Comic Strip Centre. Meet your favourite comic book heroes in the heart of the city centre in a building designed by Victor Horta, star architect of Art Nouveau. The museum has thought about the visit of the youngest visitors, as the comic strips are displayed on the walls at children's height.
Children aged 10 and over can discover the world of Belgian 9th art through introductory workshops. The museum also organises birthday parties for children aged 7 and over.
How to get there?
Hop off at stop no. 1, Gare Centrale / Centraal Station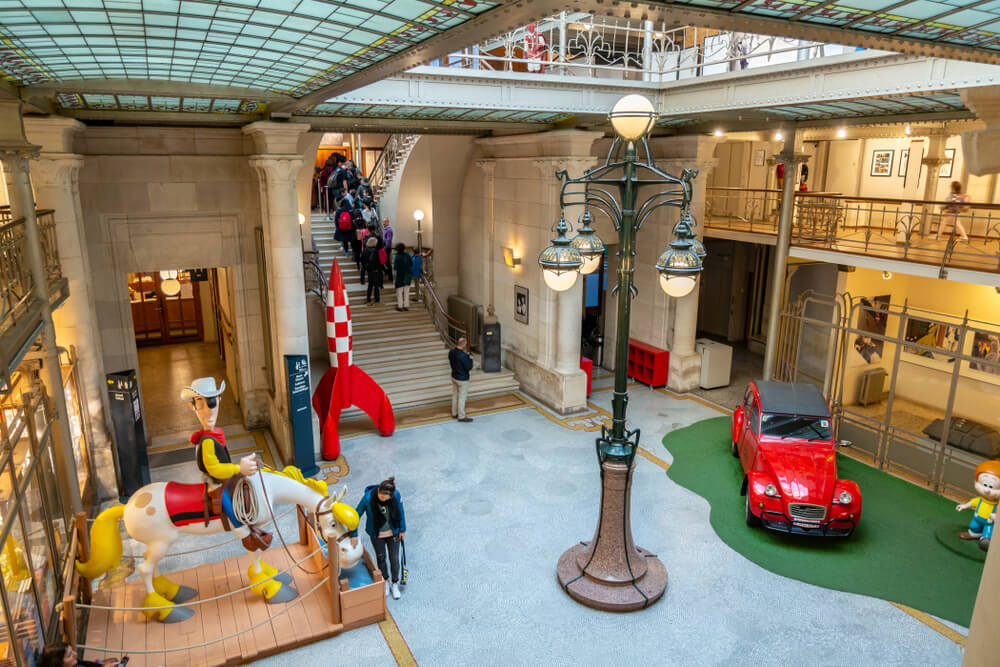 3. Children's Museum
If you are visiting Brussels with children, this museum is a must for your family trip. Between discoveries, adventures and workshops, children will be able to let off steam. The activities on offer are for all ages and tastes and are supervised by an educational team. The museum also offers courses and birthday parties.
How to get there?
Hop off at stop 17, Abbaye de la Cambre / Ter Kamerenabdij
4. Royal Belgian Institute of Natural Sciences
The Royal Belgian Institute of Natural Sciences will appeal to young and old alike. Children can have fun clearing away the sand in the archaeological excavation tank to discover bones, brushes in hand. We advise you to allow enough time for your visit, as the museum of Natural Sciences is large!
How to get there?
Hop off at stop 19, Leopoldspark / Parc Léopold
5. Autoworld
Autoworld, the Automobile Museum will delight little car lovers. Nestled in a sublime glass and wrought iron monument built for the 1897 World Exhibition, the museum will give children the opportunity to play race car drivers, go on a treasure hunt, climb onto a real champions' podium, leaf through comic books and, of course, leave with a miniature model as a souvenir.
To stay in the world of public transport, we recommend Train World, the Train Museum, which opened in 2015 in the old Schaerbeek station. Discover also the Tram Museum where children can switch from one tram to another, play passengers and discover a vast collection of vehicles that have been circulating in the streets of the capital for more than a century.
How to get there?
Hop off at stop 21, Cinquantenaire / Jubelpark
6. Royal Museum of the Armed Forces and Military History
Opposite Autoworld, discover the Royal Museum of the Armed Forces and Military History. This museum is rich in objects, uniforms, photos, videos and displays that take visitors of all ages on a real journey through time to discover a part of Belgian and European history.
The aviation hall will delight little plane lovers, and all children will undoubtedly be impressed by the museum's incredible collection, with its different rooms, atmospheres and eras.
How to get there?
Hop off at stop 21, Cinquantenaire / Jubelpark
7. Van Buuren Museum
The Van Buuren Museum is a jewel of Art Deco. This magnificent place will delight lovers of architecture, interior design and landscape art.
The garden will delight families with its real labyrinth and its heart garden, which will delight young and old alike.
How to get there?
Hop off at stop 16, Art Nouveau - Horta
8. Gastronomic museums
As the capital of chocolate, Brussels had to have a museum of cocoa and chocolate. Discover the history of chocolate in the Choco-Story museum. Your five senses will be stimulated throughout the visit.
You can register and accompany your children aged 8 and over to private workshops to make your own chocolate treats.
Another of Belgium's assets is the chips! At Home Frit' Home, discover the "Fritkot Culture" on display in this rather unusual place that will appeal to young and old alike.
How to get there?
Hop off at stop no. 1, Gare Centrale / Centraal Station
9. European Quarter
The European Quarter is home to the European Commission, the European Parliament, the European Council, the Committee of the Regions and the European Economic and Social Committee. It is possible to visit all these institutions in groups.
How to get there?
Hop off at stop 20, Parc Léopold / Leopoldspark
To make these institutions more attractive to children, take a walk through the miniature city, Mini Europe. This exotic attraction offers a journey through Europe in a few hours. Discover almost 350 models of unparalleled quality, which are exact replicas of the most beautiful monuments located in the major cities of the European Union. To get there, get off at stop 5, Atomium.
10. Green spaces
Brussels is a city full of green spaces. It is even the greenest city in Europe. Between squares, historic parks, tree-lined avenues, a wood and a forest, there is a total of 3 000 hectares of greenery that you can explore with your children.
The Parc de Bruxelles is a public park of approximately 11 hectares. The European district is home to large green spaces such as the Parc du Cinquantenaire and the Leopold Park.
The Bois de la Cambre is a popular spot for the people of Brussels. This wood offers a recreational area for residents and tourists.
Every year, in spring, the Royal Greenhouses of Laeken are open to the public for about 3 weeks. Come and discover this magnificent architectural construction made of metal and glass.
To find all these places and to help you find your way around Brussels, discover the Tootbus application. Available on App Store and Play Store, don't wait to download it!
To continue your discovery of the districts of Brussels, discover our top 20 activities to do in the Belgian capital.