Best quarters to visit in Brussels
---
Located not far from Paris and London, Brussels is the perfect European get away. Being a great and ideal city, the Belgian capital is sure to please both youngsters and adults with plenty of fun activities and family-friendly places to see.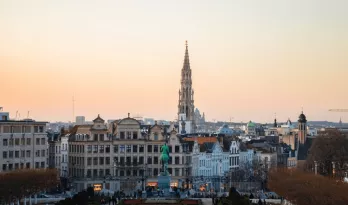 1. The center of Brussels
No need to say that once you set foot in the European capital, the city center will probably be your first destination. The Brusselian Grand-Place being both the heart of the city and a window on the whole culture is lined with traditional guild houses that would most certainly take your breath away. With streets and alleys that are part of the UNESCO heritage list, you may only guess the beauty of such a place. To really take it all in, spare some time to wonder around all the famous hotspots in the quarter. Manneken pis, the museums, Notre-Dame du Finistère, the chocolate makers, and much more interesting places await your arrival. For a shopping break, not too far from the place des Martyrs, you can head to the Rue Neuve, where you may find different big international brands.
2. Drinks and a good time
Looking for a fun place where you can hang out with your friends? Matongé and Saint-boniface quarters are the perfect lively and cosmopolitan local touch for you.
Being the African quarter of Brussels, Matongé finds its roots in Congo, Kinshasa district. You are sure to have a good exotic time there as it is a real melting pot of cultures. Delicious treats and African foods are all around in African food shops and cuisine restaurants. Colors, music, smells, it's a combination of the everyday sights, aromas, tastes, and noises that make it a perfect destination and way to engage all your senses. If you want to try some great crocodile steak, you can go to the L'Horloge du Sud, a festive and cozy restaurant dedicated to the flavors of the south as well as to some social and artistic activities.
For more of a trendy bar scene, you can head to Saint Boniface which is fairly known for its many trendy bars as well as restaurants from all over the world and musical cafés. Thinking of a drink and some on the finger foods break? La Contrebande lets you enjoy amazing local beers with delicious, organic, and local tapas. In parallel with Matongé, this one neighborhood has a very distinctive European vibe, which can easily be seen in its architecture.
3. The green Brussels
Ever heard of the Atonium? It is a famous 335 ft tall monument and landmark building of the city, located in Helsey quarter. As it is mainly famous for its stainless-steel spheres, it is also a favorite place of the people from Brussels to go for a walk at, enjoy some fun and great time with family, or just chill and have some picnics and dates. If you are looking for a place where to spend a good quality leisure time, you will most certainly enjoy the large green spaces of the Heysel plateau, English style parks that are perfect for a romantic walk.
If you like riding bikes, you can take on the Promenade Verte circuit, which will lead you to Heysel. From there on, the choice is yours if you want to discover the exotic and tropical trees, the colonial garden, or the Sobieski Park that belonged to King Leopold II. The bois de camber and parc de l'abbaye in Ixelles quarter are also very good for bike lovers and long walks. The friendly district is perfect for anyone who wishes to roam around and do a little bit of everything. Nature, Shopping, food and drinks, we warmly recommend you make a small escapade over there as it's certainly worth the go!
Brussels is plenty of green spaces, pick and choose one of our listed parcs in Brussels.
4. Chocolate and class
If you've heard about the gothic church Notre-Dame du Sablon or wish to visit the Place du Petit Sablon gardens, you can easily guess the name of this neighborhood which overflows with an instant sense of both serenity and luxury. Now beautified with some art galleries, museums, and few of the country's finest chocolatiers, it was first home to some aristocrats, of which certain palaces and stunning mansions remain. We dare you to take a stroll in Sablon and resist the temptation of the many pralines and delicacies displayed in the shops.
If you want to take some cool souvenir photos, don't forget that fountains, street art and statues would make the perfect addition and background to a great picture!