BD Comic Trip Festival, the Brussels Comic Strip Festival
---
The BD Comic Strip Festival (formerly the Comic Strip Festival) is back for another edition from Friday 8 to Sunday 10 September 2023 in Brussels. Take advantage of this opportunity to discover the capital's main monuments at dusk with our Brussels before Night tour and to take photos at the golden hour.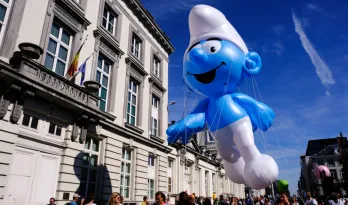 What is the Brussels BD Comic Strip Festival?
Comic strips are now recognised as an art form in their own right, the "Ninth art". Belgium, and Brussels in particular, is a major centre for this literary genre. That's why they are organising an entire weekend to celebrate the cultural heritage of comics.
The festival
Since 2010, the BD Comic Strip Festival in Brussels has been a major event in the world of comics. Every year, this free festival brings together many comic strip fans.
The venue
The festival takes place at the Gare Maritime in the Tour & Taxis buildings on Rue Picard in Brussels. This old station has recently been renovated to preserve its original architecture and fit out the interior for events, shops and offices.
How to get there?
Blue route: hop off at stop 4 - Atomium
What is the programme for 2023?
The festival takes place from 8 to 10 September 2023 at Tours & Taxis. Opening times are 12 noon to 6pm on Friday, and 10am to 6pm on Saturday and Sunday. With exhibitions, autograph signings, giant balloons, events, debates, conferences, workshops, an international pavilion and the Atomium Awards, you'll have a wide choice of activities. Come and meet your favourite characters and authors!
The Atomium Prizes
Since September 2017, the Brussels authorities have been awarding cultural and financial prizes with the aim of supporting comics creation: the Atomium Prizes. These prizes are awarded in cash to help authors finance their work.
This year, eight Atomium Comic Strip Prizes will be awarded. The winners will be announced on Friday 8 September.
What places to visit on foot in Brussels with Tootwalk?
Continue your escapade through the streets of Brussels on the theme of comic strips with our Tootwalk tour Hypercentre : Chocolate, Comics & a touch of Culture.
This 35-minute audio-guided walking tour will take you off the beaten track to explore the streets of the Belgian capital. Discover around thirty works of street art scattered around Brussels city centre and meet up with the most famous comic strip characters: Lucky Luke, the Smurfs, Tintin, Spirou...
Starting point Tootwalk
Blue route: hop off at stop 1 - Gare Centrale or no. 10 Bourse - Saint-Géry
With our selection of activities to do with children, explore the different districts of Brussels.