Self-guided walking tours in Brussels
---
Brussels is a unique, friendly and welcoming city. With Tootbus, discover the main sights of the Belgian capital during one of our guided bus tours. Continue your city discovery on foot thanks to the new feature of the Tootbus application: Tootwalk.
How to visit Brussels on foot?
Brussels is the second most cosmopolitan city in the world after Dubai with 184 nationalities. Out of 1.2 million residents, more than half were born in a foreign country. This diversity gives the Belgian capital an invaluable cultural richness, with 12 districts where you can enjoy an exceptional historical, architectural, gastronomic and cultural heritage. In order to discover the secrets of the city, Tootbus unveils its new service: Tootwalk. This free experience is available when you step off the bus.
The tours are designed to start near the bus stops. You can start the tour whenever you want. To do so, launch the application and follow the instructions. Pick up the tour whenever you want, right where you left off.
With a personalised audio tour and information about the district you are visiting, discover Brussels through an immersive, tailor-made experience. Commentary is available in English, French, Spanish and Dutch. The Tootbus app becomes your best companion to discover the city.
Tootbus offers you three walking tours that allow you to take tourist and thematic visits in the most famous districts of the capital. These guided tours of the most important places in Brussels can be accessed from your smartphone using the Tootbus application available on App Store and Google Play.
These guided tours encourage visitors to explore Brussels independently. You'll be surprised at how much you can discover and how much you'll see while walking.
These tours are designed to help you explore the centre of Brussels independently. Perfect to occupy your daily walk!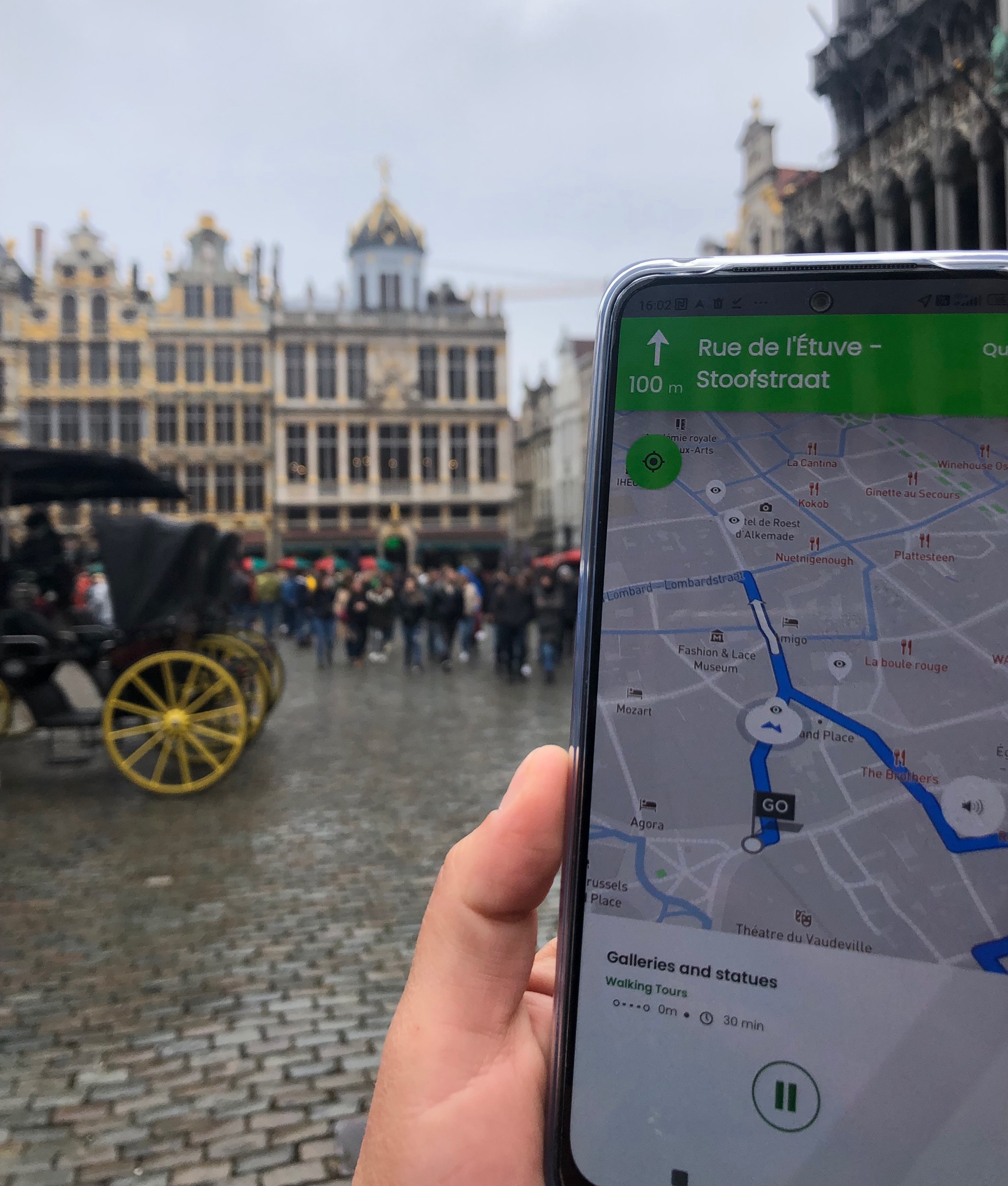 What places to visit on foot in Brussels with Tootwalk?
To help you discover the most beautiful places in Brussels on foot, Tootbus offers you three magnificent walks: The must-sees of Brussels, Art-Nouveau Route and European Quarter.
1. Hypercentre : Chocolate, Comics & a touch of Culture (35 min)
Stroll through the authentic and charming little streets of Brussels in pursuit of famous comic book characters. Find Lucky Luke, the Smurfs, Tintin, Spirou and all their friends immortalised in street art.
With some thirty walls dedicated to comics, Brussels offers you an original way of looking at the city on a walking tour, off the beaten track, to discover these façades straight out of a comic book.
Starting point Tootwalk
Blue route: Hop off at stop 1 Gare Centrale or stop 10 Bourse - Saint-Géry
2. Art-Nouveau (40 min)
Discover the historical past of Brussels and enjoy a total immersion in the Royal Galleries. These famous galleries can only be visited on foot. You will have the opportunity to take a closer look at the royal statues.
Visit the Galeries Royales Saint-Hubert. This shopping mile in the centre of Brussels is home to numerous shops, restaurants, a theatre and an art cinema.
Starting point Tootwalk
Blue route: Hop off at stop 1 Central Station or stop 2 Rogier or stop 11 Manneken-Pis
3. European District (40 min)
Brussels is the capital of the European Union. However, the European quarter is not just about institutions and grey offices. It is in fact one of the greenest districts in Brussels, home to the Leopold Park, a former royal zoo, and the Cinquantenaire Park, one of the capital's most beautiful. Here you can admire the imposing triumphal arch erected in 1880 to celebrate Belgium's 50th birthday. End your walk in the Ambiorix, Marie-Louise and Marguerite squares to admire the Art Nouveau buildings.
Starting point Tootwalk
Red route: Hop off at stop 18 Luxembourg or stop 20 Cinquantenaire
To continue your visit to the capital with your family, discover our selection of activities to do with children.