Tomorrowland in Belgium, dance music festival
---
The world's largest dance festival Tomorrowland returns this summer over three weekends from 15 to 31 July. Take advantage of this event to visit Brussels. Discover the emblematic monuments of the Belgian capital with our Brussels Discovery tour.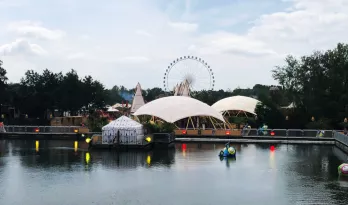 What is Tomorrowland?
Tomorrowland is a Belgian electronic music festival that has been held every year since 2005. It takes place in the public leisure park De Schorre in the city of Boom, Belgium.
The 2022 edition will see the festival extended to a third weekend, from 15 to 17 July, in addition to the two already scheduled, from 22 to 24 and 29 to 31 July. This year's theme is 'The Reflection of Love'.
Tomorrowland invites you to dive into a wonderland. The staging, the lighting, the pyrotechnic effects, the dancers and, of course, the artists themselves, invite you into their world.
What is the line-up of Tomorrowland 2022?
After a two-year absence, Tomorrowland returns in 2022 with a new programme that once again explores the entire dance sphere: from house to hardstyle, via techno, trance, trap, EDM, drum and bass and much more.
Over three weekends: from 15 to 17 July, 22 to 24 July and 29 to 31 July, more than 800 electro stars will perform on the festival's various stages.
Among the big names of the genre on the bill at the Belgian festival in July are Armin van Buuren, Afrojack, Adam Beyer, Above & Beyond, Amelie Lens, Alesso, Angerfist, ANNA, Aly & Fila, Astrix and Martin Garrix, to name but a few.
What is DreamVille?
DreamVille is a living place: a home for tens of thousands of people during their stay at Tomorrowland. A welcoming village where festival goers eat, sleep, live and enjoy their 5-day experience. Here, people from all walks of life meet and international friendships are made.
DreamVille offers a wide range of accommodation, so that everyone can find a place they fall in love with. To meet different needs, there are a variety of packages, each with its own advantages.
At the heart of DreamVille, Marketplace is a boulevard with shops and food stalls, a supermarket, a hair and beauty salon, a bakery and more. You'll find everything you need and more at DreamVille Marketplace, making it the perfect place to meet.
To continue your discovery of Belgium, discover our selection of ideas for visiting Brussels: monuments, museums, places and activities not to be missed.