Celebrate Chinese New Year in London
---
Did you know London's festivities are the biggest Chinese New Year celebrations outside of Asia? As we bid farewell to one year, we welcome the new one with colourful parades, dazzling performances and delicious food! For the easiest way to celebrate the New Year, book your Tootbus ticket today.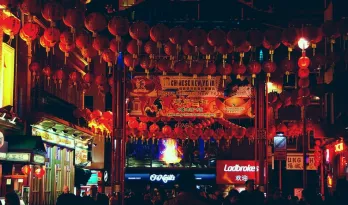 When is Chinese New Year?
Chinese New Year is also known as the Spring Festival and is the most important date in China's traditional lunisolar calendar. It always begins on the lunar new year. Celebrations usually last for seven days and Chinese people give red envelopes filled with money to their loved ones as a symbol of good luck. The celebrations traditionally come to an end with a Lantern Festival on the 15th day of the first Lunar month.
What's on in London for Chinese New Year?
Come and watch the traditional parade in Chinatown which attracts thousands of people every year. Don't forget to visit Leicester Square where workshops and street performances will be held to entertain young and old.
Chinese New Year Parade
Upholding the city's tradition, the biggest and best celebration will be the Chinese New Year parade, with the main stage hosted at Trafalgar Square. With over 300,000 people taking part in the Chinese New Year celebrations in London, it promises to add a huge splash of colour to the streets.
The parade winds its way through Chinatown before passing through Charing Cross Road and Shaftesbury Avenue. The parade ends at Trafalgar Square where spectators will witness the official opening ceremony.
Dragon and lion dances, street performers and a burst of sound will ripple across London, bringing lively festivities and fun to all.
Be sure to stick around for the pyrotechnic display at Trafalgar Square for the grand finale and an explosion of Chinese New Year fireworks in London!
How to get there?
For Chinatown:
Yellow route: Hop off at stop 1 Coventry Street
Blue route: Hop off at stop 21 Piccadilly
For Trafalgar Square:
Yellow route: Hop off at stop 2 Trafalgar Square
Blue route: Hop off at stop 20 Horse Guards Parade
Leicester Square Family Fun
If you hop off one of our buses at Leicester Square during the official Chinese New Year Parade, you'll find plenty to keep the kids entertained while they take part in Chinese cultural activities.
Teach your children about the art of calligraphy, dance to Chinese music and watch family-friendly street performances. There's also the chance to dress up in traditional Chinese costume.
If you want to fully embrace Chinese New Year, then take your family to Leicester Square and add a bit of culture to your weekend.
How to get there?
Yellow route: Hop off at stop 1 Coventry Street
Blue route: Hop off at stop 21 Piccadilly
Shaftesbury Avenue
If you take a trip down to Shaftesbury Avenue during the festivities, you may witness a showcase of martial arts, including Tai Chi Chuan. There are hundreds of fighting styles that have developed over the centuries in China, so it's only right that London celebrates this part of Chinese heritage.
How to get there?
Yellow route: Hop off at stop 1 Coventry Street
Blue route: Hop off at stop 21 Piccadilly
What to do in Chinatown?
Geographically, Chinatown London is situated with Shaftesbury Avenue lying to the North, Rupert Street to the West, Charing Cross Road to the East and Leicester Square to the South. Chinatown is a busy East Asian community and offers fantastic, authentic Chinese shops, bakeries and food.
Throughout the year, London's Chinatown is a fascinating place to visit. Keep your eyes open for street signs written in Chinese, decorative stone lions and sculptures and a spectacular array of colour. A trip to Chinatown really does give an insight into Chinese traditions and culture.
Most of London's Chinese New Year festivities occur in and around Chinatown, with the official London parade taking place here.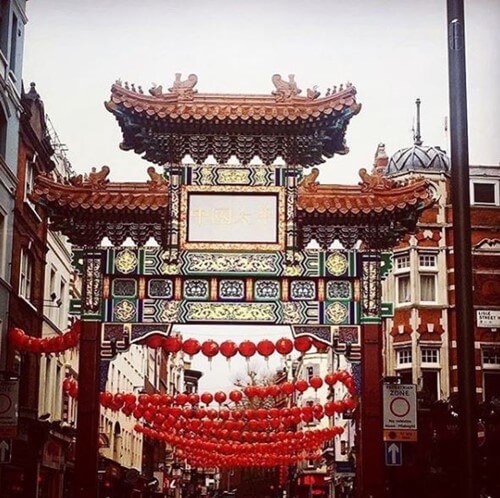 Where to Eat in Chinatown?
It goes without saying that Chinatown is the best place to sample authentic Chinese cuisine in London. There are many sensational dishes to try and many different Chinese restaurants to choose from. We've listed some of our top recommendations. Of course, if you're hoping to celebrate Chinese New Year in London, especially at a restaurant in Chinatown, you'll need to book ahead.
Baozi Inn
25 Newport Court, London WC2H 7JS
Price Rating: £- ££
If it's a rustic experience you're after, then Baozi Inn is the place to go. What's more, the menu is so extensive, you'll probably struggle to make a decision. Try their signature dumplings, spicy street food, skewered meat platters or chunky udon-style noodles.
Cafe TPT
21 Wardour St, London W1D 6PN
Price Rating: ££- £££
If it's Chinese-style street food that takes your fancy, then head to Cafe TPT. This understated little place serves up generous helpings of Cantonese and Malaysian dishes. From meaty broths to succulent pork ribs, there's plenty of menu options to sink your teeth into.
Four Seasons
23 Wardour St, London W1D 5PR
Price Rating: ££- £££
Known for its scrumptious duck dishes and finger-licking BBQ meats, Four Seasons is a popular choice for dinner while in Chinatown. This low key dining option offers tasty tapas style options so you can try a whole host of taste sensations.
Candy Cafe
First Floor, 3 Macclesfield Street, W1D 6AU, London
Price Rating: £
If sweet food is what you are looking for, you should try Candy Cafe. Discover a large choice of traditional beverages and desserts, as well as delicious Cantonese and Taiwanese specialities such as Mango Sago or Red Bean Milk.
Hot or iced teas, special smoothies, hot and cold desserts or even sweet dumplings, Candy Cafe is the place to enjoy all of the saviours of asian sweet specialities.
How to get there?
Yellow route: Hop off at stop 1 Coventry Street
Blue route: Hop off at stop 21 Piccadilly
As you can see, winter in London has many surprises to offer. There are multiple ways to celebrate the lunar new year in London, as well as all the festivities around Christmas.