How to get to Windsor from London
---
When you are planning your visit to London, you might want to tick off some more Royal hot spots in the south of England, such as Windsor. In which case, you're probably wondering how to travel to Windsor from London, so we have created a step by step guide to help you plan your journey.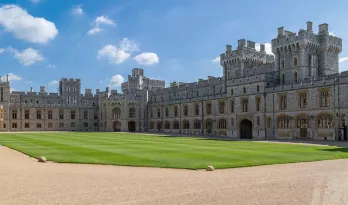 If your stay in London is short, make sure you see the best bits of the city before travelling to Windsor. Book an open top bus ticket from Tootbus and hop-on and off at your leisure to explore London's famous landmarks.
You are probably wondering how far it is from London to Windsor. The average journey takes between 60-90 minutes and there are various ways you can get to Windsor from central London as it is relatively close. Therefore, we have mapped out the best routes by train, bus and car along with the average ticket price to Windsor from London.
Can we travel from London to Windsor by train?
There are two main routes you can take when travelling from London to Windsor Castle by train. Regular train routes are London Paddington to Windsor and Eton Central or London Waterloo to Windsor and Eton Riverside.
Because both routes are the same price, it really doesn't matter which one you choose, however one train station may be more suitable than the other depending on where you are staying in London.
Price: £10.50 for an anytime return train ticket
Journey time: Between 30 minutes to 1 hour and 5 minutes
London Paddington to Windsor and Eton Central
There are usually between 1 and 3 trains every hour from London Paddington and the journey will take between 30-50 minutes. This is not a direct train to Windsor so if you choose this route, you would have to change at Slough.
Although this is not a direct route, it is usually the quickest. The trains departing from London Paddington to Slough can take as little as 15 minutes and stops at Ealing Broadway, Southall, Hayes & Harlington and West Drayton. Once you change at Slough, the train will take you directly to Windsor within 6 minutes.
London Waterloo to Windsor and Eton Riverside
The train from London Waterloo to Windsor and Eton Riverside runs directly and doesn't require any changes, but it does take around 55 minutes so it takes slightly longer than travelling from Paddington.
Trains from Waterloo to Windsor usually run every 30 minutes and are operated by South Western Railway. If you choose to take this route, the train will call at Vauxhall, Clapham Junction, Putney, Richmond, Twickenham, Whitton, Feltham, Ashford, Staines, Wraysbury, Sunnymeads, Datchet and finally Windsor & Eton Riverside.
Whichever train you choose to take from London to Windsor, the Riverside station and central stations are less than 10 minutes walk away from each other so you will arrive at a central location when you get to Windsor.
Which bus to take from London to Windsor?
If you would prefer to travel from London to Windsor by bus, there are a few direct routes you can take. Buses from London are generally every 30 minutes Monday-Friday, with amended timetables at the weekend.
Depending on whether you are already in central London, or if you want to travel straight to Windsor from Heathrow airport, one of these bus routes may be better suited to you than the other.
Price: From £6.50
Journey time: 1 hour - 1 hour 30 minutes
London Heathrow Airport to Windsor
If you are travelling straight from Heathrow airport to Windsor, it couldn't be simpler. Make your way to the bus station at Terminal 5 and take the first bus service, numbers 8 or 9. Depending on which bus you take, you may need to change at Slough or St Leonards Road opposite Knights Place to complete your journey to Windsor.
This Heathrow to Windsor service operates every 30 minutes Monday-Saturday and hourly every Sunday. From Monday to Friday, the first bus leaves Heathrow at 4.08am and the last bus to Windsor leaves at 10.40pm. The first bus returning from Windsor to London, Heathrow, is at 4.25am and the last bus leaves Windsor for Heathrow at 5.16pm with the average ticket costing around £6.50.
London to Windsor Castle
The Green Line 702 bus service to Windsor takes around 1 hour and 30 minutes and prices start at £10 for an adult return ticket. Buses run hourly from London Victoria and call at Hyde Park Corner, Royal Albert Hall, Knightsbridge, Kensington, Hammersmith, Langley, Slough. You can get off in Central Windsor, right by Windsor Castle.
Buses run throughout the day, 7 days a week. Download the Green Line 702 app to track your bus and please visit their website for times and fares. Follow @greenline702 on Twitter for service updates and special offers.
If you want to travel directly from central London to Windsor Castle, the 702 Green Line is a great choice as it stops right outside the castle walls at the Theatre Royal.
London to Windsor by Car
Price: Parking. Potentially tolls and congestion charge
Journey time: Approximately 1 hour, depending on traffic
Charges for Driving in London
We wouldn't recommend travelling from London to Windsor by car. If you are staying in central London you may have to pay a daily congestion charge of £11.50 to drive in the city centre and also an emissions charge. Depending on which route you take to Windsor, you may also be charged toll fees as well as paying for parking once you arrive in Windsor.
How to get from London to Windsor by Car?
However, if you do decide to make the journey by car, there are a few routes you can take. The most direct route is via the M4 to Slough, then continuing on the A355 towards Royal Windsor Way and finally taking the A332 into Windsor. Alternatively, you could go via the A40 and M4 which will include tolls.
Planning Your Journey to Windsor
If you would prefer to drive from London to Windsor, please plan your journey and allow plenty of time. During rush hour or peak season, routes into the Royal Borough can get very congested so be prepared to get stuck in traffic. You may also struggle to find a car parking space, therefore it is probably a better idea to travel to Windsor from London via public transport.
Parking in Windsor
Once you arrive, you will find long stay parking in Windsor at Romney Lock and King Edward VII car parks on Datchet Road and the Alexandra Gardens car park on Alma Road. If you choose one of these car parks, you will pay a maximum of around £6 for the day. All of these car parks are within a 10-minute walk from Windsor Castle, or you could opt for a park and ride car park with free bus transfers into the centre of Windsor.