The Oldest Pubs in London
---
So you've hopped off the London Discovery bus tour, visited some iconic landmarks and attractions but now it's time to grab a refreshing drink. There are plenty of pubs in London where you can sink a delicious ale on tap and take a break from exploring the fascinating city.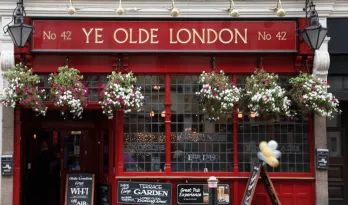 However, if you love learning about London's vibrant history, you don't have to put your adventure on pause when you stop for a drink and a packet of pork scratchings.
When you venture away from the usual highstreet jaunts, you'll discover that London has a plethora of historic pubs with a story to tell. We've put together a list of the 9 oldest pubs in London. It features the public houses that have been graced by famous faces, threatened by past events and entwined in plots and scandals. So, be sure to see some of London's oldest pubs when you're on your bus tour of London.
Oh, if walls could talk…
1. The Lamb & Flag
33 Rose St, Covent Garden, London WC2E 9EB
Nicknamed 'The Bucket of Blood,' in the 19th century, The Lamb & Flag was a place known for violence and hosted bare-knuckle fighting upstairs. Famously, the former Poet Laureate, John Dryden, was also found badly beaten in an alleyway next to the public house after being surrounded by a gang of thugs.
It is believed that the thugs had been paid to harm Dryden, either by the famous author Charles Dickens or by the Earl of Rochester, whom had unfinished business with Dryden at the time. Dating back to the 17th century, this historic drinking spot can be found in the backstreets of Covent Garden.
How to get there? Hop off at stop 1, 2 or 5 on the yellow route or stop 5 on the blue route
2. Ye Olde Cheshire Cheese
145 Fleet Street, London, EC4A 2BU
The fact that the likes of Charles Dickens, Samuel Johnson and George Orwell are said to have once graced Ye Olde Cheshire Cheese with their presence, makes it an iconic drinking spot. It is thought that a pub has stood on these premises since 1538, making it one of London's oldest public houses.
However, the Great Fire of London did destroy the original building and it had to be rebuilt in 1667. Decorated with a dark wooden interior, Ye Olde Cheshire Cheese features a host of narrow passages and staircases linking a number of bars and dining areas. After a refreshing drink, continue exploring the city on an open-top bus.
How to get there? Hop off at stop 6 on the yellow route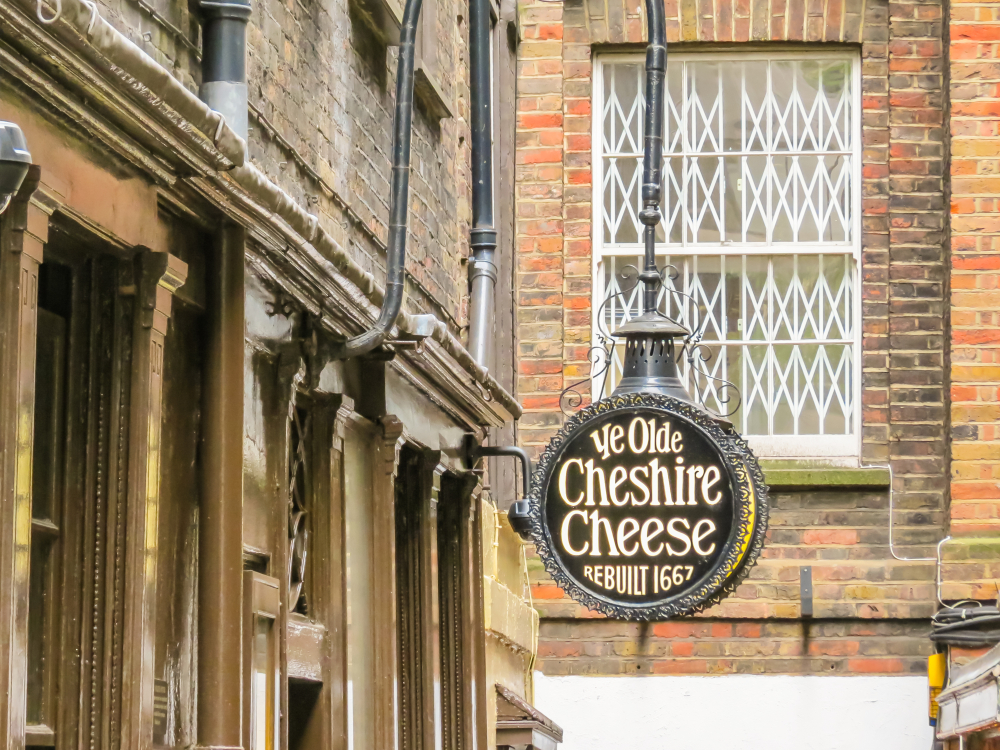 3. The George Inn
75-77 Borough High St, London SE1 1NH
Striking and atmospheric, The George Inn is London's last galleried inn, although an older incarnation of the public house was destroyed by fire in 1676. Sitting on the south side of London Bridge, The George Inn has several bars, and one of them was often visited by Charles Dickens back in the day. Dickens was so fond of The Coffee Room, it was mentioned in Little Dorrit. Owned by the National Trust, the pub is popular during the summer months due to extensive outdoor seating.
How to get there? Hop off at stop 7 or 8 on the yellow route
4. The Seven Stars
53 Carey St, Holborn, London WC2A 2JB
Formerly known as The Log and Seven Stars, this London boozer dates back to 1602. It is a well-known establishment due to the fact that it survived the Great Fire of London. The pub was situated at the westernmost point of the Great Fire and escaped with scorch marks.
It's a small yet charismatic place to visit and attracts many barristers in need of a stiff drink because of its location behind the Royal Courts of Justice. The Seven Stars has a good selection of real ales, showcasing bigger breweries and independent breweries alike.
How to get there? Hop off at stop 5 on the yellow route
5. Ye Olde Mitre
1 Ely Court, Ely Pl, Holborn, London EC1N 6SJ
If you can find it, stop and have a drink! Ye Olde Mitre can only be reached through a small passageway just off Hatton Garden and always proves difficult to find. However, when you do find Ye Olde Mitre, you're in for a treat. This London favourite is steeped in history.
Queen Elizabeth I is said to have once danced around a cherry tree in its back garden with Sir Christopher Hatton, one of her favourite subjects, whom Hatton Garden is named after. The pub is also situated near a historic part of the city where William Wallace was hung, drawn and quartered at Smithfield, along with martyrs and traitors who were also killed nearby.
How to get there? Hop off at stop 6 on the yellow route
6. Hoop & Grapes
47 Aldgate High St, London EC3N 1AL
Known for its real ales and quality pub grub, Hoop & Grapes on Aldgate High Street has many other reasons why it's so highly regarded. Firstly, it is probably one of the oldest pubs in London, dating back to the late 17th century. It was also one of the few public houses to survive the Great Fire of London, although it is frequently documented that the flames stopped just 50 yards from the front door.
During this time, the building is more likely to have been a private house and only became Hoop & Grapes in 1890. The building is very distinctive, with the interiors consisting of dark beams, wood panelling, leaded-light windows and off-kilter floors.
How to get there? Hop off at stop 9 on the yellow route
7. Cittie of Yorke
22 High Holborn, London WC1V 6BN
In the heart of London's legal quarter, this unique pub is listed in the National Inventory of Historic Pubs Interiors. Rebuilt in the 1920s, the Cittie of Yorke is a reconstruction of the pub's original 1430 design.
Cross the narrow façade with Tudor detail and wander along the dark passages of this Grade II bar.Highlights of the pub include Victorian wooden cubicles and the Henneky's Long Bar where the welsh poet Dylan Thomas wrote an ode to the pub.
How to get there? Hop off at stop 5 or 6 on the yellow route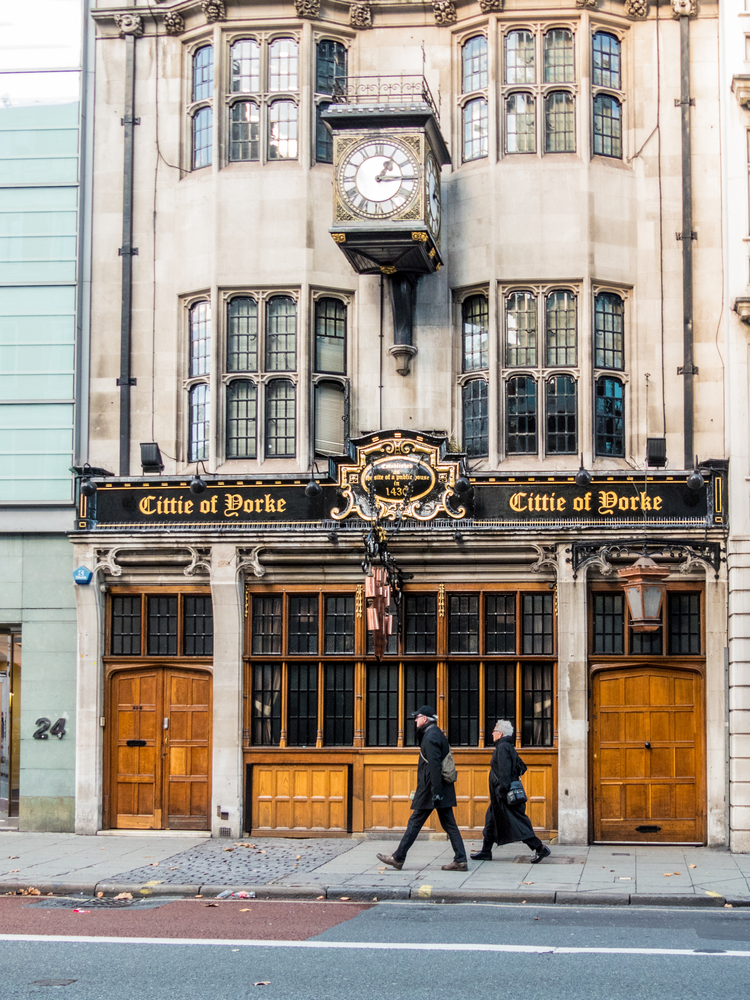 8. The Spaniards Inn
Spaniards Rd, Hampstead, London NW3 7JJ
The Spaniards Inn dates all the way back to 1585 and is still a well-known boozer on the edge of Hampstead Heath to this day. It is said that The Spaniards Inn was a popular drinking spot of John Keats, one of the famous Romantic poets, and also Charles Dickens. Along with literary greats, it is thought that Dick Turpin, the most famous highwayman in history also visited The Spaniards Inn on occasion.
Now a Grade II listed building, The Spaniards Inn oozes charm. The interior consists of traditional wood-panelling, low beams and other period features. The roaring open fire helps to create a wonderful cosy feeling during the winter months, while in the summer the delightful beer garden draws people in.
9. The Prospect of Whitby
57 Wapping Wall, St Katharine's & Wapping, London E1W 3SH
The Prospect of Whitby was once the drinking den of pirates, sailors and smugglers. On the foreshore outside the historic pub stands replica hanging gallows; a nod to the unruly behaviour that unfolded within its walls. This riverside pub is situated on the banks of the Thames and is said to be the oldest riverside tavern, dating back to 1520. Today, people head to The Prospect of Whitby to enjoy a leisurely drink while admiring glorious views across the River Thames.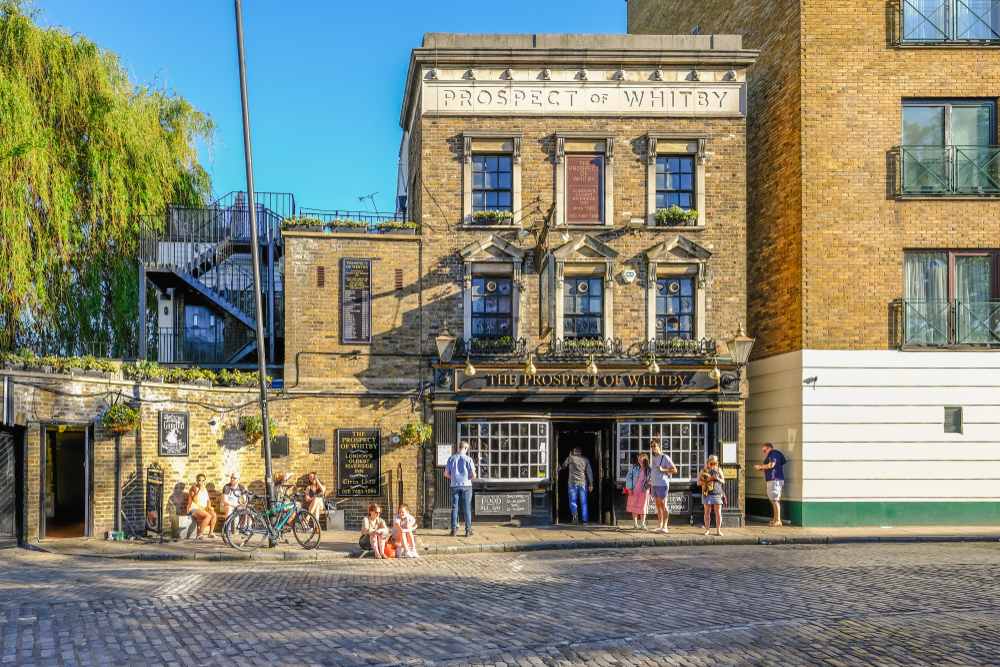 There are many more pubs in London that claim to be the oldest in the city. However, the public houses that made this list prove to be the most popular time and time again. If you are lucky enough to be in London on 17 March, St Patrick's Day, be sure to visit one of these pubs to enjoy the festive atmosphere.
Be sure not to spend all of your time in the pub though as there's plenty to see in London! Book a Must See London bus tour ticket and discover London from the comfort of a sightseeing bus and from a boat on the river Thames. Hop-on and off around the city and explore the sights.