St Patrick's Day in London
---
Discover London during St. Patrick's Day with one of our Tootbus tours. This typical Irish festival is a big event in the British capital where all sorts of events are organised throughout the city. These festivities are an opportunity for the Irish community to celebrate all things Irish.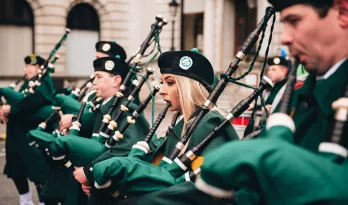 What is Saint Patrick's Day?
St Patrick's Day is a celebration of Irish culture that takes place on or around 17 March each year. This day commemorates the death of St Patrick (c. 385-461), Ireland's principal patron saint, who is considered widely to be the founder of Christianity in Ireland.
According to legend, as St. Patrick worked to convert the Irish into Christians, he used the three leaves of a shamrock to explain the Holy Trinity. Today, St Patrick's Day celebrants wear a shamrock as a reference to this Irish legend. Religious and secular events are held to celebrate St Patrick's Day, including festivals, church services, public parades and traditional dances.
Although St Patrick's Day is traditionally an Irish holiday, you will find St Patrick's Day celebrations in many countries. Many Irish people emigrated around the world during the Great Famine of the 1840s. As a result, many nations feel a strong connection to the Irish and their culture.
The UK is Ireland's closest neighbour and, not missing a good Irish festival, the English love to join in the St Patrick's Day events. You will find St Patrick's Day parties and festivities all over the UK. In London, home to around 176,000 Irish people, St Patrick's Day and the weekends that accompany it are a guaranteed time of celebration.
When is the St Patrick's Day parade?
St Patrick's Day is a key event in London's cultural calendar, showcasing the best in Irish arts, entertainment, culture, food and music. Organised by the Mayor of London, this 20th edition takes place on Sunday 12 March.
Tootbus routes may be disrupted by the parade. We recommend that you use our services the day before to discover the city. This will allow you to enjoy St Patrick's Day to the full. Our buses will still run on 13 March.
The annual St Patrick's Day parade attracts over 50,000 people for a colourful procession of Irish bands from the UK, USA and Ireland and dance troupes. The procession starts at Hyde Park Corner, then passes through Piccadilly, St James's Street, Pall Mall, Cockspur Street and Whitehall. The route runs for 1.5 miles (2.4 kilometres) and ends in Trafalgar Square.
From there, the festivities continue with a variety of activities including games, arts and crafts, strolling shows, concerts with live Irish music and performances. There are also plenty of street food stalls and pop-up bars in the area. There will always be somewhere to get some delicious Irish food or a green Guinness!
https://youtu.be/6CiHI15TdFY
An evening of Irish comedy
Come and enjoy a fun night out where you can relax and laugh with your friends, family or work colleagues. The COBO: Comedy Shutdown tour stops at the Backyard Comedy Club on Sunday, March 12, 2023 from 6:00-11:30pm. It's a night of comedy that's not only filled with jokes, but also celebrates the wide range of comedy talent that appeals to comedy fans of all ages and backgrounds.
See the UK's best comedians on Saturday 11 March at the Comedy Carnival in Covent Garden and Camden.
Enjoy the evening with a Guinness or an Irish whiskey in one of London's oldest pubs.
Irish Pubs
You can also celebrate St Patrick's Day by partying and drinking Guinness in London's Irish pubs and bars. Many of them are decorated in green for the occasion.
Guinness is probably the most famous of all Irish drinks. Originating in Dublin's Arthur Guinness Brewery in 1759, it is now brewed in 50 countries around the world and available in over 120. Of course, you can find a great pint of Guinness in London.
Now that you have all the information you need to have an amazing St Paddy's Day in London, check out the most popular tourist hotspots in London.