Things to do on Bonfire Night in London
---
Every year on 5 November, the London sky lights up with fireworks in commemoration of the Gunpowder Plot. You might struggle to choose which display you would like to go to if you're visiting London over Bonfire weekend. We've listed the best fireworks displays to ensure you have a night to remember.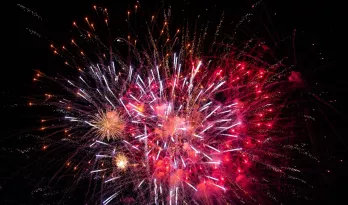 London's skyline is set to be more breath-taking than ever on Bonfire Night, also called Guy Fawkes Night! With a multitude of firework displays taking place across the city, the sky will be alive with colour as we mark the Gunpowder Plot of 1605 that must never be forgotten.
1. Alexandra Palace Fireworks Festival
With fabulous views of London, the Firework Festival hosted at Alexandra Palace, on Saturday 5th November 2022, is always a lively affair. The audience is in for a real treat. First, they will witness an epic laser show before the main display even begins. If that wasn't enough, there's a German Bier Festival, a fairground, performers breathing fire and the ice disco, an ice skating rink where you can dance.
If you get a bit peckish, be sure to visit one of the many street food stalls on offer! Alexandra Palace welcomes those of all ages to the event, so purchase your ticket before it's too late.
2. Wimbledon Park and Morden Park Fireworks
Wimbledon Park and Morden Park in South London host two firework displays - both on the same evening! The first display will be more suitable for families with 'feel good/pop' music. Take your children to enjoy a colourful show full of majestic fireworks explosions. The second show has a Kings and Queens music theme.
A funfair, refreshments and a bar will add a little extra to your experience. The shows will return on Friday 4th November 2022 at Wimbledon Park and Saturday 5th November 2022 at Morden Park.
3. Chiswick Park Fireworks Extravaganza
The annual Chiswick Park Fireworks Extravaganza in West London returns on Thursday 3rd November 2022. During this event, you will be able to watch incredible performers, take part in a Charity Firewalk, listen and dance along to live music and enjoy delicious food and drink. This fireworks display at Chiswick Business Park is set to music and is usually free to enter, but tickets must be booked in advance.
4. Battersea Park Fireworks
This year, South London's biggest Fireworks Display returns to Battersea Park for a two-night affair. You can choose between the classic Saturday Night on Saturday 5th November 2022 or the Family Night on Sunday 6th November 2022, which has an earlier start.
During the classic night, a spectacular fireworks display and traditional bonfire await you. You will have plenty of options for winter comfort food, warming mulled wine and glow in the dark face-paint. You could also join the Battersea Bierkeller Afterparty (18+) to dance into the night.
During the family night, you will be able to attend a stunning display suited to the younger ones with an earlier start time and an awe-inspiring light display to replace the traditional bonfire. Also, there will be food, drinks and face-paint.
5. Beckenham Fireworks in the Park
At Croydon Road Recreation Ground, Beckenham Fireworks in the Park offers plenty of family entertainment. On Saturday 5th November 2022, you can choose between a quiet firework show, or the spectacular and noisy main display later in the evening. Also, there will be Bonfire Night food and a funfair.
6. Richmond Family Fireworks
The Richmond Family Fireworks Display returns on Sunday 6th November 2022 for a Family Fireworks Night. This is a hugely popular event that takes place every year at the Richmond Athletic Ground on Twickenham Road. Families can enjoy live entertainment, funfair rides, candyfloss and popcorn stalls. There's also hot food and mulled wine for the adults to enjoy too - it has all the makings of a fantastic evening!
7. Kingston Fireworks
Colour, noise and top-notch entertainment are promised by the organisers of the Kingston Firework Display. The firework show takes place at Kingsmeadow Athletics Stadium on Friday 4th November 2022. The event will be accompanied by good music, tasty refreshments and thrilling fairground rides, which can all be enjoyed before the main display begins at 8.00pm.
8. Harrow Fireworks
Your favourite hits are coming to Harrow - but it'll be over in a flash! As you make your way to Harrow Firework Display on Saturday 5th November 2022, you can enjoy an epic firework display accompanied by your favourite chart music. Hosted at Byron Park, this is a glittering event, full of fire spinners, dancing and bright lights.
The firework display will wow you with its grandeur and pop soundtrack. Throw a funfair into the mix along with beer tents and food stalls, you've got yourself a bonfire night to remember!
Whichever bonfire you go to, we hope you have a great night! To extend your discovery of London with your partner, discover our selection of activities to do as a couple for a romantic weekend in the capital.