Top 20 Parks in London
---
It's easy to get caught up in the hustle and bustle of central London, so sometimes it's nice to step away and enjoy the scenery. Take a break from the city and check out one of the many stunning parks with family or friends then get back to sightseeing on one of our Tootbus tours.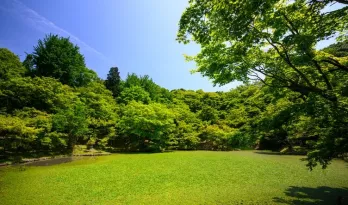 From Royal Parks to outdoor Lido's, there are tons of open spaces to explore in London. So, without further ado, here's our top 20 London parks!
1. Hyde Park
Right in the centre of London lies Hyde Park. Explore the Rose Gardens, marvel at the memorial fountain or go for a paddle on the boating lake. Enjoy some outdoor sports or get lost in the greenery and marvel at the wonders that Hyde Park has to offer.
How to get there?
Yellow route: hop off at stop #15, Marble Arch - Speakers Corner
Blue route: hop off at stop #14, Hyde Park - Queen Elizabeth Gate
2. St James's Park
St James's Park is a great place to slow down after you've hit the tourist hotspots at Westminster. Once you've passed parliament, caught a glimpse of Downing Street and strolled through Horse Guards Parade, admire the pelicans from a deck chair in St James's Park before heading to Buckingham Palace.
How to get there?
Yellow route: hop off at stop #2, Trafalgar Square
Blue route: hop off at stop #20, Horse Guards Parade
3. Kensington Gardens
Tucked away in a corner of Hyde Park, Kensington Gardens is home to Kensington Palace, the Elfin Oak and a number of gardens and statues. The kids will love the Diana Memorial Playground and search for the Peter Pan statue. Why not head to Kensington Gardens and enjoy a day out with the family?
How to get there?
Yellow route: hop off at stop #15, Marble Arch - Speakers Corner
Blue route: hop off at stop #27, Kensington Palace
4. Holland Park
Holland Park hosts Japanese Kyoto Garden and is home to elegant peacocks. There is a giant outdoor chess set where you can try out your skills and plenty of sports facilities to enjoy. Holland Park is a perfect place for a peaceful walk in the middle of central London.
How to get there?
Blue route: hop off at stop #28, Notting Hill Gate
5. Regent's Park
Marvel in London in full bloom at Regent's Park. Visit Queen Mary's Garden to see some traditional English roses and stroll between the memorials and statues. From May to September, make the most of the open air theatre in the inner circle of the park where there are a variety of theatre, film and comedy productions.
Separated from Regent's Park by Prince Albert Road and ZSL London Zoo is Primrose Hill. At the top of this grassy hill are spectacular views of London.
How to get there?
Blue route: hop off at stop #32, Praed Street
6. Green Park
Adjacent to Buckingham Palace is the royal park, Green Park. Enter park through Canada Gate, the grand entrance, and admire the Canada Memorial water feature and the Wellington Arch, leading to Hyde Park. If you're in London for a special occasion, you might even hear the royal gun salutes being set off in the park.
How to get there?
Yellow route: hop off at stop #11, Buckingham Palace
Blue route: hop off at stop #23, Hard Rock Café
7. Richmond Park
On the outskirts of the city centre is London's largest park. Richmond Park covers almost 2,500 acres and is home to a national nature reserve, golf course, cycle paths and a deer park. 630 red deer and fallow deer have lived in the wild since 1637. Deer have played a major role in the history of the park and have also shaped the landscape. Finally, be sure to visit the woodland at Isabella Plantation and the Georgian manor house at Pembroke Lodge, which offers spectacular views of the Thames.
8. Kew Gardens
Walk through the treetops and take in the views of the garden and beyond at Kew Gardens. Visit the Royal Botanic Gardens, the Palm House with its rainforest climate and the Princess of Wales Conservatory, full of plants from different climates. Don't forget your taste of the outdoors as you wander between over 14,000 trees in the arboretum.
9. Hampton Court Gardens
Get lost in the world's oldest puzzle maze and see the record breaking grape vine at Hampton Court Gardens. The world's largest vineyard, The Great Vine, has produced a delicious harvest at Hampton Court Palace for almost 250 years.
Hampton Court Palace, home of Henry VIII, has some beautiful landscape gardens and a great fountain to admire. Take the kids to the Magic Garden to encounter mythical creatures, battlements and get lost in historical stories.
10. Greenwich Park
At Greenwich Park there is a mix of historic buildings and wide open space to explore. Walk through the deer park and have your breath taken away by the grandeur of the National Maritime Museum, Old Royal Naval College and the Royal Observatory. When you're done, relax and refill at the Pavilion Cafe.
11. Queen Elizabeth Olympic Park
At Queen Elizabeth Olympic Park, there is something for all ages. Explore the calming meadows, fields and gardens and enjoy a snack in one of the many cafes. Or, if you're up for an adventure, you can grab a trail guide, take the kids to the playgrounds or take on the 178m Arcelormittal Orbit - if you're feeling up to the challenge!
12. Hampstead Heath
Get away from bustling city life and head for the hills. For stunning views of London, go to Parliament Hill viewpoint in Hampstead Heath. While you're there, try an open water swim in one of the three outdoor bathing ponds, walk the dogs or fly a kite in the fields of Hampstead Heath.
13. Clapham Common
Clapham Common provides an oasis of peace so you can escape from city life. You will find paddling pools, cafes, sports facilities and a bandstand for open air theatre. If you head to Clapham Common on a Saturday don't miss Venn Street Market for local produce and tasty lunches.
14. Crystal Palace Park
Crystal Palace Park was home to a grand palace full of exhibitions until it burnt down in 1936. Walk along the original Italian Terraces, venture down into the old subway or go way back to Jurassic times and see giant dinosaurs around the park. There is tons of greenery, a museum, boating lake and skate park to fill your day with fun.
15. Victoria Park
Enjoy an afternoon in the sun with friends, family and a picnic in Victoria Park. This green space is a great place to play, sunbathe and exercise while you take in the beautiful scenery. Explore the gardens and seek out the boating lake or Chinese Pagoda and enjoy the great outdoors.
16. Kenwood House Gardens
When you venture to Hampstead Heath, don't miss the chance to visit Kenwood House Gardens. The gardens are free to enter and you are welcome to walk dogs in the parkland and fly kites. There are picnic sites, cafes and beer gardens and if you have the chance, take a walk around Kenwood House.
17. Dulwich Park
At Dulwich Park you will find a boating lake, dog walking area and playground for the kids. You can also hire bikes for a cycle around the park or make use of the sports facilities. While you're there, take a walk around the dry, winter and vegetable gardens or grab a bite to eat at the cafe.
18. London Fields
From May to September, dip your toes in the heated outdoor swimming pool in London Fields. There is also an outdoor gym, children's play area and a BBQ area which is perfect for the summer. If you visit London Fields on a Saturday, stop by at Broadway Market for street food, art and local produce.
19. Painshill Park
Outside of the city centre, Painshill Park boasts landscape gardens, a crystal grotto and traditional water wheel. You do have to pay for entry but the scenery is magnificent and you won't be disappointed by the gothic buildings and expansive Chinese bridge. Painshill Park truly is a tranquil paradise outside of central London.
20. Battersea Park
There is so much for the kids to experience in Battersea Park including the only Go Ape in central London, Battersea Children's Zoo, crazy golf and a playground. Or, if you don't want to swing through the trees and would prefer a quiet walk, head to the Old English Garden for some peace and tranquillity.
Once you've got your fix of London's parks and you're ready to continue sightseeing, discover our selection of activities to do with kids in London this summer.