13 Summer Holidays Activities for Kids in London
---
When preparing a summer day-trip with the kids there are many questions to ask, including what to do and how much will it cost?! To help all you parents out there make the most of the school summer holidays, here's our guide to discovering the best places to see in London this summer!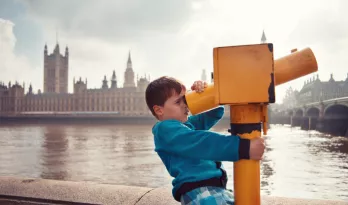 Discover London most famous Attractions
Kids Tour
As the oldest sightseeing bus tour in the capital, we have invested a lot of time and effort to ensure our service is affordable, fun and family-friendly. For starters, all children under 4-years-old go free! We will take you past the London Eye, Westminster Abbey, Pall Mall, Buckingham Palace, Piccadilly Circus, Downing Street, Big Ben, and many more.
Specially designed to please all family members, our Kids Tour will keep little ones entertained while touring the city. Our passionate guides will make them discover London history with with interesting facts and fun stories.
Tower of London
Although the Tower of London is officially Her Majesty's Royal Palace and Fortress, these days, the stronghold boasts a warm and welcoming atmosphere. There are activity trails, multimedia guides, plus all the facilities a young family will need. What's more, during school holidays, the Tower is home to a wide selection of events hosted by costumed guides, and crafty happenings aimed especially at younger children.
How to get there?
Yellow route: hop off at stop #9, Tower of London.
Fun-Filled Family Days Out
Warner Bros. Harry Potter Tour
Located about 20 miles northeast of London, Leavesden Film Studios offers you an immersion into the magical world of the Harry Potter saga. Until 12th September with Mandrakes and Magical Creatures you can discover how your favourite creature effects were brought to life on screen.
The majority of the sets, objects and costumes on display at the Studios are actually those used in the films. Enter the Great Hall, the Hogwarts classrooms and discover Professor Sprout's greenhouse.
London Dungeon
Discover London horrible stories as you venture into The London Dungeon, located near the London Eye. Recommended for children aged 12+, there are 19 interactive shows which uncover 1000 years of history.
Be prepared to face your fears and experience the full force of Henry VIII's wrath in The Tyrant Boat Ride, discover the legendary Jack the Ripper, or escape the flames of the great fire of London. The London Dungeon is a great place to visit with older kids, so plan your visit now.
How to get there?
Yellow route: hop off at stop #4 Waterloo Station.
Blue route: Hop off at stop #18 Westminster Bridge.
Shrek's Adventure
One of London's best family attractions, Shrek's Adventure is a fresh story involving every kid's favourite green ogre, Donkey and many more of his friends. While there, you'll travel on a one-of-a-kind 4D magical flying bus ride, get within touching distance of iconic sets and enjoy 10 fairy-tale themed shows. This summer you can meet Puss in Boots with an amazing fiesta. Join in and show off your dance moves, sword fighting poses!
How to get there?
Yellow route: hop off at stop #4 Waterloo Station.
Blue route: hop off at stop #18 Westminster Bridge.
See their Favourite Animals up Close
London Zoo
Every summer, London Zoo creates a jam-packed schedule of family-orientated displays, and this year is no different. From 23 July to 31 August, discover nature in all its full technicolour beauty with Summer of Colour. The event will be crammed full of animal-themed fun and workshops to inspire your little ones.
SEA LIFE London
Rainforest Adventure is a brand new exhibition at SEA LIFE London that youngsters (and adults alike!) are falling in love with. Immerse yourself in a world of creepy crawlies, charming crocodiles and curious critters. Meet the Chilean rose tarantula and race a colony of leafcutter ants to find the queen, before watching the feeding frenzy of the UK's biggest collection of Red-Bellied Piranhas!
How to get there?
Yellow route: hop off at stop #4 Waterloo Station.
Blue route: hop off at stop #18 Westminster Bridge.
Enjoy a Walk in a Garden
Regent's Park Open Air Theatre
Every summer, the Regent's Park Open Air Theatre welcomes you for a season of family-friendly shows and musicals performed in a magical setting in the heart of Regent's Park. This summer, from 2 July to 28 August enjoy the 101 Dalmatians musical based on the classic story . Regent's Park is also a great place to have a picnic with your family.
Kew Gardens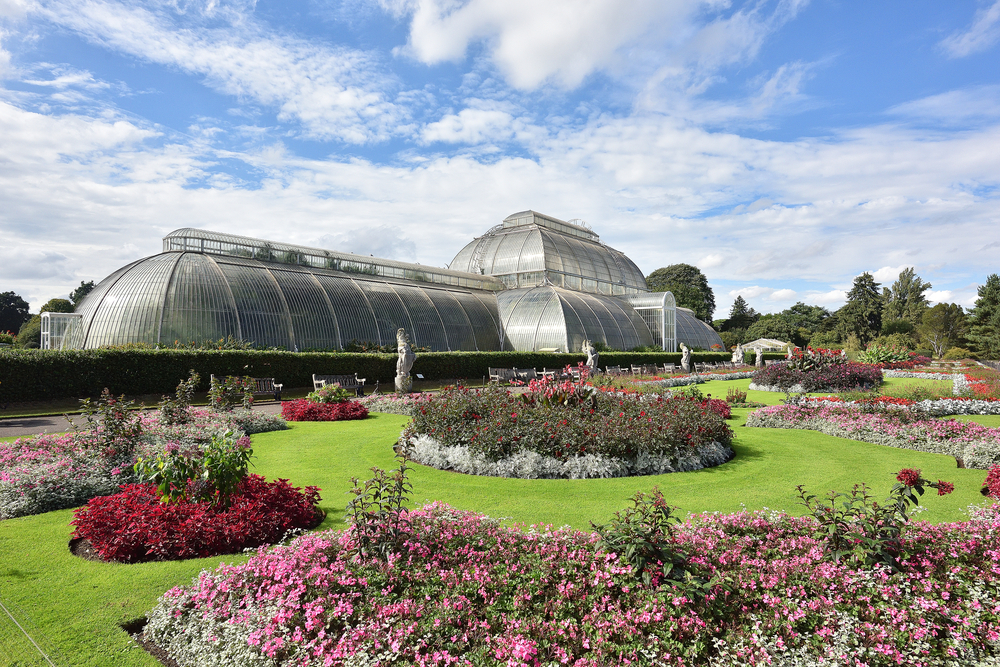 If you need a break from the hustle and bustle of London, head to Kew Gardens. Explore the Royal Botanic Gardens, the Palm House with its rainforest climate and the Princess of Wales Conservatory. Enjoy the Children's Garden specially designed for children from 2 to 12 years old. Kids can explore all the things plants need to grow; earth, air, sun and water. With a size of 40 tennis courts, they can seek hidden treasures and adventures around every corner.
RHS Hampton Court Palace Garden Festival
Make the most of your summer holidays in London to take a trip to Hampton Court Palace. From 04 July 2022 to 09 July, discover, play and learn together at the world's largest annual flower show in the setting of one of London's most historic royal palaces. During this time, Hampton Court will be packed with hands-on family activities alongside beautiful gardens, great places to eat and so much more.
Visit the Best Museums of London
Natural History Museum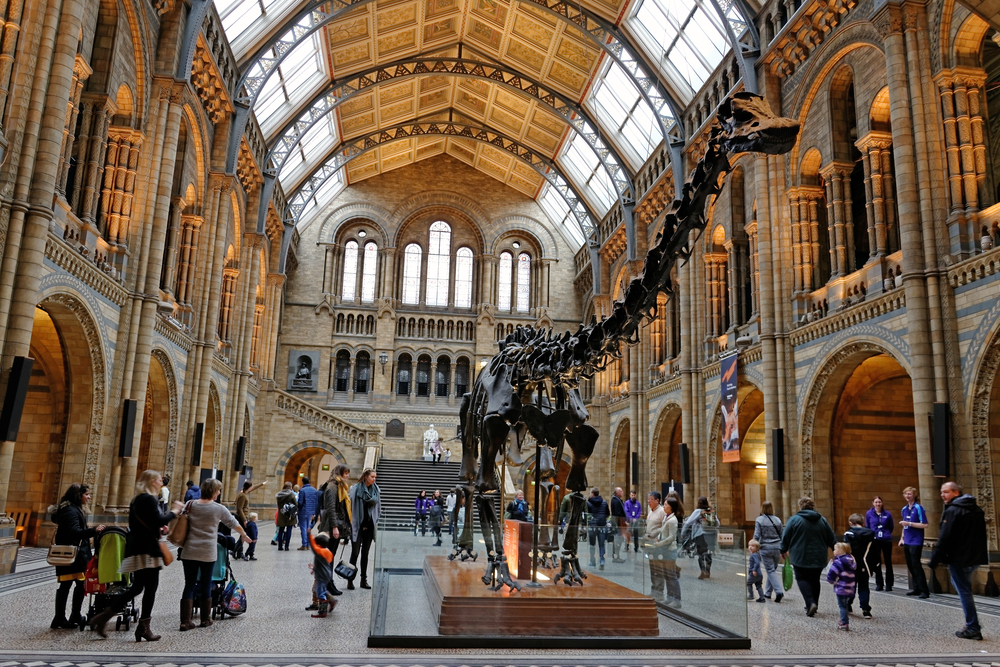 Are your children fond of dinosaurs? Why not satisfy their insatiable curiosity by having them discover the dinosaurs gallery at the Natural History Museum? Take them on a journey to meet the terrifying T. rex and Dippy, the friendly but impressive diplodocus. Entry to the museum is free but you may have to pay to visit some exhibitions. .
How to get there?
Blue route: hop off at stop #25, Museums.
Science Museum
If your children are budding scientists or born explorers, the Science Museum is for them. Join Benedict Cumberbatch for Antarctica 3D, an IMAX experience where you can explore the wild and mysterious Antarctic continent with him. Admission to the museum is free and IMAX sessions are available from £10.
How to get there?
Blue route: hop off at stop #25, Museums.
Madame Tussauds
The world famous waxwork museum has a whole host of exhibitions that kids will love. Marvel Super Heroes 4D is an immersive movie spectacle involving Hulk, Iron Man, Spider-Man and a selection of other superheroes, while the recently opened Star Wars experience allows fans to act out famous scenes from a galaxy far, far away.
How to get there?
Blue route: hop off at stop #32, Praed Street.
We hope you found this guide to fun things to do with kids in the summer holidays useful. Don't forget to read our guides, if you're looking for the best family restaurants in London or for cool things to do with teens. If you want to discover more of London at your own pace you can also hop on our London Discovery Tour.