Bright Brussels 2023, the Brussels Festival of Lights
---
The new edition of the Brussels Light Festival, Bright Brussels, returns to the Belgian capital from 16 to 19 February 2023. Discover Brussels under its most beautiful lights during four evenings and through three routes in different districts of Brussels.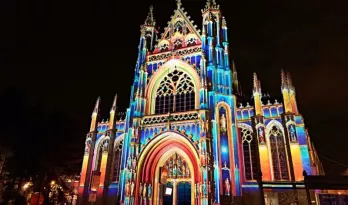 What is Bright Brussels?
This year, the Bright Brussels event highlights the rich Art Nouveau heritage of Brussels. Every evening from 7pm to 11pm from 16 to 19 February 2023, you will have the opportunity to discover, free of charge, some twenty light installations, created by national and international artists, throughout three districts of Brussels:
the Royal district,
the European Quarter,
from the Lehon Square to Avenue Louis Bertrand in Schaerbeek.
What to visit for Bright Brussels 2023?
Bright Brussels is the perfect opportunity to discover Brussel from another angle. Here are three quarters you shouldn't miss this year: the Royal Quarter, the European Quarter and the Lehon Quarter.
The Royal Quarter
Situated between the Parc de Bruxelles, Place Royale, Mont des Arts and the Sablon, the Royal Quarter is a historic district of Brussels.
The neo-classical Place Royale is home to the statue of Godfrey of Bouillon, the first equestrian statue in Brussels. Take the opportunity to visit the Manneken Pis, which is located not far from there.
The European Quarter
The European quarter of Brussels offers an interesting mix of Art Nouveau and Art Deco. Passers-by mingle in lively squares, in large green spaces such as the Cinquantenaire Park or the Leopold Park, in internationally renowned museums or at the foot of the European institutions.
In order to discover this district independently, take advantage of our 40-minutes tour of the European district with the new feature available on the Tootbus application: Tootwalk.
The Lehon Quarter
This district is entering the Bright Brussels festival this year. Schaerbeek is a municipality in the north-east of Brussels and is full of places steeped in history: the Hôtel Communal, the Maison des Arts, the Halles de Schaerbeek, Art Nouveau buildings, the Maison Autrique, the famous Avenue Louis Bertrand, the Josaphiat Park, churches and various museums.
The Lehon square is also one of Schaerbeek's historic places. This rectangular square is named after a Belgian soldier, writer and painter, Henry Sébastien Lehon (Pommerœul, 1809 - San Remo, 1872).
In addition to the art installations, the Bright Brussels event offers night-time museum visits, guided tours and ephemeral installations.
Are you visiting the Belgian capital and lacking inspiration? Discover our top 20 must-see tours in Brussels. Between monuments, museums, places and activities that can't be missed, you just have to choose!