10 things to do at Halloween in London
It's that time of year when the nights are getting darker, the leaves are falling from the trees and everyone is drinking Pumpkin Spice Lattes. This can only mean one thing… Halloween is breathing down our necks.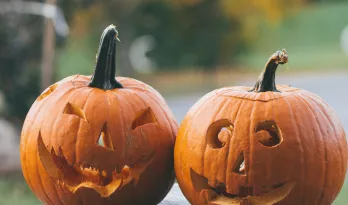 It's that time of year when the nights are getting darker, the leaves are falling from the trees and everyone is drinking Pumpkin Spice Lattes. This can only mean one thing… Halloween is creeping ever closer. In fact, it's breathing down our necks.
If you're visiting London this Halloween, there is something for everyone:
There's something for everyone to enjoy for Halloween in London this year. From scary films and ghost hunts to frightful outings at London's popular attractions and partying the night away, you'll definitely be running scared. But when you're not hiding behind your hands, why not see London's breath-taking sites on an open-top bus with Tootbus.
Celebrate Halloween at London's Top Attractions
Some of London's top attractions are getting a spooktacular makeover for Halloween, whilst others have the fear factor all year long. Don't miss out on the spookiest attractions and book your tickets early.
1. Tower of London
For: All ages
Date: Daily
The Tower of London has had many functions throughout its rich history and many skeletons are hiding in the closet of this iconic landmark as it was once a prison and torture chamber. Anne Boleyn spent the final days of her life here where she was imprisoned, interrogated, put on trial and eventually beheaded. Take a tour of the White Tower where you will encounter the torture chambers and maybe even hear the harrowing screams of history's famous figures echoing through the walls.
2. Madame Tussauds & Alien Escape
For: All ages (15+ for Alien: Escape)
Date: Daily
The waxwork stars are often dressed up to scare for Halloween at Madame Tussauds in London, and there are lots of spooky experiences to send shivers down your spine. Upgrade your Madame Tussauds ticket when you arrive at the attraction to enjoy interactive, theatrical adventures. Take on the Alien: Escape to navigate your way through this testing trail of gore, danger and a challenging pathway out.
3. Halloween at Harry Potter Studios - Master the Dark Arts
For: Family
Date: 24th September - 7th November 2021
Don't let the Death Eaters dampen your Halloween spirit when you Master the Dark Arts on the Warner Brothers Studio Tour. The Great Hall is seasonally decorated with over 100 pumpkins hanging from the ceiling and a Halloween feast is laid out across the tables. You can also discover the filming secrets behind the Dark Arts and dual against Death Eaters in live demonstrations.
4. The London Dungeons
For: Adults and Children aged 15+
Date: Open all year
Enter if you dare! Join The London Dungeon this October and embark on a chilling journey through 1000 years of the city's gruesome past. Walk the foggy streets and go back to a time where the plague blighted the capital, torture was the norm, and Guy Fawkes sought to change the city forever. Throughout October, The London Dungeons are darker, scarier and even more extreme, making this a popular attraction throughout the most terrifying month of the year.
Halloween Events in London
Dance the night away in your most frightening fancy dress for a Halloween party in central London or book a spooky sit-down meal for all of the family.
5. Party in London this Halloween
For: Over 18's
Date: 31st October

If you're looking for an excuse to dress up this Halloween and frolic at the best bars, join central London's Big Night Out Pub Crawl for their Zombie Halloween special. Starting at Zoo Bar in Covent Garden, enjoy free entry and a free shot in each of the five venues. The pub crawl also includes a free t-shirt, zombie makeover, glow sticks and great prizes for a memorable Halloween celebration.
6. Halloween Jazz Ball
For: Over 18's
Date: 29th and 30th October
Speakeasy jazz bar meets spooktacular cabaret at The Candlelight Club for an elegant Halloween event in London. This pop-up Halloween Ball is set around the prohibition era and will take place in a vintage venue in London. You will be whisked away by live jazz music, cabarets, elegant cocktails and dance performances at one of the best Halloween parties in London. Pick out your fanciest frock with a frightening twist to capture the speakeasy vibe and find out what your future holds from a fortune teller.
7. Halloween Dining Experience
For: Over 13s
Date: Various dates from 21st May - 27th February
Feast this Halloween at an incredible Halloween dining experience curated by Masterchef The Professionals finalist, Louisa Ellis, as you board the Murder Express. Head onboard a luxury train at Pedley Street Station in London and enjoy an evening of immersive storytelling and dining. Choose your meal from a delicious pre-set menu and discover an array of refreshments onboard as you embark on your journey. Don't miss your chance to enjoy your last meal on earth at this spooktacular restaurant and bar!
Spooky shows and Halloween screenings
After your London bus tour, if you want to celebrate the theatricality of the season, scare yourself senseless with horror films at the cinema or enjoy a theatre show with a spooky twist this Halloween.
8. See Wicked the Musical
For: Adults and Children 7+
Date: Daily at the Apollo Victoria Theatre
If you haven't already seen one of the longest-running musicals in London's theatre history, where have you been? Based on characters from The Wizard of Oz, Wicked tells the story of the unlikely friendship between Glinda the Good Witch and Elphaba, the Wicked Witch of the West. The show is a little less scary than most Halloween experiences and, as such, is a little more family-friendly. Don't miss out and book your tickets to watch a West End classic this Halloween!
9. The Rocky Horror Picture Show
For: Age 15+
Date: 31st October
If you're looking for an excuse to dress up this Halloween, the Rocky Horror Picture Show will be right up your street. Renowned for audiences dressing as their favourite Rocky Horror character, this cult classic has gained a huge following over the years with its widespread appeal to musical, horror and science-fiction fans alike. Head to the Prince Charles Theatre by Leicester Square for a Halloween screening of The Rocky Horror Picture Show at midnight and show off your best Janet, Frank or Eddie costume.
10. The Woman in Black
For: Adults and Children 11+
Date: Daily at the Fortune Theatre
Watch the spine-chilling novel come to life on the big stage this October! It's one of the West End's most terrifying ghost stories and it will have you hooked right from the start. The Woman in Black tells the story of a lawyer who believes he was cursed and seeks the help of an actor to tell the story of the terrifying encounters from his past. Brace yourself for two hours of terror as you watch the action unfold.
So there you have it. There's plenty to keep you entertained this Halloween in London. If you're looking for an easy way to see the city during your visit, take a look at our hop-on-hop-off bus tickets.